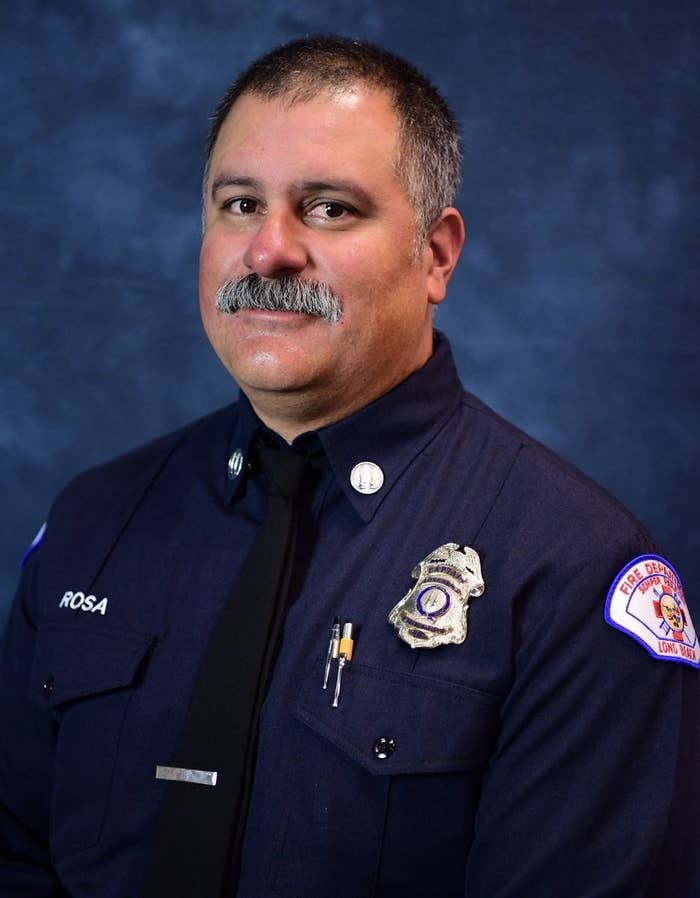 Authorities in Long Beach, California, believe a 77-year-old retirement home resident intentionally set a fire Monday morning to lure first responders to the facility, and then shot and killed a veteran firefighter and injured another after they put out the blaze.
"It's the first time we have seen anything like this," Long Beach Fire Chief Mike Duree said.
Around 4 a.m. Monday morning, firefighters Capt. Dave Rosa and Ernesto Torres responded to reports of a fire, followed by an explosion and the smell of gasoline, at the Covenant Manor senior care facility, Duree said. As they approached the high-rise building, the firefighters noticed that the windows of one unit had been blown out and that the sprinklers were on.
Residents also reported smelling gas on the third floor, prompting officials to order the facility's elderly occupants to shelter in place. After extinguishing the fire, Rosa and Torres remained inside the building to investigate the gas smell and explosion, the chief said.
Ten minutes later, gunfire erupted and police received reports of an active shooter.
Rosa, a 45-year-old veteran of the Long Beach Fire Department, was killed in the attack. Torres and another man, a civilian resident of Covenant Manor, were injured and taken to a local hospital.
Authorities later arrested 77-year-old Thomas Kim, who lived in the facility, in connection with the fire and the shooting. Kim was booked on suspicion of murder, as well as two counts of attempted murder and arson, and is being held on $2 million bail.
After searching the 11-story building, officials discovered two suspicious devices, which they later deemed safe, and a revolver at the scene, Long Beach Police Chief Robert Luna said. The devices were inside Kim's apartment, which is where the fire and explosion occurred.
Several residents told the Press-Telegram that they heard a loud "boom" and "bang," which sounded like an earthquake, coming from the second floor, and the sound of glass shattering.
According to its website, Covenant Manor has about 100 apartments and serves low-income seniors ages 62 and older as well as adults with disabilities. Eighty residents remained evacuated as of Monday afternoon, Luna said.
"We have a lot of questions about the devices that were found and the suspect's intent," he explained.
Although he described the case as a "large puzzle that we are still trying to piece together," Luna confirmed that "preliminary evidence and witness statements" showed that Kim set the fire and set off the explosion to bring firefighters into the building for a possible ambush.
"That's the environment we work in today as law enforcement and firefighters. You go to these scenes and you never know what's on the other side of those doors," the police chief said somberly. "These brave firefighters went through those doors and unfortunately they were met with gunfire."

Not much was immediately known about Kim, though police said he was arrested years ago for auto theft and that detectives are looking into reports of erratic past behavior.

His family told KTLA that they were stunned to find out the suspect was alive, living in Long Beach, and was a suspect in the murder and arson investigation.
"He's alive?" his brother, Geo Kim, asked the station. "Really, I was so surprised."
The siblings had lost touch years ago after Thomas Kim moved back and forth between the US and Mexico, Geo Kim said. He described his brother as a "very peaceful man" who used to go to church regularly and was married with a daughter, but he and his wife divorced.
A few hours after the shooting, Long Beach firefighters issued a "last call" for Rosa, the fallen captain, who had been with the Long Beach Fire Department for 17 years.
A "staunch family man," Rosa was married with two sons, ages 16 and 25, who had grown up around the firehouse, Jake Heflin, a spokesperson for the Fire Department, told KTLA. He was remembered by colleagues as a dedicated and beloved captain who was a mentor to young firefighters.
"He was a joy to be around and a wonderful person," Duree told reporters, choking back tears. "It's a tough day ... He left quite a void."
Standing silent and somber, firefighters and other public safety agencies from across the area lined the roads, freeways, and overpasses to honor and pay tribute as Rosa's body was escorted from the hospital to the coroner's office on Monday.
Torres was released from the hospital Monday evening and is expected to make a full recovery. The 35-year-old has been with the department for 12 years. The civilian injured, an elderly man who has not been identified, remains hospitalized in stable but critical condition.

"It's important to note, firefighters across the region, across our state, and across our country right now are putting themselves in harm's way in service to their community," Duree said. "Captain Rosa answered that call this morning of service to his community, and he paid the ultimate sacrifice."