Disney has ditched social media star Jake Paul after videos of him making his street a "living hell" for his neighbors went viral earlier this month.
The 20-year-old YouTuber and former Vine star, who has amassed over 25 million followers, is leaving Disney Channel's Bizaardvark in the middle of its second season after joining the series last year.
"We've mutually agreed that Jake Paul will leave his role on the Disney Channel series Bizaardvark," a Disney spokesperson said in a statement. "On behalf of the production company, the cast, and crew, we thank Jake for his good work on the TV series for the past 18 months and extend our best wishes to him."
Paul then confirmed the news on Twitter, telling his fans that he and the network have "come to the agreement it's finally time for me to move on from the Disney family and Bizaardvark," adding that he wants to focus on his personal brand, his YouTube channel, and "more adult acting roles."
Paul runs an influencer agency called Team 10 that helps turn social media users into stars by creating videos for YouTube and building their brands so they can make money from their internet presence and followers.
The former Disney actor and a rotating "squad" of influencers live together in a rental near West Hollywood and have allegedly been turning the neighborhood into a "circus" with loud, disruptive parties and dangerous stunts — such as lighting a mattress on fire. He also shared his address to his millions of fans, who then swarmed the street trying to find him.
Footage shows the 20-year-old and his band of brothers tossing stuff into trees, riding dirt bikes, running through street, and scaling a news truck.
The neighbors told KTLA they were meeting with city leaders and police to possibly file a public nuisance class action lawsuit against the social media star.
When questioned by a reporter about turning the block into a "circus," Paul, however, seemed unfazed. "People like going to circuses," he said.
"It's terrible, it's a bad situation and I feel bad for them, but there's nothing we can do," he reasoned. "Jake Paulers are the strongest army out there."
He then concluded the interview with a "dab" before making fun of the reporter's shoes.
Paul incurred a wave of backlash after sharing the news report and trying to brush off his antics, tweeting that "there are bigger fish 2 fry," like innocent people getting shot every day.
That did not go over very well with many people on social media.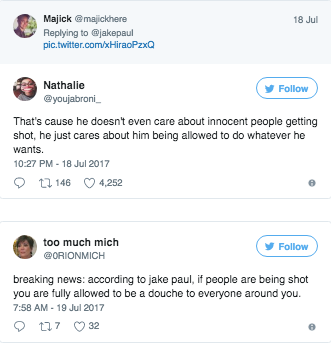 Even before this, Paul was accused in June of emotionally abusing and cheating on his ex-girlfriend, model Alissa Violet, who released a lengthy and emotional video detailing their destructive relationship.
After all the backlash, Disney has apparently had enough and has decided to dab out.