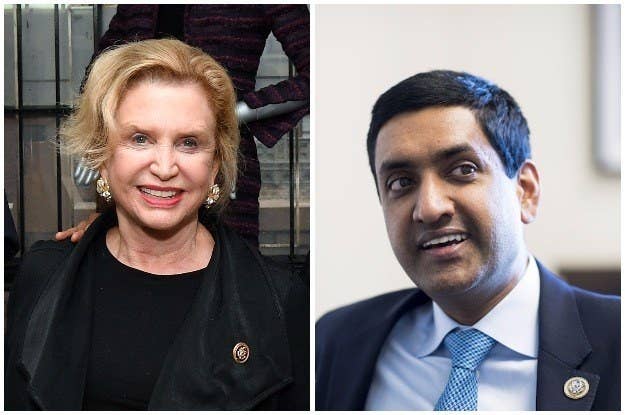 Two US representatives want nonconsensual condom removal — known as "stealthing" — to be classified as rape and are pushing for a hearing to learn more about the practice and its repercussions.
Democratic Reps. Ro Khanna, from California, and Carolyn Maloney, from New York, sent a letter Wednesday to the House Judiciary Committee asking its members to address the issue.
Stealthing garnered national attention in April after Yale Law School graduate Alexandra Brodsky published an article on how online groups are perpetuating and encouraging the practice. Since then, it has become a difficult and divisive part of the legal discourse on how to classify acts that don't fit the textbook definitions of rape and sexual assault.
"Consent is not up for discussion, it is a requirement for the entirety of any sexual interaction. Stealthing violates an agreement between partners and is a dangerous form of sexual assault," said Khanna. "The implications of the practice of nonconsensual condom removal are far-reaching with respect to the ongoing national conversation on the definition of consensual sex."
The "disgraceful practice" can lead to unplanned pregnancies and sexually transmitted infections, and can wreak psychological harm on victims, Khanna and Maloney wrote.
Mary Jacobs, who lives in Columbia, Mississippi, and asked her name be changed for this article, said that her partner stealthed her in August 2016. She now has a five-month-old baby boy.
"I feel so lost, violated, and disgusted because of what the baby's dad did to me. He did it without my permission, I didn't know until after we had sex that he committed the act of stealthing," she told BuzzFeed News in an email. "I haven't told anyone about this and don't know how to move forward or go on."

Their letter comes about six months after two lawmakers in Wisconsin and California introduced bills to change the definition of consent and rape to include tampering with a sexually protective device without telling the other person. California State Assembly member Cristina Garcia shelved her bill at the end of August because it lacked enough votes to advance, but she promised to "pursue it next year."

"This has happened to me," Garcia said. "People are having a hard time with this idea because they're like, 'The sex is consensual.' It's about power and you think you have ownership of someone's body and you don't."
"I am horrified that we even need to be having this conversation, that a sexual partner would violate their partner's trust and consent like this. Stealthing is sexual assault," said Rep. Maloney. "We need a hearing so that Congress can hear from the experts about how to best address this issue as we continue to amend our country's and universities' responses to sexual assault and rape."

Highlighting the confusion and uncertainty facing stealthing victims trying to understand what happened to them and if it is illegal, Jacobs reached out to BuzzFeed News last month asking for advice and if she could press charges.
"I didn't want to have a kid with him," she said. "More females have to speak up. I didn't think it was common at all, I didn't know it was a trend going on."