Larry Kudlow Suffered A Heart Attack And Is In The Hospital, Trump Says
The White House said Kudlow experienced "what his doctors say was a very mild heart attack."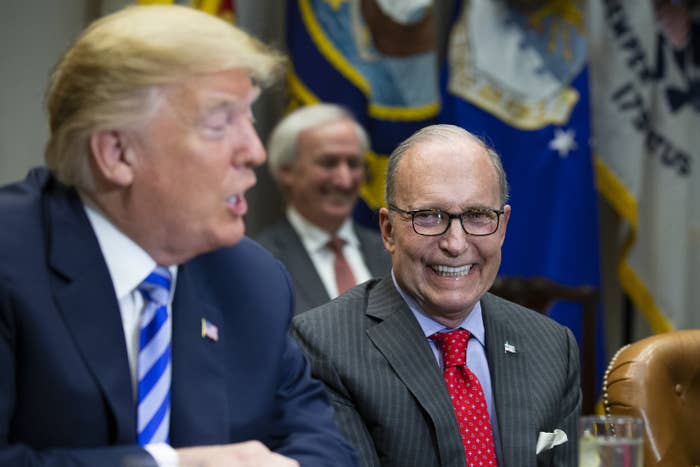 President Trump's top economic adviser Larry Kudlow is in the hospital after suffering a heart attack, the president tweeted Tuesday moments before his historic meeting with North Korean leader Kim Jong Un.
On Twitter, Vice President Mike Pence and other White House officials offered prayers for the 70-year-old director of the National Economic Council.
After Trump's tweet, Kudlow's wife reportedly said he is "doing fine" and is being treated.

In a follow-up statement, the White House said Kudlow experienced "what his doctors say was a very mild heart attack."
"Larry is currently in good condition at Walter Reed National Military Medical Center and his doctors expect he will make a full and speedy recovery. The President and his Administration send their thoughts and prayers to Larry and his family," press secretary Sarah Sanders said.

Trump announced in March that he was placing Kudlow, a former CNBC contributor, at the helm of the National Economic Council after Gary Cohn resigned amid a disagreement over steel and aluminum tariffs.

"Our Country will have many years of Great Economic & Financial Success, with low taxes, unparalleled innovation, fair trade and an ever expanding labor force leading the way!" the president tweeted at the time.

A Wall Street economist, Kudlow has played a key role in ongoing trade talks and has staunchly defended Trump's position on free trade. Over the weekend, he was in Canada for the G7 summit and appeared on several Sunday shows, where he blasted Canadian Prime Minister Justin Trudeau for betraying Trump.

Although he had served in the Reagan administration, several of his associates told the Washington Post that they "had concerns for months that his entry into an at-times chaotic West Wing could strain him," given that he had been out of federal work for many years.