People Are Losing Their Shit Over How Hot It Is In California
I would make the "milk was a bad choice" joke but I have no energy because it's so hot.
For the past few days, people across Southern California have been slowly melting into the blazing hot hell that is everything outside and inside wrought by a record-setting, dangerous heat wave that has all of us looking up into the sun screaming: "WHO HURT YOU?!"
A "monster heat dome" and triple-digit temperatures have left tens of thousands without power for days. On Friday, many parts of California broke their daily highest temperature records, like at the University of California Los Angeles, which hit 111 degrees and surpassed its previous godforsaken temperature record of 109 degrees from 1939. Riverside hit 118 degrees.
Lol what a funny coincidence, I love when this happens!
Needless to say, it's been a tad warm and Los Angeles is now so nicely decorated with all these little red entrances to hell.
Many of us Angelenos have been spoiled by 75-degree-ish weather year-round, so we've been slightly dramatic about now living inside a dragon's mouth after it ate a jalapeño pepper.
Just a bit.
This is accurate though.
As is this, because #science.
We are now faced with serious health risks.
And cannot use our liquid holders as they have given up because there is no more liquid to hold because it has evaporated.
Even the animals have forsaken life.
We feel you, little guy. We are with you.
And you, ladies.
However, this heat has sparked (pardon the pun) some exemplary moments of human resilience and ingenuity. Like this:
(If you don't have a fan though, sucks for you because they are all gone.)
I mean look at this life hack. Inspirational.
Or this new weight-loss hack. Because why pay for a sauna or a fancy sweat lodge when you don't even have to leave your home?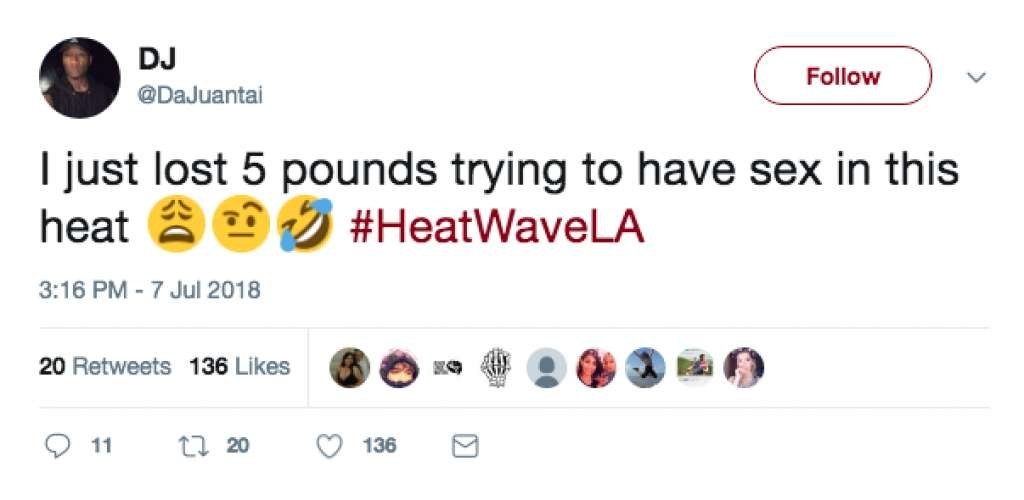 Meanwhile, people from other parts of the US, like Arizona and Texas, have just been sitting back LOLing and watching us try not to murder our neighbors for their AC units.
HOWEVER, we are dealing with some serious heat here, OK. Like, BDE heat.
To end on a positive note — because glass half-full! (assuming its contents haven't evaporated or it hasn't melted in your hand):