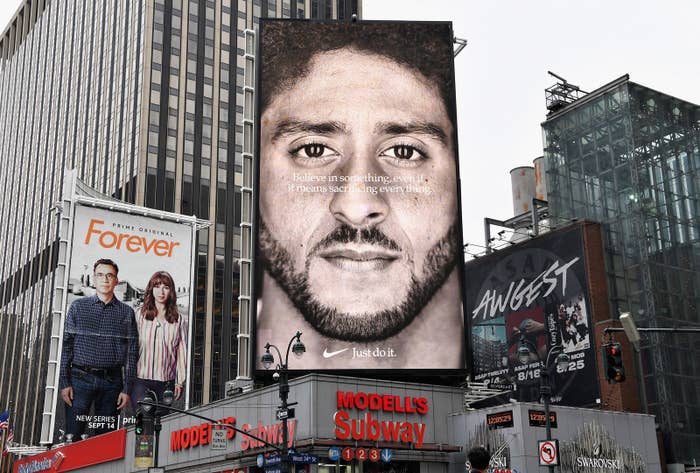 The mayor of a Louisiana town is walking back a ban on his recreation department and booster clubs from buying or accepting the any Nike products after the order sparked protests and outrage.
In a terse, short memorandum dated Sept. 5, Kenner Mayor Ben Zahn instructed one of his staff members that no Nike product or "any product with the Nike logo" should be bought or seen in any recreation facility.
"Effective immediately, all purchases made by any booster club operating at any Kenner Recreation Facility for wearing apparel, shoes, athletic equipment, and/or any athletic product must be approved by the Director of Parks and Recreation, or his designee," Zahn wrote to the director, Chad Pitfield. "Under no circumstances will any Nike product with the Nike logo be purchased for use or delivery at any City of Kenner Recreation Facility."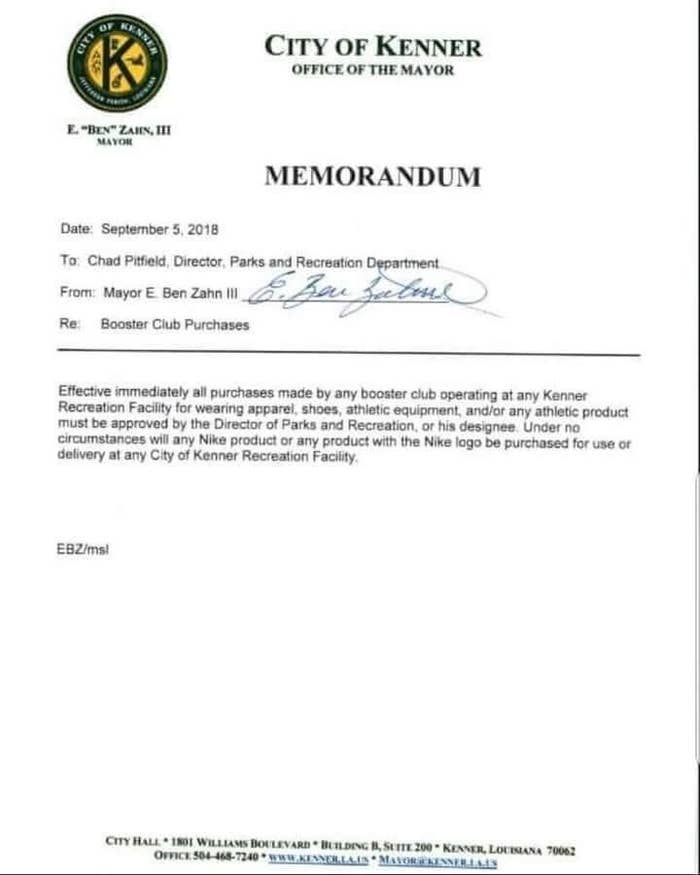 But a week later, he told a gaggle of reporters that he had changed his mind. His announcement, which came as a surprise given his continued assertions that he was standing by the memorandum, came the same day that the American Civil Liberties Union sent the mayor a letter warning him the directive was unconstitutional.
"That memorandum divided our city, and placed Kenner in a false and unflattering light on the national stage," Zahn said.
He had originally sent the order on the same day Nike released its full-length ad featuring former San Francisco 49ers quarterback Colin Kaepernick — the first football player to kneel during the national anthem to protest police brutality.
The anthem protests, which spread to other teams and players in the NFL, sparked a divisive and politically fraught movement that has repeatedly drawn the ire of President Donald Trump, who lashed out again on Sunday at several players who took a knee during one of the first games of the season.
No NFL team has picked up Kaepernick since 2016, and the league has been inconsistent in its decisions to either support or penalize its players who opt not to stand during the anthem.
Critics of the protests have lambasted Nike since it announced that the quarterback would be the face of its 30th-anniversary "Just Do It" campaign, with people posting images on social media of themselves burning the company's shoes and apparel. However, the marketing strategy appears to be paying off for Nike, with sales surging 27% in the four days after its debut, according to Edison Trends, which researches digital commerce.

Zahn's memo started spreading online and soon went viral.
The mayor then issued a statement standing by his order and described the move as his way of protecting his residents' tax dollars from "being used in a political campaign."
Here it is in full:
Private, for-profit companies have every right to advertise how they wish, even if it means using advertising to promote corporate political beliefs. Individuals also have every right to support or oppose any company or brand for any reason. Those freedoms should never be lost.

I applaud Nike's message of inclusion and encouragement for everyone to be their best and dream big. But I also recognize that Nike, in its zeal to sell shoes, chose to promote and sell a political message.

In Kenner, like every city, our citizens and our taxpayers cover a wide spectrum of political philosophies and agendas. We must respect all of those agendas and philosophies. So, when a company uses its advertising as its own political megaphone, government should be fair to all of its people and not allow taxpayer dollars to be used to help that company push its own political agenda.

My decision is only to protect taxpayer dollars from being used in a political campaign. Some have asked if people will be allowed to wear Nike apparel on city playgrounds. The answer to that is … of course.

My internal memo draws the line on letting companies profit from taxpayers by espousing political beliefs. My decision disallowing Nike from profiting from our taxpayers while they are using their powerful voice as a political tool is my message. This government will not let taxpayer dollars be used to promote a company's or individual's political position, platform or principle. That's my position as a matter of fairness to all.
However, Gregory Carroll, a council member who represents Kenner's 1st District, took to Facebook to say he was not aware of the "disturbing memorandum."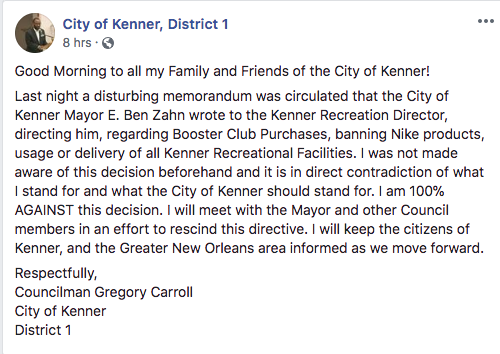 In a conversation with BuzzFeed News Sunday night, Carroll confirmed the memo and said, "I didn't believe it when I first read it."
"I'm not sure if any other council member was aware of it," he said, noting that he found out about it late Saturday night when his "phone started blowing up with messages from the internet."
Perplexed, the council member said that the memo didn't "make a lot of sense," since the city doesn't spend a lot on Nike equipment or apparel, given its cost.
"If we spent $1,000 on Nike, that would be a lot," he mused. "And we can't discriminate against anybody or company because of our laws. If we did, we'd be breaking our own rules. I think [the mayor] just got caught up in all this stuff and made a move off-the-cuff. We're all trying to figure out where this came from."
The backlash against Nike has also proliferated across other political systems, companies, and universities. Tennessee state Sen. Bo Watson tweeted last week that he had asked his budget office to review which state-financed colleges and universities have Nike contracts. And several universities across the South have announced that they have cut ties with the athletic powerhouse in response to its "Just Do It" campaign.
Despite days of controversy and backlash, Zahn had repeated said it was to protect taxpayer dollars and stand up for men and women in service.
In its letter, the ACLU said Zahn's "policy violates the First Amendment's free speech protections and that the mayor's justification for it fails to pass any constitutional test."