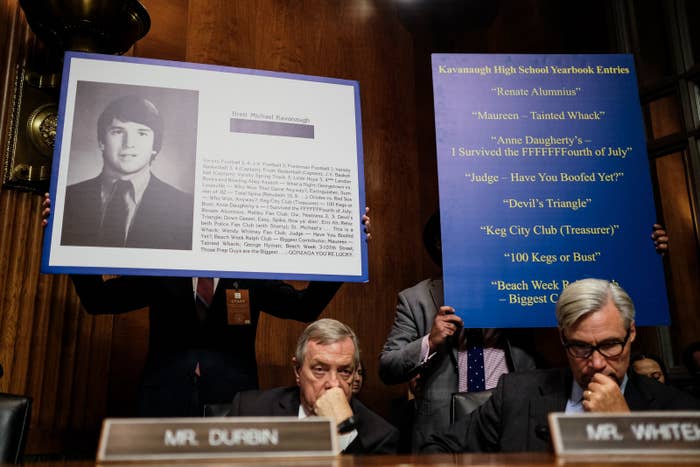 During Thursday's Senate Judiciary Committee's hearings on Supreme Court nominee Brett Kavanaugh's alleged sexual misconduct, C-SPAN fielded opinions and statements from viewers from across the country and political spectrum. The calls quickly became powerfully personal.
After Christine Blasey Ford took her first break during her emotional testimony, a 76-year-old woman named Brenda from Missouri called the organization and shared her own story of when she was "sexually molested in the second grade."
"This brings back so much pain," she said, her voice breaking. "I thought I was over it, but it's not. You will never forget it. You get confused and you don't understand it, but you never forget what happened to you."
Stunned, the C-SPAN host listened and then thanked her for sharing her story. Then, more people began to call in to recount their experiences with sexual assault from their childhood, teen, and adult years.
A 26-year-old named Jessica called to say that she was sexually assaulted when she was 19 and in college.
Right after her, Michelle from Florida called in to talk about a night when she was 12 and sleeping over at her best friend's house.
"Around 4 in the morning in the dim light of the night-light, her 17-year-old brother was hovered over me on the other side of the bed with his hands in my underwear and fondling me," the 53-year-old recalled. "And I remember being so frightened and not wanting anybody to be upset because I love this family a lot."
Her daughter, now 23, is also a victim, her mother told C-SPAN. Her ballet teacher abused her when she was 13.
"[Ballet] was something my daughter loved very much and as a child could not make a proper decision [to tell someone]," her mother told C-SPAN. "I found out when she was 19 through behavior she was exhibiting and she did file a police report. You don't do that lightly. Because doing it again just lets them win. You get to suffer all over again and you get to relive it. Don't call us survivors. I call us victims that overcome."
A woman named Hillary described one night when she was at a college party.
"I didn't know that someone there was continuing to keep spiking my drink," she said. "When I realized it I stumbled out of the building and he found me and violently attacked me."
Linda, from St. Louis, Missouri, called during a 15-minute break after Judge Kavanaugh delivered his combative, tearful, and defensive opening statements.
She said she took issue with the Supreme Court nominee's calendar, because her stepfather sexually assaulted her for six years, starting when she was 4.
"My stepdad had a file cabinet. He had five file cabinets in the house from the '50s and if you met him today there was a file on you," she described. "I can corroborate everything that I am saying. He had these cards on everybody in his life. Everything in his job. Everybody. But...there was not one about the sexual assault on me."
However, several C-SPAN callers, like Charles, who says he is a "rape victim," shared that it is because of their own sexual assault experience that they have doubts about Ford's testimony.
"Looking at Christine Blasey Ford, I'm not going to sit here and say that she's a liar, but at the same time there is a chance that she could be mistaken as far as who it is," he told the host.
The calls quickly reverberated across the internet, spurring many others to open up and tweet their own stories and feelings, as well as supportive messages, comforting words, and thanking them for their bravery and vulnerability.
"If you are not listening to C-SPAN's call in in between the testimony, you're missing America processing this, powerfully, at times tearfully, in real time," tweeted Michael Barbaro, the host of the New York Times' podcast, The Daily.
"Happened about 35 yrs ago. We've been married for 20. It's crazy how we can compartmentalize and bury to survive," one user said.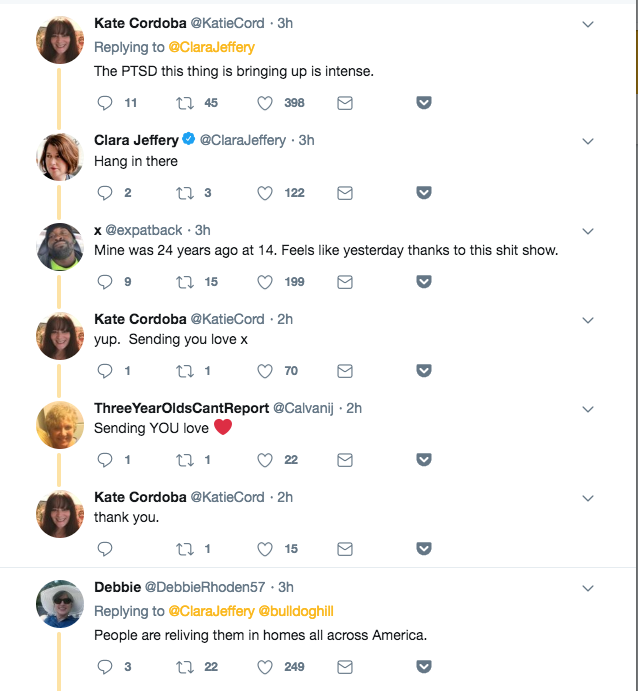 After watching Brenda, the first woman who called to detail her sexual assault, this user surmised that her desire to call and share her story after so many years "is happening all over the country now."
"Many people, men and women, will go through this today, and not still share it with their loved ones," they said.
In response, someone else said that they only shared their experience "with my kids to let them know what can happen if you are drunk at a party. And that I'm a terrible role model."
That offering sparked another conversation, about the importance of talking to children, revealing your trauma, fear, and finding your voice.