Harry Potter author J.K. Rowling apologized Monday for her recent Twitter rant accusing President Donald Trump of snubbing a toddler with disabilities at a White House press conference.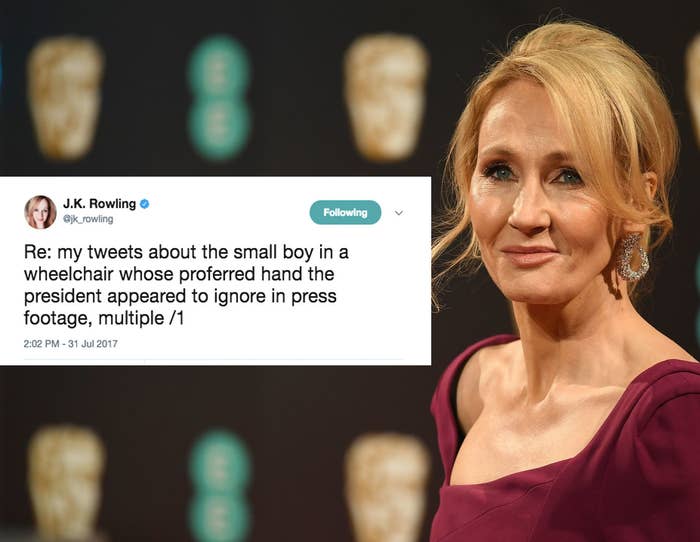 "I very clearly projected my own sensitivities around the issue of disabled people being overlooked or ignored onto the images I saw," Rowling wrote. "If that caused any distress to that boy or his family, I apologise unreservedly."
The apology came after days of drama over Rowling's accusations. The Friday tweetstorm prompted a wave of criticism against the author. They also reignited her long-running feud with former CNN host Piers Morgan, who accused Rowling of leading a "smear campaign" against the president.
There's a lot going on here, so let's back up and break it down.
The drama centers around an video clip of Trump greeting the family of 3-year-old Monty Weer at a White House event for a "victims of Obamacare" event last week.
Monty, who uses a wheelchair, suffers from spina bifida, a birth defect in which the bones in the spinal cord do not form completely, and needs ongoing medical treatment. In his remarks, Trump pointed to the family's healthcare struggles as evidence of problems with the Affordable Care Act.
In the edited clip, Trump reaches over Monty's outstretched arm and shakes the hands of those standing above him.
The video was originally tweeted by Ansel Herz, a Democratic congressional aide, and quickly went viral. Herz has since apologized and deleted the tweet.
It also caught Rowling's attention, prompting the author to tweet a lengthy tirade about Trump's perceived treatment of disabled people.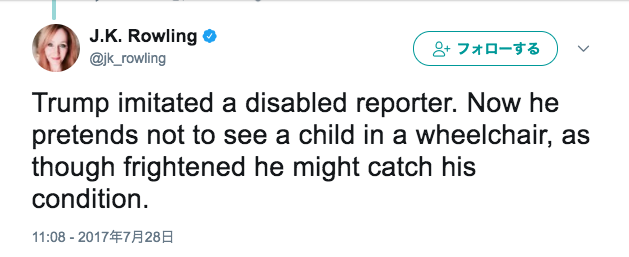 "That clip of Trump looking deliberately over a disabled child's head, ignoring his outstretched hand, has touched me in the raw," she wrote. "How stunning, and how horrible, that Trump cannot bring himself to shake the hand of a small boy who only wanted to touch the President."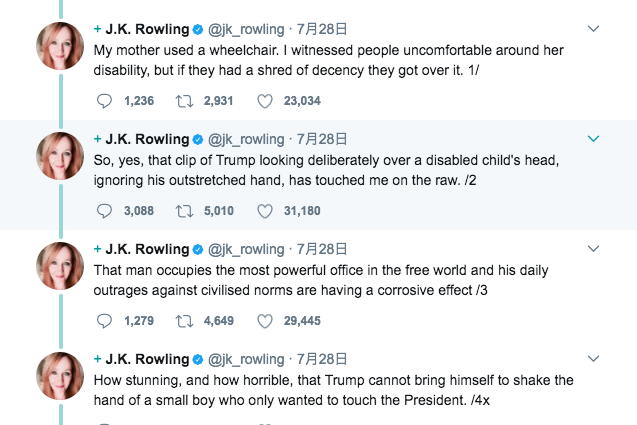 But unedited video shows Trump did greet Monty, bending down to speak with the toddler for a few moments before moving on to greet the other visitors.
People blasted Rowling for her tweets, and demanded she apologize to the president and retract the false accusation.
Morgan was a particularly vocal critic, repeatedly lambasting Rowling, and accusing people who shared her tweets — including Chelsea Clinton — of perpetuating the accusations.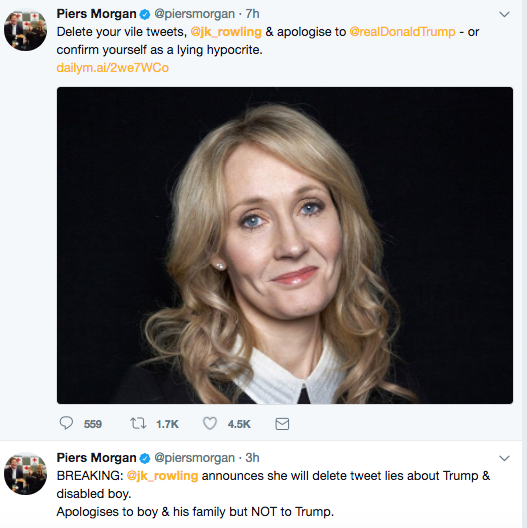 Clinton later acknowledged she hadn't seen the full video, and deleted her tweet.
Monty's mother, Marjorie Weer, also clarified that Trump had not snubbed her son. "Monty wasn't even trying to shake his hand," she wrote on Faceboook.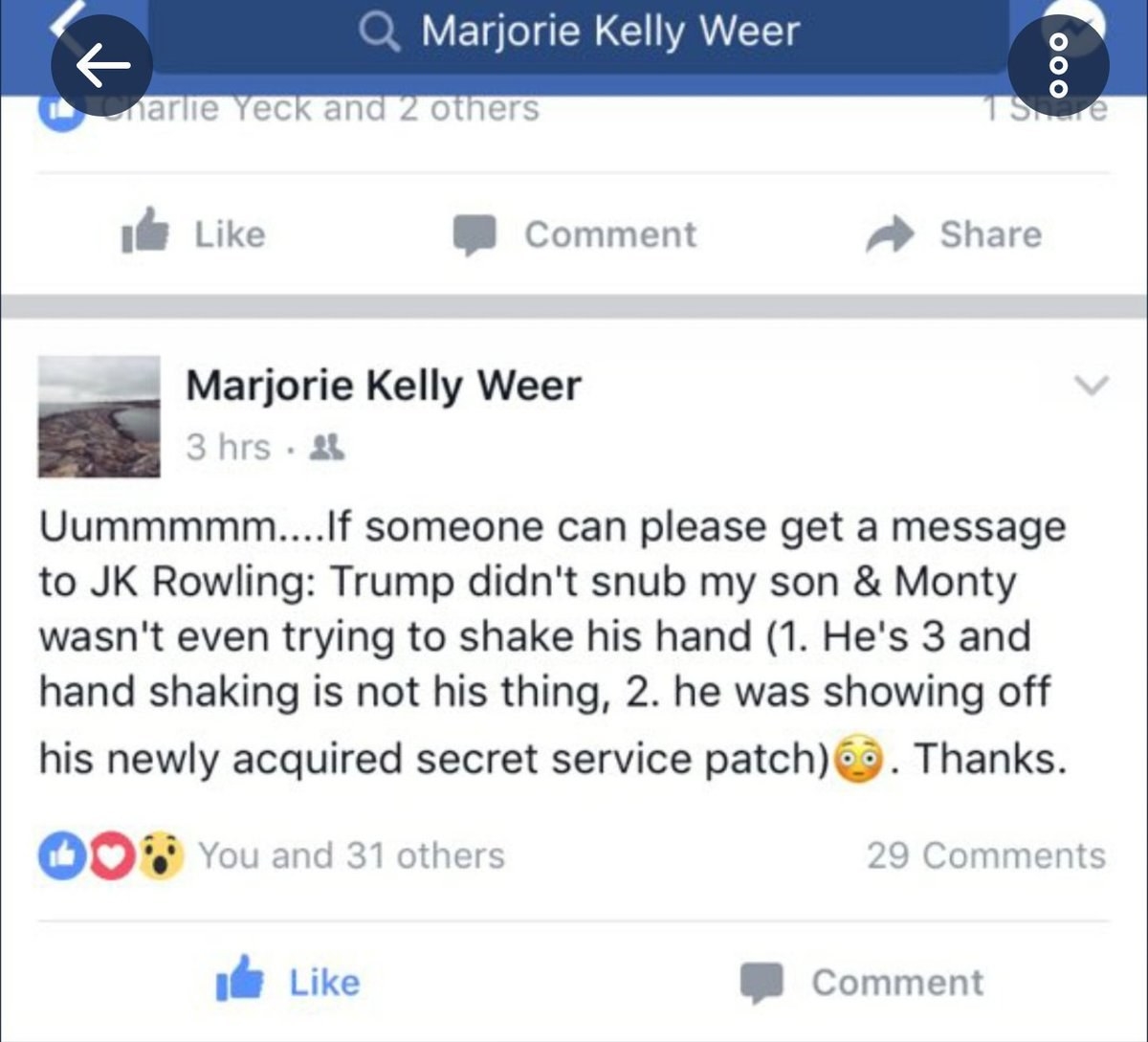 Some of Monty's other family members also stood up for the president.
The drama sparked such a "crazy response" on social media, Monty's mother eventually deleted her Facebook account, her cousin, Jonathan Bubar, told BuzzFeed News.
"This is all so silly," Bubar said, noting that he was stunned by the fury the video had ignited on both sides of the healthcare debate.
"The problem with this stuff is that the damage is already done," he said. "Both sides need to stop talking about snubs and get back to helping kids like Monty who are banking on a healthcare system that is crumbling."
Asked what Weer thought of Rowling's apology, Bubar said the mother of two had been "too busy changing diapers to catch up on the news and read it yet."
But like other Rowling critics, Bubar said he wished she had directed her apology to Trump.
"The apology should be to the president," he said. "She owes him an eight part apology."