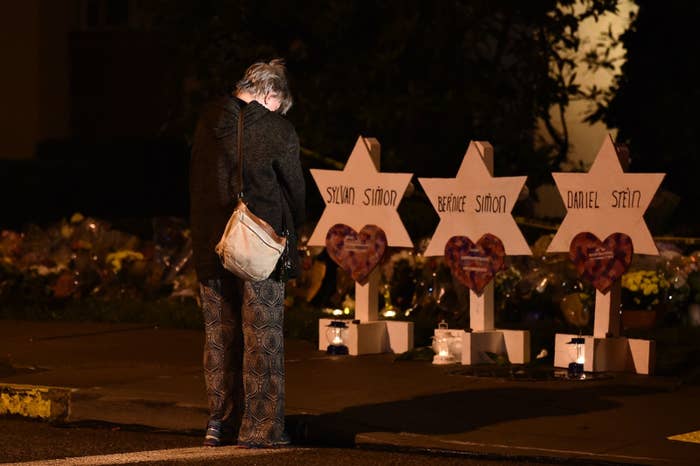 A group of progressive Jewish leaders have written a withering open letter to President Donald Trump, declaring that he is not welcome in Pittsburgh until he denounces white nationalism and stops making disparaging statements about minorities, migrants, and refugees.
Nearly a dozen members of Bend the Arc, a progressive Jewish organization, penned the declaration on Sunday, a day after a gunman opened fire on the Tree of Life synagogue, killing 11 people in what is believed to be the deadliest attack on the Jewish community in US history.
In the letter, the group's members directly blame the president's rhetoric for emboldening "a growing white nationalist movement."
"For the past three years your words and your policies have emboldened a growing white nationalist movement. You yourself called the murderer evil, but yesterday's violence is the direct culmination of your influence," the letter states.
It goes on to accuse the president of having "deliberately undermined the safety of people of color, Muslims, LGBTQ people, and people with disabilities."
"Yesterday's massacre is not the first act of terror you incited against a minority group in our country," the letter states.
The leaders collectively, in bold writing, tell Trump that they will not welcome the president back to Pittsburgh until he stops "targeting and endangering all minorities."
But Rabbi Jeffrey Myers, who was at the synagogue when the shooter opened fire, told CNN Monday that Trump was welcome to visit.
"The President of the United States is always welcome. I'm a citizen. He's my president. He is certainly welcome," Myers said.

"I don't really foist blame upon any person," Myers said when asked if he blames anyone for the violence beyond the shooter. "Hate does not know religion, race, creed, political party. It's not a political issue in any way, shape, or form. Hate does not know any of those things. It exists in all people."

"The president has denounced racism, hatred, and bigotry in all forms on a number of occasions," White House press secretary Sarah Sanders said when asked about the letter on Monday. "He adores Jewish Americans as part of his own family."

She said Trump will visit Pittsburgh on Tuesday.
Before opening fire in the synagogue Saturday, killing 11 worshipers attending morning services, the alleged gunman, Robert Bowers, had attacked HIAS, a Jewish organization that helps refugees, on the messaging platform Gab. The suspect had also repeatedly reshared and referenced conspiracy theories about the migrant caravan, some of which Trump and other members of his administration have referenced and fueled in recent weeks.
Addressing Trump in their letter, the members of the Jewish group note that Bowers' apparent attack on HIAS, and the subsequent massacre at the Tree of Life synagogue, came "at the end of a week in which you spread lies and sowed fear about migrant families in Central America."
The letter concludes by explaining that the teachings of the Torah, the Jewish scriptures, hold that every human being is made in the image of God.
"In our neighbors, Americans, and people worldwide who have reached out to give our community strength, there we find the image of God," the authors write. "While we cannot speak for all Pittsburghers, or even all Jewish Pittsburghers, we know we speak for a diverse and unified group when we say: President Trump, you are not welcome in Pittsburgh until you commit yourself to compassionate, democratic policies that recognize the dignity of all of us."
You can read the full letter here.
CORRECTION
A previous version of this article misstated Rabbi Jeffrey Myers' name.