A Delta flight making an emergency return to Los Angeles International Airport dumped jet fuel on several schools in the area as students were outside on the playground.
First responders have treated nearly 40 people — including 20 children — for minor injuries, such as skin irritation, the Los Angeles County Fire Department said. The department also confirmed that the dumped substance was jet fuel.
More than 70 firefighters and paramedics responded to a call from Park Avenue Elementary School in Cudahy around 12:30 p.m. Tuesday. The call reported that a low-flying aircraft dumped fuel on "numerous students" while they were playing, Sean Ferguson, a spokesperson with the fire department, told BuzzFeed News.
Grecia Jimenez says her nephew, Mick Morales, said it felt like he and his classmates got "rained on."
"He and his friends saw the whole thing and instead of being scared or anything they all looked up in amazement and in unison all said, 'Wooowwww,'" she told BuzzFeed News. "Then the kids started saying, 'Oh, it's raining,' and didn't really notice the difference, but my nephews said it was smelly."
The 11-year-old was light-headed afterward, his aunt said, but felt better after he got home and showered.
His mother, on the other hand, was "completely terrified especially because of that World War 3 b-s going on," her sister said.
In addition to Park Avenue Elementary, crews evaluated six other patients at San Gabriel Avenue Elementary School in South Gate and one person at Graham Elementary School in Los Angeles. Officials also received reports of two others in need of care at Tweedy Elementary School in South Gate, the department said on Twitter.

A spokesperson at San Gabriel Elementary told BuzzFeed News that all the students were OK and had been sent home early.

Hazardous materials specialists also checked out another 16 people "with minor complaints" at 93rd Street Elementary School and Jordan High School in Los Angeles. No one was taken to the hospital.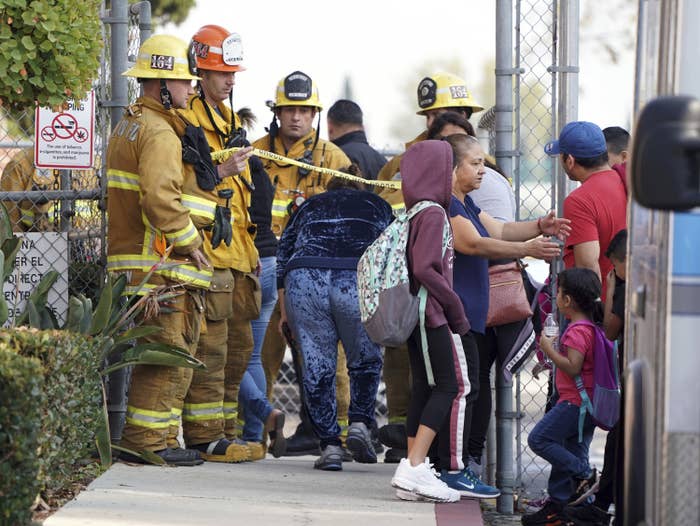 A spokesperson for the Los Angeles Unified School District said that just before noon, a plane discharged fuel "while flying over our schools" but could not confirm how many campuses were impacted.

"Students and staff were on the playground at the time and may have been sprayed by fuel or inhaled fumes. Schools immediately called paramedics, who are on the scene and are treating anyone who is complaining of skin irritation or breathing problems," the district said in a statement. "Educators are also visiting every classroom to ensure the safety and wellbeing of all students and staff."
According to officials at LAX, a Delta Boeing 777 on its way to Shanghai declared a mechanical emergency shortly after takeoff and returned to the airport. The flight-tracking site Flightradar24 reported the plane turned back 24 minutes after departure.

After dumping the fuel, the plane made its landing without incident.
"There were no injuries on board, and it was a normal return to the airport as far as we are concerned," Heath Montgomery, a spokesperson for LAX, told BuzzFeed News.
Videos on Twitter show a plane flying low over a neighborhood in South LA with white plumes trailing from its wings.

Delta told BuzzFeed News in a statement that shortly after takeoff, Flight 89 experienced "an engine issue" that required an emergency return to the airport.

"The aircraft landed safely after a release of fuel, which was required as part of normal procedure to reach a safe landing weight," said Adrian Gee, a spokesperson with the airline. "We are in touch with Los Angeles World Airports and the LA County Fire Department and share concerns regarding reported minor injuries to adults and children at a school in the area."
Large jets like the Boeing 777 have the ability to dump fuel during a flight to reduce weight.

Airplanes release fuel during emergency situations so they do not exceed the maximum weight necessary to make a safe landing, John Cox, a retired commercial pilot and aviation safety expert, told BuzzFeed News, calling the decision "relatively rare."

It is "only needed when a large airplane has a problem and has to land before burning off fuel to reduce weight to the maximum certified landing weight," he said, adding that dumping fuel is one of three options for a captain in an emergency situation.
"There are designated areas where fuel dumping is done, normally over less populated areas, such as the Pacific Ocean," he said. "Normally the pilots will advise Air Traffic Control of they intention to dump fuel."

Having fuel impact people on the ground "is very, very rare," he said, but noted that he had read some reports "of people smelling jet fuel after an airplane had dumped fuel in the area."
In most cases the fuel, which he says is "very pure kerosine," evaporates because the plane has reached a high enough altitude that it is not a danger for people on the ground.
Later Tuesday afternoon, the Federal Aviation Administration said it is "thoroughly investigating the circumstances" behind the event.

"There are special fuel-dumping procedures for aircraft operating into and out of any major US airport," the agency tweeted. "These procedures call for fuel to be dumped over designated unpopulated areas, typically at higher altitudes so the fuel atomizes and disperses before it reaches the ground."
When an aircraft needs to get rid of fuel during an emergency, the FAA requires the plane be at least 2,000 feet "above the highest obstacle within 5 miles of the route."
In its playback of the Delta jet, Flightradar24 clocked the plane's altitude at 2,375 feet as it flew over Cudahy.
State and local officials expressed anger and demanded answers, accountability, and a thorough investigation, including Rep. Lucille Roybal-Allard, who said she is in contact with the FAA.
In a statement, Jack Guerrero, a member of the Cudahy City Council, said he is calling for a "full federal investigation."
The incident "adversely impacted the entire community, including dozens of children most directly at our local elementary school," he wrote. "I expect responsible parties to be held accountable."