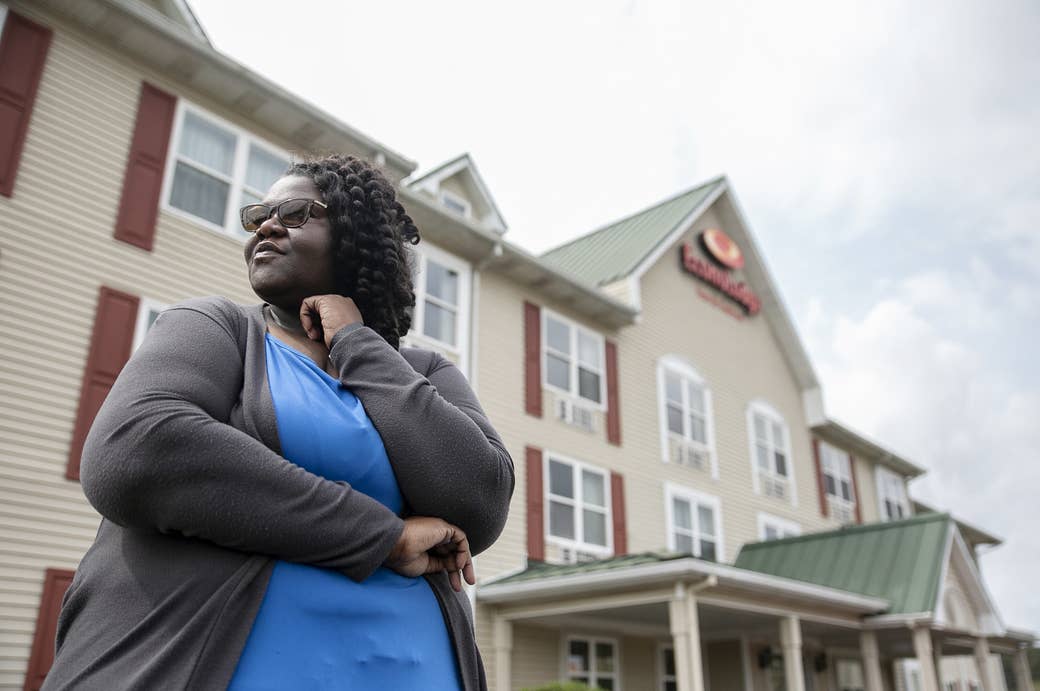 When the water in Jackson, Mississippi, shut off, Gwen Robinson and her daughters tried to cope by getting creative. They avoided using the bathroom as much as possible, and when they couldn't hold it anymore, they stretched black trash bags across the toilet to capture waste and then poured in bleach. They boiled bottled water to cook, and they used baby wipes to clean their bodies. But on day five, Robinson, a single mother, faced the inevitable: She needed to shower to go to work, and that meant overdrafting her bank account by $500 to cover six nights in a hotel outside of town.
In February, freezing temperatures knocked out power and water across the Southeast, leaving millions of people scrambling to stay warm and unable to access basic supplies for days. But in Jackson, most of the city's 160,000 residents, 82% of whom are Black, were without safe, reliable water for more than a month. It marked the latest chapter in years of issues with a brittle and decaying water system, and highlights the deep vulnerability of aging infrastructure — a problem from Flint, Michigan, to Sandbranch, Texas, and Newark, New Jersey — as extreme weather becomes more routine with climate change.
The recent water crisis has been especially devastating for Black women like Robinson, who is the sole provider for her family. People working in shops and restaurants lost entire paychecks when their workplaces closed due to lack of water. Kids couldn't go to school or daycare, so parents had to shell out extra money for food and babysitters. They had to divert money away from rent or other bills to buy bottled water and cover the costs associated with being unable to bathe, do laundry, or cook in their own homes.
"It's everyday life to me. I don't know how else to describe it because I am so used to surviving that way," Robinson said. "As far as our Black culture, it's our culture, what people say is resilience, it's just us."
The water is flowing again in Jackson. But for Robinson and others who are barely getting by, the empty taps left debt and new worries about the future. Years of neglect of the water system had already brought poor service and outrageous bills. In the face of a changing climate, the problems can only get worse, and so far, residents have had to pay the price.
Jackson, the capital of the poorest, Blackest state in the nation, has been flailing for a long time. Decades of white flight and mismanagement, coupled with broken, antiquated infrastructure, have hampered its growth and thus its ability to revitalize itself. City leaders have estimated it would cost around $2 billion, though they recently asked the state for $47 million, to fix its water systems, which, due to a meager pool of public funds, it just can't do. And the state has historically refused to step in and help, with Gov. Tate Reeves last month calling on the city to collect overdue bills from locals before seeking state support. The governor's office did not respond to multiple requests for comment from BuzzFeed News. City officials, and experts who advise them, have argued that the water system's ratepayers simply cannot shoulder those massive costs.
"What is on the line is really overwhelming," Dominika Parry, a climate economist who lives in Jackson and founded 2CMississippi, a nonprofit climate change action group, explained to BuzzFeed News. "It's a failure of lack of support from the state. And when you have a concentration of Black families who are low-income…and a state that refuses to acknowledge climate change, it's not a sustainable situation, and we are seeing the consequences."
It's people like Robinson who have to "take it," the climate economist said. This time, that meant a hefty hotel bill and overdraft fees. The next disaster could be worse, she added.
"When we have floods, hurricanes, and heat, those who can't afford to leave die."
Robinson has lived in Jackson for 22 years, and she and thousands of other residents have grown used to their pipes bursting or sputtering out dark liquid, as well as random shutoffs, while still getting hit with high and inconsistent bills. They've grown accustomed to having to boil their water, knowing that the lead in their corroded systems might still poison them, and watching sewage bubble up in their backyards.
Officials have for years warned pregnant residents and children under 5 not to drink the tap water. The city sends boil water notices about five times a year and shuts taps off entirely when a water main busts. On top of that, residents have to bear the brunt of a broken billing system that became even more of a debacle after former mayor Harvey Johnson signed a contract with Siemens Inc. and several subcontractors in 2012 who, according to a lawsuit later filed by the city, manipulated the rules to jack up prices and further gouge Jackson for water.
City officials reached a $89.8 million settlement last March, but residents are still dealing with sporadic and spiked bills. After not getting a bill for about a year, Ronnie Crudup Jr., a state representative who was born and raised in Jackson, went to the department in person to see what was going on and found that he owed $2,500 for water, he told BuzzFeed News.
"Water bills are all over the place. $1,500 up to $10,000. We don't fully know the true costs," he said. "People are suing the city because they don't believe their water bills are accurate. People are not getting bills and people can't pay the percentage of the bill they need to. As a result, we're not collecting."
Then came February's storms, a new crisis that no one had expected would leave the city waterless for so long, nor the financial ramifications it would continue to have for residents who were already struggling.
Robinson makes $16,800 a year as a teacher's assistant for students with special needs in the Lincoln County School District, about $21,000 less than the state's median income. It's her purpose, she said, to nurture the students "so many people sweep under the rug," but that small paycheck makes supporting her own kids a constant, stressful calculation.
If she "budgets right," Robinson can manage to feed her family of three for just $100 a week and then sets aside $180 for electricity, $80 for gas, and $1,000 for rent each month. And for all the years she's lived in Jackson, water has always been an issue, so she's factored that in. Despite having a filtration system and setting aside about $120 to pay a chunk of her bill, she still spends about $40 to $50 on bottled water monthly.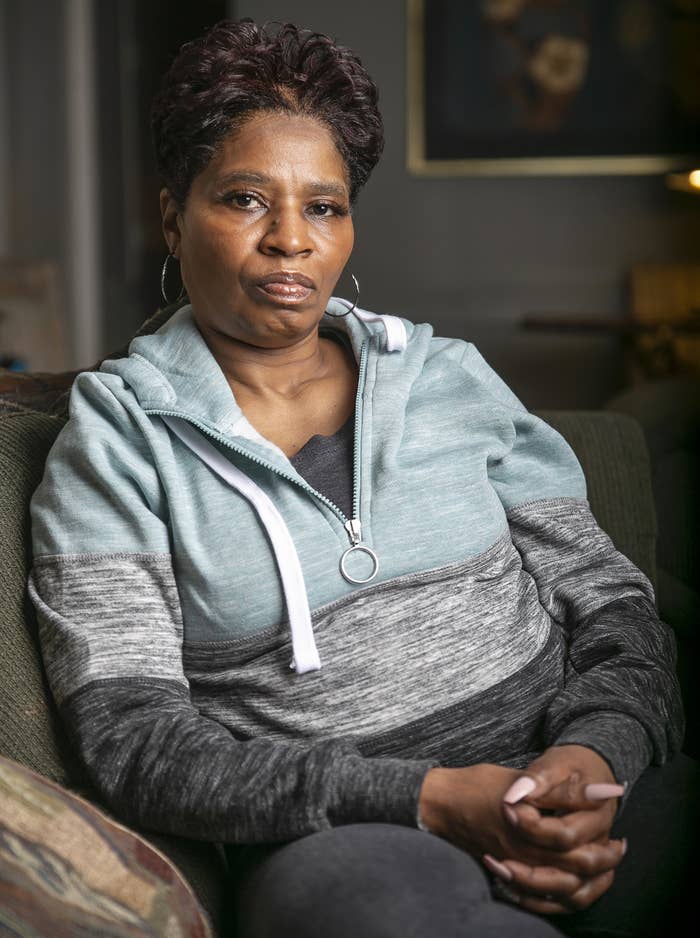 It's a similar story for Sharron McGlorthan, a special education educator for Jackson Public Schools. She told BuzzFeed News she can never catch up with her water bill. It's $400 a month, she said, and she has no idea why, especially since she lives in public housing, but she throws $100 at it each month "to keep it going." Meanwhile, she said the rusted pipes in her building turn the liquid in them brown and mains in her neighborhood are always busted. "Water is always coming out of the ground, pouring out of places," she said, which sends it gushing into the streets.
When storms slammed her city in February, McGlorthan's water pressure dwindled to almost nothing, and she also lost electricity. On top of having to find and lug buckets of water around to do the dishes and bathe, she also had to use her water bill money to replace the spoiled food in her fridge so she could feed her two teenagers. It was so cold that first night, she bought Chinese food out of a gas station so that they could have a warm meal. Later, her 15-year-old daughter went to warm up in the car and ran the gas tank to empty, and McGlorthan had to pay for that, too.
"I had to use my bill money to survive," she said. "Money that I didn't have."
McGlorthan is also a single mother, and she's stretched herself and her budget to be as involved in her kids' lives as she can. Six years ago, she left her job at a hospital, taking a pay cut so she could be there for their ballet recitals and parent-teacher conferences. She makes $12,000 a year and gets paid once a month, so the extra costs from the water crisis were devastating.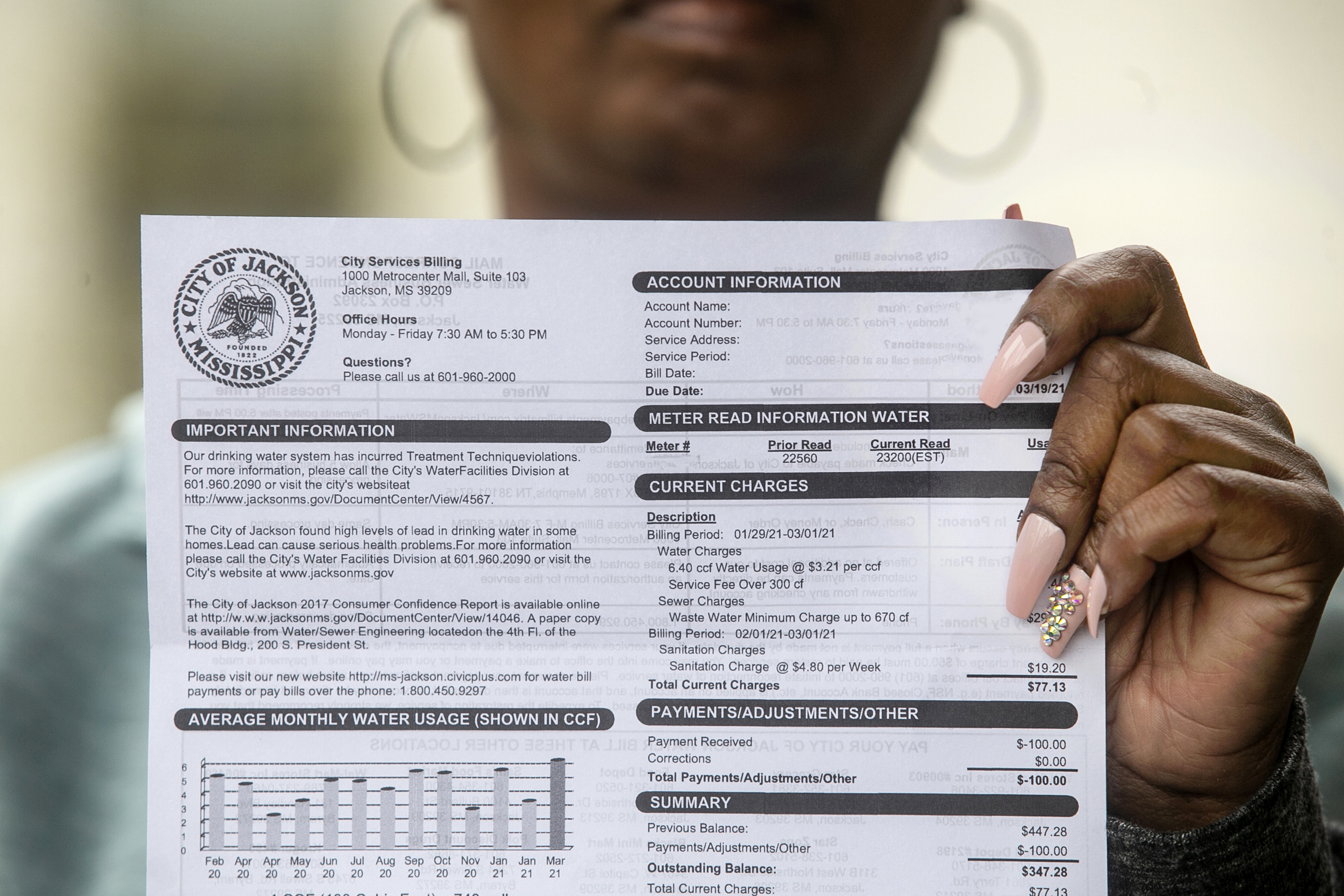 After asking around for financial help, she found an opportunity to make extra cash with MS Black Women's Roundtable, a policy and economic justice group that has been connecting families in Jackson with food, water, and essential services like free laundry. On a recent Saturday, she helped check in 30 families very much like her own at Harper's Coin Laundry in nearby Clinton. They were there because they had been unable to wash their clothes for weeks, and the bulging piles of laundry were yet another added expense they had to figure out.
The little laundromat partnered with the group, and after hosting free services for almost a month, it was still seeing about 30 families every week, Cassandra Welchlin, the state lead for MS Black Women's Roundtable, told BuzzFeed News. The group has helped more than 500 women since the winter weather shut down stores, public assistance services, and childcare centers, leaving families down to their last cans of formula or unable to stretch their income far enough to cover their daily costs.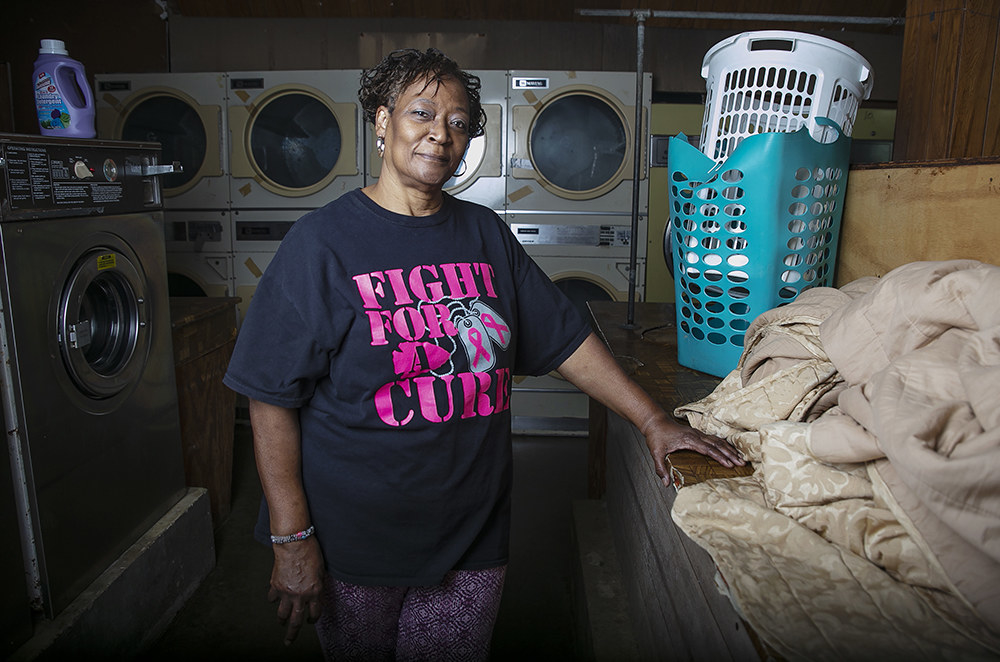 "Women are segregated in these low-wage jobs, so when these kinds of disasters happen, they disproportionately affect Black women in Mississippi, especially in a pandemic," Welchlin said. "They work in the grocery stores, frontline workers, childcare, and it will continue to happen unless we raise wages and create the policy that would help get people's kitchen tables economically secure."
And policy is lagging. Mississippi is the only state in the US that doesn't have an equal pay law, and of its Black women working full-time, more than 36% of them live in poverty, compared to 13% of white women. The rate is even worse for Black single mothers.
Throw in climate change, which has been wreaking havoc on aging cities like Jackson, and the predictions for the future get scary, said Parry, the climate economist. For decades, white residents have moved outside of the capital, leaving local leaders to try to pay for its systems and institutions with fewer tax dollars. With limited funds, infrastructure has been written off as too expensive, and emergency management also hasn't been prioritized. So when climate-change-fueled events do strike, they become disasters. Families and small businesses that were struggling can topple into bankruptcy, further undermining the tax base.
"It's a spiderweb, the consequences of that one event affect every part of the economy of that little city," Parry said.
She and activists are now hoping for the passage of President Joe Biden's $2.3 trillion infrastructure plan, which would allocate billions to upgrade water and waste systems in places like Jackson.
Investment by state and federal governments is the only way to make communities like Jackson survivable, let alone livable, said Kathy Egland, who chairs the NAACP's environmental and climate justice committee. Historically, in the US, it's BIPOC people who live in environmentally hazardous areas and suffer the ramifications, the result of years of racist zoning and districting laws, Egland told BuzzFeed News.
"There is no running from this, it has been happening, and these storms get more frequent and intense," she said. "This is where systemic racism comes in. Look at the people who are relegated to live in these areas. It's very important that we look at this through that lens, how this has happened over the years. People say, 'Why don't they move?' That gets me. People live in these areas because they don't have any other choice."
Egland lives in Gulfport, Mississippi, and also gets notices to boil her water to make it safe. She feels for Jackson because she survived Hurricane Katrina, and distinctly remembers that living without water for a long period was one of the most "horrific things" about the experience.
"Climate change robs people of human dignities in so many ways," she said. "That one in particular, not having water and not being able to take care of daily hygiene, is personally devastating."
It's a reality that Robinson hopes she never has to experience again, watching her water rations dwindle and knowing that choosing to meet her and her children's needs would put her under financial stress.
"Every day, it was a battle, she said. "I never want to be without water again."
She also thanks God that her stimulus check hit her bank account when it did, otherwise her family wouldn't have made it through this month. The funds helped her cover all her overdraft fees and an electricity bill, which, after the freezing temperatures, "was through the roof." It's become her survival skill to stay calm, positive, and believe everything will work out the way it should. But she couldn't help but think, briefly, about what she could have done with that money instead. At 46, she's almost done with her senior year of college, a life goal she started to tackle in 2012. She's got three more classes left, and her financial aid only goes so far.
"That $500 I put on that hotel could have gone toward my degree, so I don't have to struggle as much," she considered, before brushing it off. There's no use in wondering about what-ifs.
Instead, she focuses her energy on her daughters. She'll continue to struggle, she says, so maybe they won't have to.