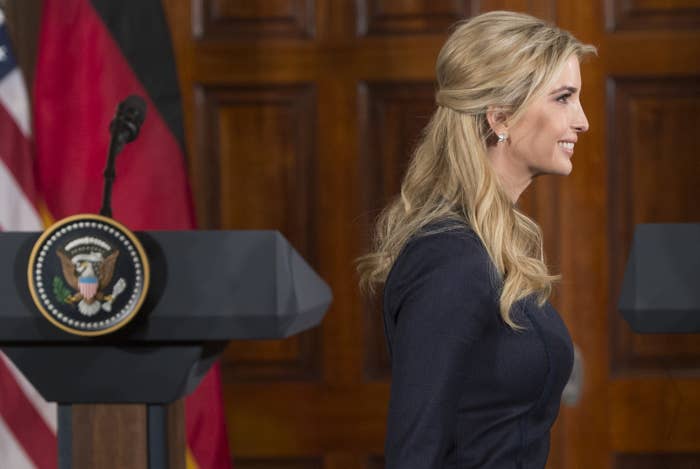 Ivanka Trump has a new office: the White House.

The president's daughter will be working as an adviser from the West Wing, gaining access to a government-issued phone, security clearance, and classified information, her attorney told the Associated Press.
The move further solidifies Ivanka Trump's prominent, though unofficial, place in the new administration. She has attended multiple high-level meetings since her father became president, including a recent roundtable with German Chancellor Angela Merkel.
Although Ivanka Trump is not a government employee, she will kind of act like one. She will follow ethics rules and advise her father on a range of issues and serve as his "eyes and ears," Jamie Gorelick, an attorney and ethics adviser for Ivanka Trump, told Politico.

Anti-nepotism laws prevent the president's family members from being appointed to government positions. However, they can still advise him as private citizens, which is what Ivanka Trump will be doing, her lawyer said.

The White House did not return a BuzzFeed News request for comment.

"While there is no modern precedent for an adult child of the president, I will voluntarily follow all of the ethics rules placed on government employees," Trump told the New York Times in a statement.

Her proximity to and involvement in White House affairs has raised questions about her business ventures and potential conflicts of interest. To stymie those concerns, Trump has removed herself from her clothing and lifestyle company's daily operations and transferred its assets to a trust overseen by her relatives of husband.

While Ivanka Trump has been the face of her brand, her new deal bars the company from using her image to promote clothing, shoes, and other items. Her Instagram account now features photos of her family and White House happenings.
Trump, whose husband Jared Kushner is a top adviser to the president, moved her family to Washington after the inauguration and hinted at plans to work on issues like maternity leave and child care.
"I will continue to offer my father my candid advice and counsel, as I have for my entire life," she told the AP.
Outside Your Bubble is a BuzzFeed News effort to bring you a diversity of thought and opinion from around the internet. If you don't see your viewpoint represented, contact the curator at bubble@buzzfeed.com. Click here for more on Outside Your Bubble.