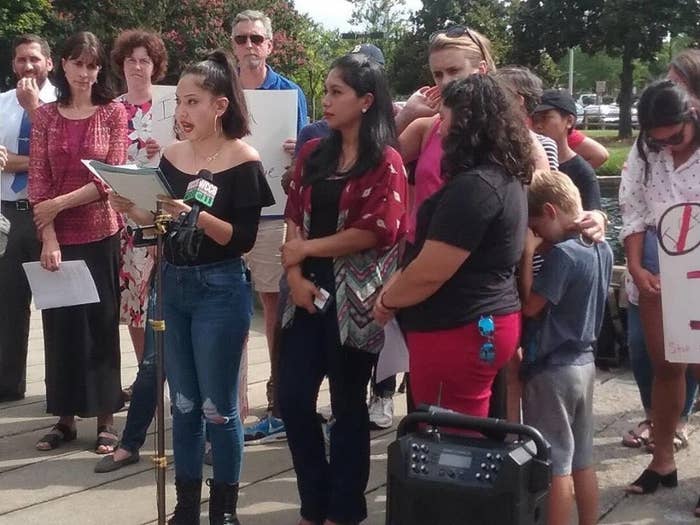 US immigration officials arrested a woman and her 16-year-old son in a North Carolina courthouse as they were leaving a hearing connected to a domestic violence dispute, a move immigration activists have called an intimidation tactic that could have chilling ramifications for the local criminal justice system.

The woman, a mother of two from Colombia named Maria, is embroiled in a bitter domestic violence dispute with her ex-fiancé. She is currently fighting misdemeanor larceny charges filed against her by her ex-partner. Her attorneys have called the charges a "bogus" retaliation brought about in response to her ending the relationship.
On July 9, Maria and her son had just finished meeting with a judge at the Mecklenburg County Courthouse in Charlotte and were heading to the elevators, when they were approached by two plainclothes Immigration and Customs Enforcement agents, the agency confirmed to BuzzFeed News on Saturday.
"I was filled with so much panic, fear, confusion, and I didn't understand what was happening at that moment," Maria, speaking through a translator, told a group of activists and demonstrators gathered at a park in Charlotte on Friday.

Though ICE has identified Maria by her full name, BuzzFeed News is only using her first name at her lawyers' request.

The arrest sent ripples of shock and outrage through the area and highlighted ICE's increasingly aggressive efforts to prosecute those in the country illegally. The immigration agency has not detained an undocumented immigrant in a local county courthouse in more than a decade, according to Becca O'Neill, an attorney with the Charlotte Center for Legal Advocacy who is working on the case.
"I've never seen anything like it before," Mecklenburg Assistant Public Defender Herman Little, who witnessed the arrests, told the Charlotte Observer. "How in the world is anybody going to get justice if both the victims and the defendants are not going to come to court because they're all afraid of being deported? This is crazy."
Maria came to the US legally from Colombia in January 2016 on a fiancé visa, but the visa expired in November of that year after she called off the marriage because of abuse, according to legal advocates.

"She became a victim very early on and decided to finally leave [him] in January when the physical abuse reached a new level," Stefania Arteaga, a community organizer with Comunidad Colectiva, told BuzzFeed News. "Her son also became a victim and suffered two black eyes and a bloody nose."
A judge had recently granted Maria a protective order against her ex-partner for beating her son, O'Neill said. Jail records show that the ex-partner was arrested in January on a domestic violence charge.
Last month, Maria moved her two children, including her teenage son and a 2-year-old whom she had with her ex, into a shelter for victims of domestic violence. In what her lawyers described as a retaliatory move, the man then filed a misdemeanor larceny complaint against her, accusing her of stealing their young child's belongings when she left him.
According to O'Neill, the charges prompted ICE's involvement in the case. Following the misdemeanor complaint, immigration officials filed charging documents against Maria in June for remaining in the country illegally after her visa expired. And a few weeks later, agents tracked her down in the courthouse.
"They were definitely tipped off, and we think it was by her ex," he said. "This woman had never been booked or fingerprinted so she was not in any systems."
While ICE would not divulge how the agency learned Maria would be in the building that day, spokesperson Bryan Cox explained that the agency has "access to a variety of databases, which we check and work with local law enforcement."

"We remain focused on criminal offenders and safety threats, so when criminal charges were filed against her it triggered our involvement," Cox told BuzzFeed News, adding that Maria's case could still result in a positive outcome for her and her teenage son.
"She had no priors and there are a lot of factors here and we just now have to wait and see how this plays out with an immigration judge," Cox said.
Still, Maria's attorneys and several community groups have pointed to the arrest as alarming evidence of ICE flexing its muscles and sweeping up vulnerable populations — including children and domestic violence victims — as part of the Trump administration's broader crackdown on people living in the US illegally.
"ICE wasn't good before but they had priorities on who they were targeting," O'Neill said. "Now they consider everyone — kids, parents — a priority to deport. It feels like they are making examples of people and it's terrifying."
Speaking to the small gathering at a local park on Friday, Maria called the experience at the courthouse "one of the most humiliating and embarrassing experiences I've ever endured."
Noting that the ICE agents handcuffed, arrested, and detained her teenage son — who is not facing criminal charges and is himself a victim in a pending domestic violence case against her ex-partner — Maria added that was forced to leave her 2-year-old son behind at the courthouse daycare for hours.
"They had no reason to put a 16-year-old with no criminal history in a cell and he is now in removal proceedings," O'Neill said. "And at the time, she had no idea if she would ever see her baby again. She was hysterical."
ICE said it could not comment on "juvenile cases," but did not dispute that Maria's teenage son was arrested and taken in with his mother.
Cox pushed back on the narrative that agents had targeted and arrested two victims of domestic violence, saying that the agency handled the situation in "the least restrictive manner possible" with "minimum burden placed on her."
The agency did not keep Maria or her son overnight or in a detention center, he said, and had "kept her in custody the minimum amount of time required to process the paperwork."
After a few hours in detention, Cox said, ICE agents drove her back to the courthouse "so she could get to her baby as soon as she could."
And while Maria's attorneys and activists have argued that the charges against her are false claims brought in revenge by her ex, Cox stated that the agency does not make distinctions between criminal charges filed against undocumented immigrants.
"Unfortunately we have nothing to do with the local charges. She was there as a defendant facing criminal charges and it is not our position to speak to the legitimacy of those charges," Cox said. "From ICE's perspective, this is a person in violation of federal immigration law."
Still, legal advocates said the arrest is another example of ICE going to alarming lengths to arrest undocumented immigrants in seemingly safe spaces such as courthouses, and part of an increasingly aggressive approach agents have taken toward immigration enforcement under the Trump administration.
From May 31 to Dec. 31, 2017, Mecklenburg County logged the fastest-growing number of immigration cases out of all counties in the US, according to the TRAC database run by Syracuse University. In that period, the number of people in the county with pending cases before an immigration court spiked by 34%, compared to a national increase of 11%.
The county has also been embroiled in a heated debate over a controversial ICE program known as 287(g), which deputizes local sheriff's deputies to enforce immigration laws, and informs ICE when an undocumented person is arrested and booked in county jail.
Mecklenburg County's newly elected sheriff campaigned on ending that program, issuing a strong rebuke from ICE, which pledged to ramp up its own enforcement efforts in the area should local law enforcement follow through with the sheriff's pledge to end cooperation with federal immigration agents.
"This is a scare tactic on behalf of ICE to show communities who has the power," Arteaga said. "That's why Maria went public with her story, to show that victims of crimes are losing their ability to use the justice system for protection. It's chilling."