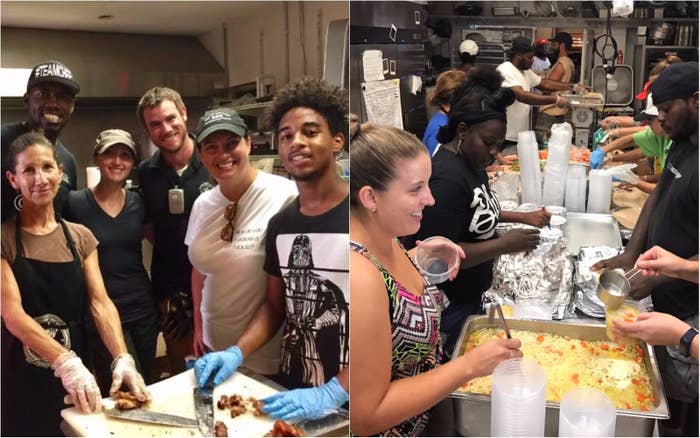 ST. THOMAS, US Virgin Islands — Hip-hop music blasts from the packed kitchen as about a dozen teens and adult volunteers spoon hot beans, stir quinoa, and wrap sandwiches to load into tinfoil containers. In the next room, others pour over a few crinkled sheets of paper with numbers, names, and places, marking the number of people they would be feeding that day.
The total, as it has been for the past few weeks, was about 1,100.
Outside of My Brother's Workshop on St. Thomas, more than 100 people stood in a growing line wrapping around the corner waiting for the metal gate to open. For nearly a month, the group has been prepping and doling out about 1,000 meals a day for people struggling on the devastated island of St. Thomas in the wake of hurricanes Irma and Maria. The nonprofit was born with a mission to teach life and business skills to at-risk youth on the islands.
"Those kids are now cooking for storm victims and repairing their homes,' program director Jenny Hawkes said. "Food is coming from everywhere and we're just teaching them to put themselves into it."
Already stretched thin by a string of unprecedented hurricanes, federal and local government agencies are trying, but struggling, to immediately meet the plethora of needs for residents of the US Virgin Islands, especially those living in remote areas. Hundreds of service members from across the country are themselves living in hot, swampy tent cities overrun with mud and mosquitoes because most of the hotels are too damaged to house them.
"There's just so much to do," said Army Corps of Engineers Major Andrew Freinberg on Monday, noting that his team is working to help remove debris, assess infrastructure, and restore temporary power and roofing to homes.
On Saturday, Gov. Kenneth Mapp asked for more help from the federal government, whose resources and military personnel have been exhausted by so many communities torn upside down.
"Many of our people are living in damaged structures and most of us are without running water, electricity and without the fans, refrigeration and air conditioners so necessary in the Caribbean during what is the hottest time of the year," the governor said. "Ice remains elusive and in very short supply. We still need a great deal of help."
Julius Jackson, a professional, Olympic boxer and trained chef, has been teaching kids how to cook and care for disaster victims since Hurricane Irma ravaged his homeland. The 30-year-old head chef for the non-profit lost a family member in the storm and, like hundreds of other local volunteers, has committed his days to helping his neighbors gain access to a hot meal and necessities.
"We've become the only strong, functioning feeding center on the island right now," Jackson said. "A few weeks ago, we were teaching kids cooking and other skills to keep them out of gangs and violence and now we're all just helping people get food. Good food."
Robust, organized, and consistent efforts from the private sector and non-profit organizations have been essentially carrying the US Virgin Islands as they dig their way out of two horrendous, unprecedented hurricanes just weeks apart. National and local organizations have stepped in to fill the holes of an overwhelmed, local government hamstrung by budget hurdles and logistical challenges. Delivering millions of dollars in generators, food, water, housing supplies, and medical needs, volunteers are trying desperately to fill the evolving, constant needs of some 105,000 people left to pick up the pieces of their already fragile infrastructure and economy. Alongside federal vessels, private boats, and planes have been jetting back and forth, unloading massive amounts of food and supplies, like bleach, chainsaws, tampons, and batteries.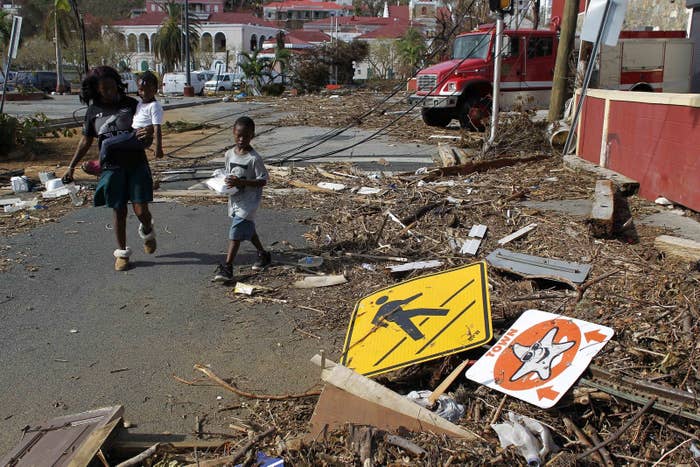 And while the islands are tiny and remote, the residents are crafty and resilient. For the past month, bolstered by the private and non-profit sectors, they've been clearing roads with their own partially-destroyed trucks and chainsaws, cleaning beaches, and readying schools while agencies now scramble to plan and dispatch resources and personnel after having to pull out of the US territories before Hurricane Maria and reallocate efforts to Puerto Rico.

After nearly a month without power, and many still living without roofs and walls in swollen homes tossed askew by record-breaking winds and rain, people on the US Virgin Islands visibly light up when they can sit and take in a meal made by a familiar face.
"People need a mental health break," Chester Mingo said as he wiped sweat from his forehead, dipping flour-coated chicken into the popping oil. "Making soul food. Real island food. There's no better way to serve the people."
Like Jackson, the 34-year-old chef decided to dedicate his days to feeding hundreds of residents, service members, and volunteers, his famous crispy fried chicken, johnny cakes, and rice for free. Mingo received 400 pounds of chicken and rice from the Kenny Chesney Foundation, inspiring him to whip up free, hot meals while his island works to repair its roads, cell phone towers, and 80% of its now-damaged homes.
Originally from Dominica, another hurricane-lambasted Caribbean Island, Mingo said his son and daughter there lost everything and are living in a shelter.

"I've got three kids. I work twenty-four-seven, but we're family here," he said. "The schools need the money to open more than I do."
Across from the St. John dock, Cruz Bay Landing has also been making 1,000 bagged lunches and hot meals a day in partnership with the Red Cross. At 2 p.m. Monday, a crowd of sweating Army personnel from Virginia chowed down on beef, rice, and coleslaw, next to local nurses, FEMA employees, construction workers, and children.
"It's a morale booster to finish work and come, sit down and have a hot meal," manager Boo Bernhard said. "It's also good for our economy because we buy the food through local purveyors and Red Cross reimburses us."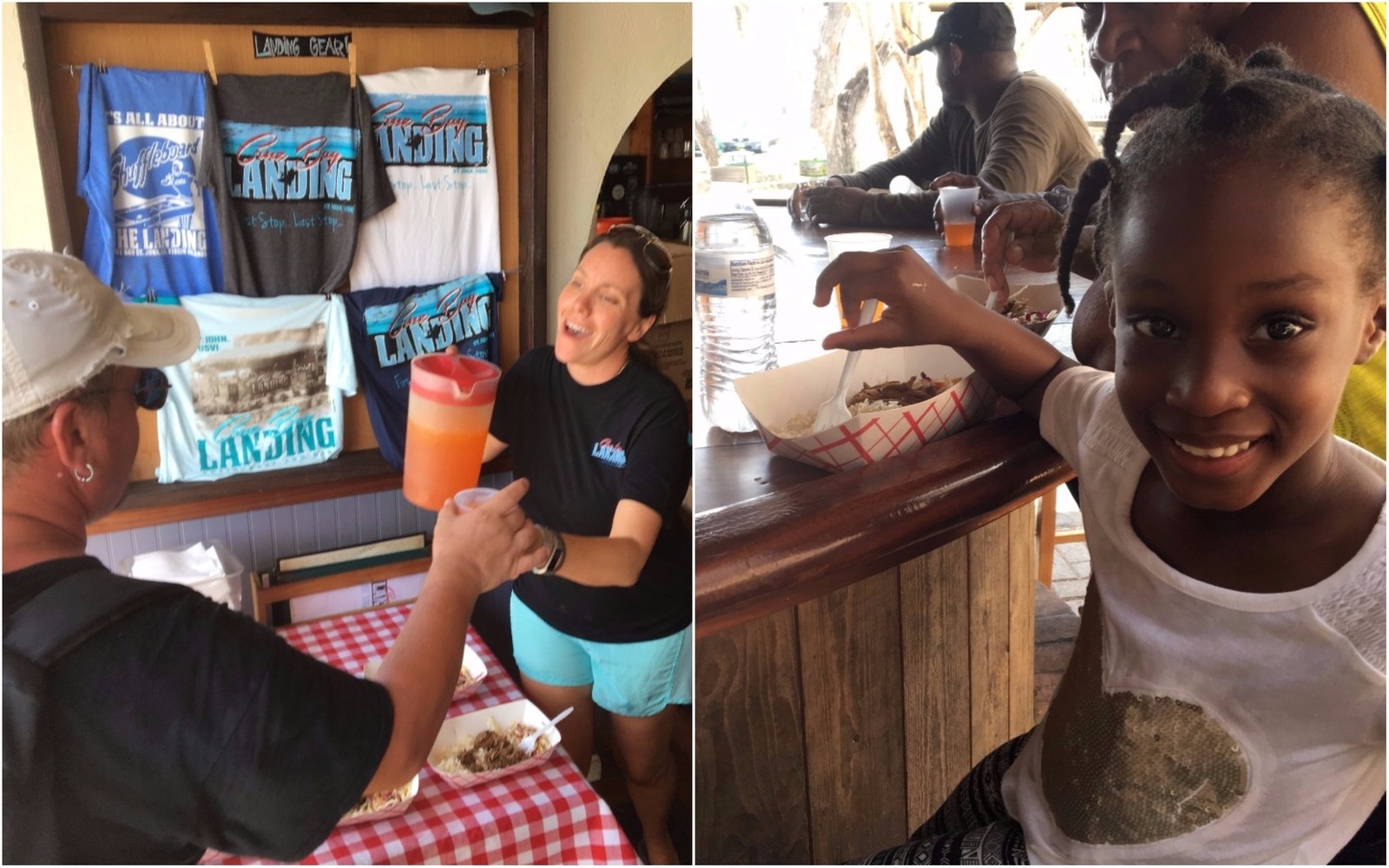 But after just 30 minutes, the staff served all of the food it had. The island's other distribution center, also a restaurant, wasn't able to make hot meals Monday because the city turned off the water.
"I think it's because they're desperately low," Bernhard guessed.
A quick ferry ride away back on St. Thomas, Pastor Jeff Neevel, whose church has been helping with relief efforts, said that the catastrophic damage has galvanized residents and people from across the world to help the once-picturesque islands feel less like a war zone.

"People are still in dire need of food, water, diapers," Neevel said. "Nursing homes here are being ignored and so we're the ones feeding about 400 elderly people. There are people just not being serviced by our agencies so we have to fill in the gaps the best we can."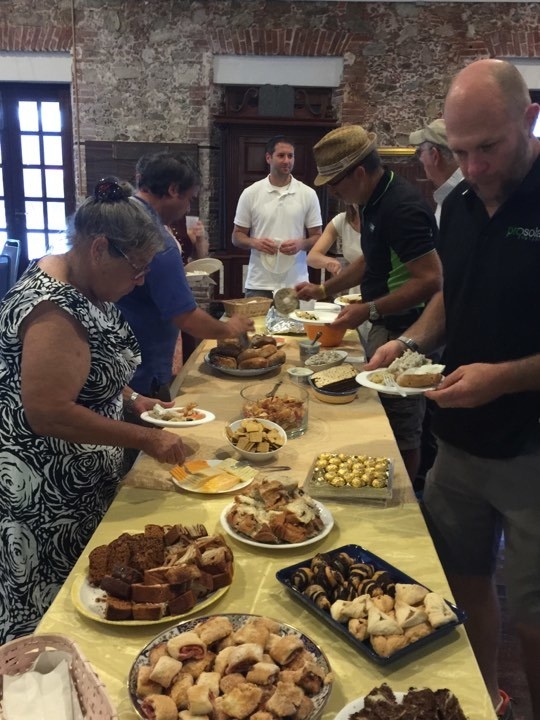 Andrew Kavesh flew in from New York toting special food so the small, but close-knit Jewish community on the islands could traditionally celebrate Yom Kippur. The small congregation adjusted its breakfast to accommodate curfew.

Housing the Army Corps of Engineers at his Mafolie hotel, owner Adam Israel scrambled together a free, hot breakfast for some service members because his cook wasn't yet on site due to curfew restrictions.
On St. John, the non-profit Love City Strong helped sponsor a job fair. About 100 residents lined up to sign their names to help clear debris off white sandy beaches or pull shards of sunken boats from the blue waters for about $15 an hour.
"This is helping me make some money while we all are just waiting around," a sweating Kassan Stapleton-Harris, 20, said Saturday during a break from clearing wreckage off the beach. "Gives you something to do. A purpose."
On St. John, where residents said they felt especially forgotten due to their smaller population, Clayton Covel said the federal government's response has been as good as could be expected.
"The logistics here is impossible," said Covel, a former Marine and project manager with Global DIRT's Global Disaster Immediate Response Team. "There's no way to communicate and no power so it's hard to dispatch people."
With cell phone networks and power still down across much of the islands, locals have had to get creative, turning a cyber cafe in St. John into a literal message board, its walls covered in pinned notes, plea's, needs, and directions.
"Gift Hill School needs screw guns, chainsaw, roofing screws and volunteers to work equipment," one flyer posted to the wall said.
"If you need medical help, leave a note for Sandy of Island Health and Wellness Center," another paper said. "She's checking it daily."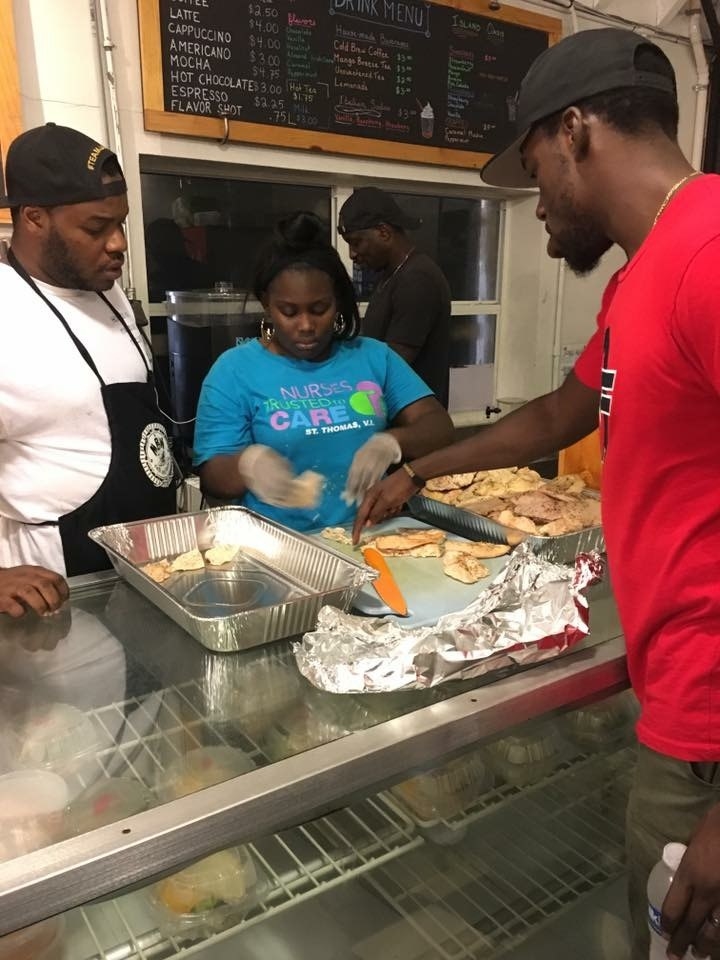 Before the storms smacked the islands, non-profit groups were already struggling to address poverty, a dilapidated public school system, and the highest murder rate in the country, according to a 2016 FBI report.

"There's just not a lot of opportunities on this island," said Scott Bradley, who founded My Brother's Place. "We teach kids job and life skills, and now they're cooking for storm victims, repairing houses and delivering food to disabled and nursing homes."
Across the water, Mingo's bar is booming as more people head in to grab a beer, eat, and relax after finishing another day of recovery. As he sets up an outdoor stereo system, Mingo takes the microphone to remind people that he's going to be cooking every day.
"I'm going to cook like a motherfucker," he yells to a laughing crowd. "It's from the heart. Look at everybody's face. All you have is a smile. It's not money make you, it's your love make you."