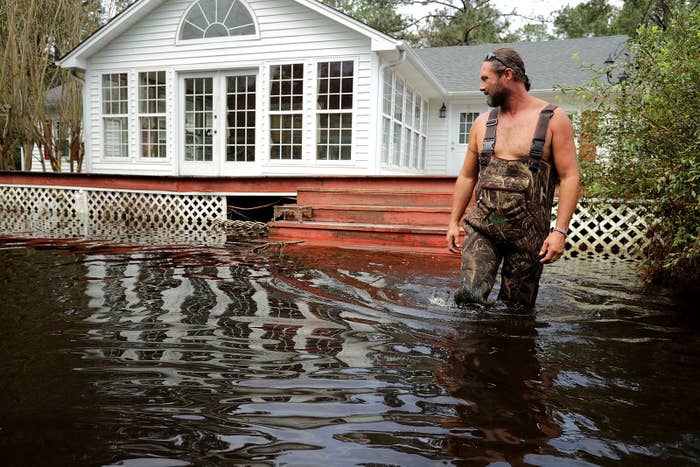 Six years after North Carolina lawmakers banned the use of a scientific report that predicted accelerated sea level rises due to climate change, researchers said this week that storm surge from Hurricane Florence damaged twice as many homes because of consistently swelling seas and inadequately adapted developments.
Since the powerful storm walloped the Carolina coast on Sept. 14, the storm has left at least 43 people dead and caused billions of dollars in damage. Several rivers in North Carolina are still overflowing into bordering towns, cutting off aid to residents and spurring new evacuations.

In a report published Monday, scientists at the First Street Foundation, a nonprofit sea level research and communications group, found that since 1970 sea levels off the coast of the Carolinas rose 6 inches, causing storm surge from Florence to "significantly affect" more than 11,000 additional homes when it slammed into the region nearly two weeks ago.
Large chunks of the state are still battling record-level flooding and thousands of people remain evacuated and without power.

The researchers gathered the data from a host of federal organizations, including the US Army Corps of Engineers and the National Oceanic and Atmospheric Administration, as well as local governments in hard-hit coastal regions and historical elevation data to assess how Florence impacted communities when compared with past storms.
By mapping the storm surge heights against elevation and property data, researchers concluded that Florence's storm surge impacted more than 51,000 homes.
"Tons more homes were affected and the damage is still being assessed, but we can already see what a tremendous impact storm surge had on these communities," Steven McAlpine, First Street's head of data science, told BuzzFeed News. "Even elevated homes were impacted."
In 2010, scientists from the North Carolina Resources Commission published a report estimating that sea levels along the coast would rise 39 inches over the next century due to climate change, potentially putting 2,000 square miles of the coast underwater.
Real estate groups and conservative lawmakers balked at the predictions, accusing the panel of "pulling data out of their hip pocket." Backed by major developers, the Republican legislature banned state and local agencies from creating any policies using that report, or any other scientific findings on sea level rise prior to July 2016, when the commission's next report would be updated.

Instead, state policies surrounding sea level predictions could only be based on "historical data," despite multiple, recent scientific studies touting the same findings about sea level rise. In another report from August 2017, the Union of Concerned Scientists warned that 20 coastal North Carolina communities could be submerged in the next 15 years.
"The mindset has been all economics, growth and development at all costs," said Stanley Riggs, a professor at East Carolina University and a former member of the commission that produced the report. "They keep pushing for bigger and bigger coastal developments and then trying to build dikes and pile sandbags around towns consistently more at risk of flooding. It's insane."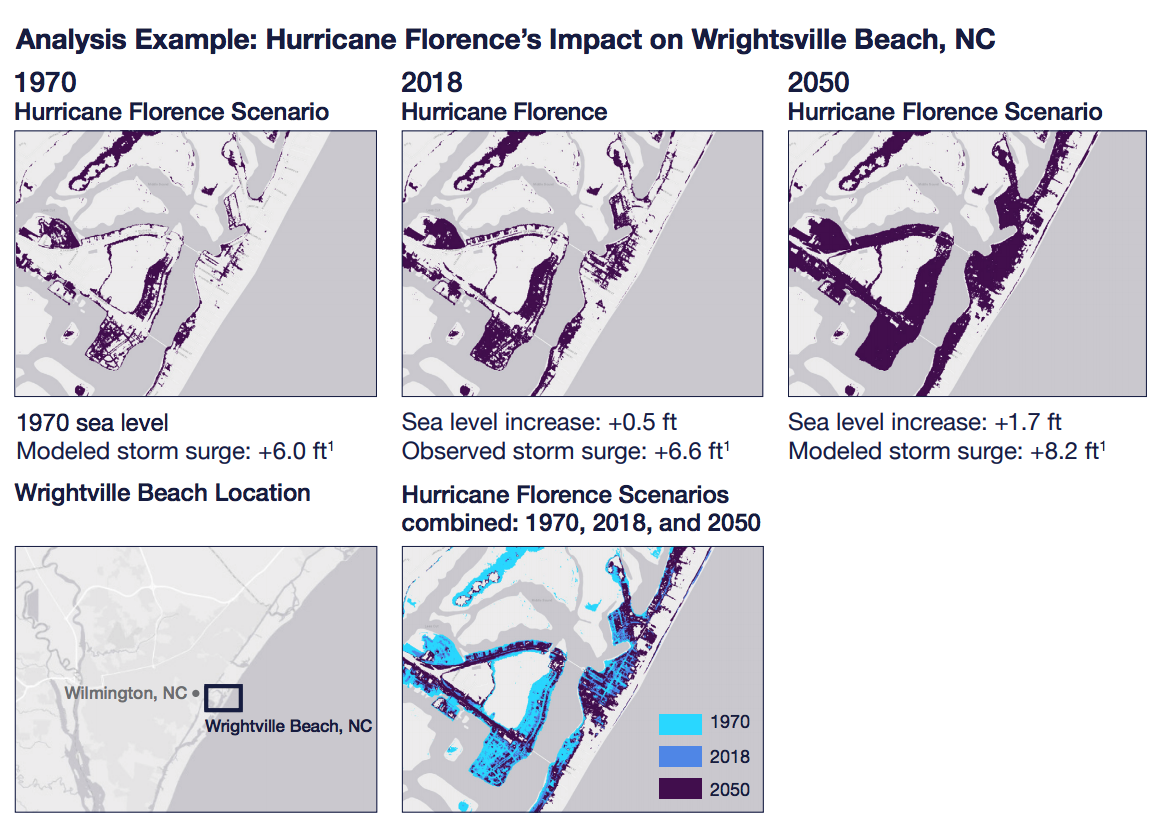 By 2050, the sea along the North Carolina coast is predicted to rise 15 inches higher than current levels, First Street said in its findings. As a result, the same storm surge from Florence would approximately double its impact, flooding approximately 102,000 homes.

Denser, broadening communities also played a significant role in how rainfall and storm surge from Florence swallowed entire neighborhoods, with many more homes directly in the storm's path than there were about 50 years ago.
"About 28,000 of the 51,000 homes damaged in the area were built after 1970," McAlpine said. "We will, most likely based on trends, continue to develop into at-risk areas and this storm highlights that we need to do it smartly. Otherwise, we will continue to experience worse and worse damage."
The riverfront city of New Bern, for example, has been devastated by storm surge and extraordinary, ongoing flooding. Although the extent of the damage is still being assessed, officials said Friday that Florence caused $74.5 million in residential damages and $25 million more to businesses.
"I have never seen anything like this," New Bern Mayor Dana Outlaw, who has lived in North Carolina his entire life, told BuzzFeed News on Wednesday. "Hurricane Floyd hit us in a different way. This one, the storm surge really got us like nothing before."
While Outlaw did concede that "empirical data" does show that the sea levels hugging his state are rising, he believes that storms like Florence are "anomalies that you can't predict."

Nevertheless, he said that standards in the state need to change and he would like to see the governor and legislature hold regional meetings, "put politics aside and do the right thing."
"This storm will make a believer out of a lot of folks," Outlaw said. "It's a wake-up call for new building standards. We have to be smart about this and make some tough decisions. They will be unpopular ones, but we all need to take a closer look at this and get the homeowner groups and all on the same side to make some changes."
Heavy flooding from Florence also crippled communities farther inland, despite repeated attempts to prepare aging levy systems and damns for the rising water.
The city of Lumberton, for example, erected temporary levees to try to keep the Lumber river from pouring into its streets. They gave way.
As communities like New Bern and Lumberton scurried to prepare as Florence loomed off the coast, North Carolina's 2012 decision to ban scientific predictions of sea level changes again drew national coverage and outrage.

"We now have communities farther inland who had asked for help and now they are like a swimming pool," Riggs said. "People are in desperation trying to figure out how to pump water out of their cities and this is just going to keep happening."

Riggs, McAlpine, and other scientists say ignoring rising sea levels is "irresponsible" and will "wipe out towns" still trying to recover from previous powerful storms, such as Hurricane Matthew in 2016.
Residents who have weathered and rebounded from past storms say they are seeing flooding in places they had not expected.
"I came back home for the first time since I left last week and everything is wiped out," Patricia Clifton, who lives in Lumberton, told BuzzFeed News. "This is devastating because I, we feel like we are reliving Matthew all over again but so much worse, and so many of us don't have the heart or money to come back from this."