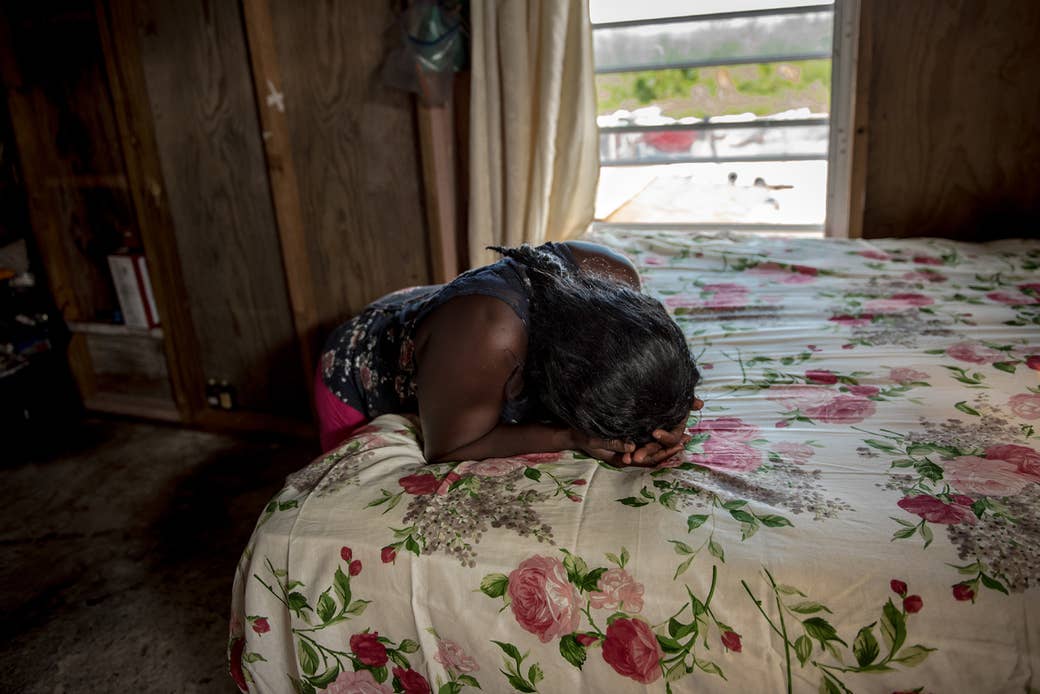 GREAT ABACO, Bahamas — She plays his message again, the last time she heard his voice, telling her to be strong for the kids, to keep her head up, that it will all be OK until he can see them again.
But Gina doesn't expect to ever see him again. Immigration officers had arrested her boyfriend, Avner, two days earlier near Treasure Cay, a gated community on Great Abaco Island. They grabbed him right after his lunch break, while he was walking back to his new job rebuilding houses that Hurricane Dorian had destroyed. The other men he was with scattered, making their way by foot and bike back to the remote Haitian village known as "the Farm," and told her he was gone.
"I don't know what I am going to do," Gina, who agreed to only use her first name, told a translator in Creole while sitting on a crate.
The 41-year-old doesn't remember the last thing she said to Avner before he left for work that morning. She'd been stressed and distracted. They'd lost their money, stable jobs, and home to Hurricane Dorian. She, Avner, and three of her seven children had been living in a pink single-room shack with one bed. What they could collect from aid groups sat in piles in a white dome tent.
It was God's plan, she and other Farm residents say, that they survived the storm. When the winds really began to roar, they hid in a stone building, huddling under an old tractor, a truck, and other farming equipment. Then the structure collapsed around them.
"One of my kids, my son, the wind took him and carried him out," Gina said as she gestured. "He was holding a light pole and I had to run and go get him."
Living through that was hell, but what's been happening to them since has been worse, she said.
Immigration officers have been conducting daily raids in Haitian neighborhoods and hurricane-recovery sites, demanding work permits and residency papers as part of the Bahamian government's ramped-up campaign against undocumented immigrants.
Residents and outside aid groups report stories of mistreatment and abuse, of officers stealing detainees' money and beating them.
In the past three weeks, officials have detained and requested to deport more than 340 Haitians who, like Avner, lack proper papers, according to a Haitian government official. On Tuesday, a plane of 105 deportees, including a pregnant woman and two children, landed in Port-au-Prince, Giuseppe Loprete, chief of mission at the International Organization for Migration in Haiti, told BuzzFeed News.
"The majority of them came from Dorian-affected areas," he said. "They are clearly traumatized because of what happened in the Bahamas and because of the situation they now find themselves in. They don't want to talk. One of the migrants didn't want to leave the airport because he was afraid of what will happen to him in the streets. One man was afraid to eat."
The situation is Haiti is "not conducive" for hurricane survivors to try and restart their lives, Loprete said. Continuous riots and violence lock down roads and airports, recently trapping a bus of deportees. He also said 40% of the population doesn't have enough to eat, hospitals are low on supplies, and more than 2 million children can't go to school.
Bahamian officials say they need to deal with their own crisis. They contend that by rounding up undocumented residents, they are merely enforcing the constitution, and that declarations like barring "illegals" from temporary housing for storm victims is just the law. Many Bahamian citizens also support the administration's actions.
"After the cyclone, they treat Haitians bad, bad, bad," Gina said. "They beat us, they take our money... I never knew we could be treated like that, that this is how God works. They say Haitians caused the hurricane, you know."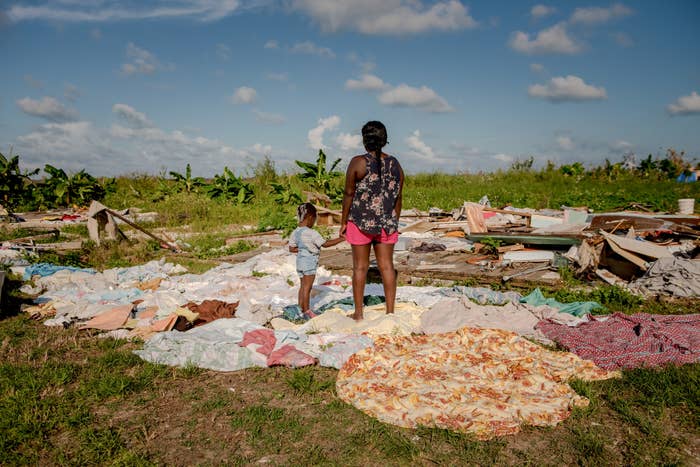 Like scores of other Haitians, she immigrated to the Bahamas illegally, "looking for a better life." She was 12 years old and "didn't have enough sense," landing in Abaco and finding work at a large citrus farm. When it closed in 2000, she lost her work permit. She married and had six children. Then, one day, her husband never came home.
In 2012, she met Avner. He helped her care for her children and then they had a daughter together, Serenity. She's 3 and likes to play dominoes. Before the hurricane, life flowed. Gina cooked, cleaned, and took their kids to school. Avner, 51, worked as a gardener, making about $300 a week.
He was the sole provider "for everything," she said, and she's not sure how they'll survive without him. If she had the option to pay to renew his work permit, which expired last year, she'd "do anything to find the money." But deep down, she knows it's a lost cause.
"They don't allow us to work," she said. "That's the hardest problem right now…. There is no one to protect us. There is no place to lay our heads. No money. Nowhere to go."
On Monday, humanitarian groups told BuzzFeed News that armed guards are now stationed outside the dusty gravel road that leads to the Farm, checking trucks and only letting food — not building materials or supplies — go through. The government said Thursday it needs to clear the wreckage and that people can't be living there.
"They are trying to make us suffer so we will leave," Gina said.
When they hear a car drive up – a rare sound — the residents sprint and hide, ducking into the overgrown grass and behind trees. The dozens of families who are left now live in bright white tents, hanging laundry to dry next to twisted, overturned cars, crumpled homes, and teetering power poles.
They're frozen, afraid to stay or go. Some are still waiting to hear about family members who they know most likely died, submerged in the sea surge that descended on Marsh Harbour in early September. A few weeks ago, Gina said they found the bones of a resident "in the back." Hundreds of people are still missing.
"Plenty of people around here, their families died in the storm and this is what you do to them?" she asked. "We aren't even over the tragedy yet."
If she could, Gina would escape and take her kids to Miami, where two of her brothers live. But that would take money and, more importantly, a visa or other documents, she said.
"I haven't known anything but a hard life," she said. "Life was hard in Haiti, but when I came to the Bahamas, that's when I started going through hell. Haiti was a nice place when I grew up, but now it's no good."
She put her phone away and watched Serenity jump on their bed.
"Kole," she said in Creole. "Stuck." ●