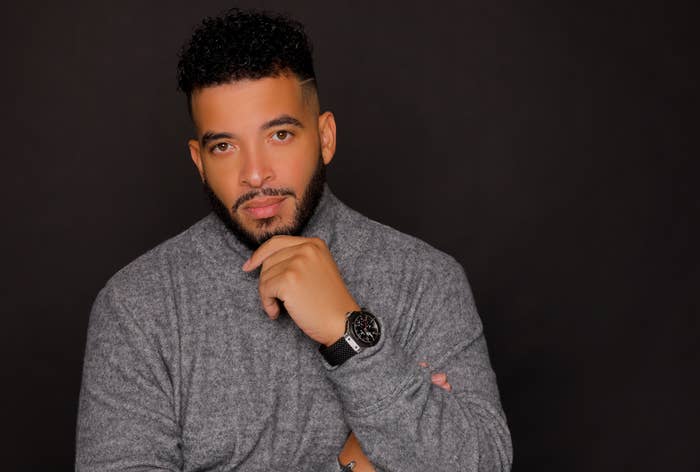 Jason Lee, the founder of Hollywood Unlocked, remained confident on Wednesday in his sourcing that Queen Elizabeth had died because, as he's said, he has never been wrong.
Of course, that's not what happened, and BuzzFeed News has confirmed that the Queen spoke to UK Prime Minister Boris Johnson by phone Wednesday. Still, the CEO of the blog, known for pop culture scoops with a focus on LA and Black celebrities, was sure that he had broken news ahead of every outlet on the planet and bypassed Buckingham Palace's carefully choreographed plans for revealing the death of a monarch.
Lee maintained to BuzzFeed News on Wednesday morning that he heard the news "directly" from a wedding guest of British Vogue editor-in-chief Edward Enninful. According to Lee, the Queen was supposed to attend the massive, star-studded ceremony in Wiltshire on Tuesday. (This flies in the face of the fact that the Queen was not included in any published guest lists, she has no personal relationship to Enninful, and she stopped in-person meetings after testing positive for COVID-19.)
Lee said that a guest close to the Queen received a phone call, "reacted emotionally to a few people, and those few people were informed that that's what happened."
One UK-based source suggested to BuzzFeed News there may have been a misunderstanding related to the death of Queens of the Stone Age singer Mark Lanegan, who actually died unexpectedly Tuesday at the age of 57. News of Lanegan's death was shared on Twitter within the hour of Hollywood Unlocked's post about the Queen, which remained live on Wednesday but has been labeled by Instagram as "false information."
It wasn't immediately clear if Lanegan was supposed to attend the wedding, but some guests — unlike Queen Elizabeth — had connections to '90s and '00s alternative rock.
Despite no proof to suggest that Britain's monarch was due to attend the event, Lee, who was not there, doubled down that although the 95-year-old Queen does not usually attend celebrity weddings and has never before attended the ceremony of a gay person, including her own cousin, "she was scheduled to attend this one." One of the people to whom that guest confided then called Lee, he said. Representatives for Vogue and Enninful were not available for comment.
"I would never post something like this if the person that told me, I did not trust," Lee said. "People are asking why we posted without allowing the royal family or the Palace to release a statement. Why? Because we break stories. And I've broken many stories that have been factual. We have never been wrong."
On Tuesday afternoon, the site published its "exclusive," stating, "Socialites, it is with our deepest regret to inform you that Britain's Queen Elizabeth has died." The post cited "Sources close to the Royal Kingdom notified us exclusively that Queen Elizabeth has passed away."
However, Lee told BuzzFeed News that his source is not related to the Queen, nor does that person work for the royal family.
The story and subsequent social media postings went viral, sparking confusion about the status of the monarchy, questions about Lee and his site, and memes. Meanwhile, Hollywood Unlocked kept posting about Kanye West, car chases, and other news. It posted an update Tuesday night again claiming that the Queen had died and detailing the "London Bridge" protocols that would go into place to announce her death. Instagram blurred both posts marking them "false information." The next day, a Twitter account pretending to be Hollywood Unlocked published a retraction, blaming the whole ordeal on an intern. The site doesn't even have interns, Lee scoffed, expressing frustration that other media outlets had not bothered to check the authenticity of the Twitter account.
Buckingham Palace initially declined to comment on the story and in the past has often refused to respond to rumors. On Wednesday, the Palace and a spokesperson from the prime minister's office confirmed to BuzzFeed News that the Queen held her audience with Johnson that afternoon, local time.
In his interview with BuzzFeed News before getting on a boat at an undisclosed location, Lee added that after he posted his original story, he got a call from another source familiar with the British military who told him that all the top generals had been summoned to Windsor Castle four hours before his exclusive went live. He also mentioned that the Queen had recently given her blessing for Camilla, the Duchess of Cornwall, to become Queen Consort when Prince Charles ascends to the throne. Lee also noted that the Queen has not been seen "in I don't know how long" after her COVID-19 diagnosis was announced on Sunday. (She was last photographed at Windsor Castle on Feb. 16.)
"I'm not a conspiracy theorist, and everything aligns with me feeling very confident, which is why I doubled down on it," he went on. "Now if I'm wrong, I'll be the first one to go out there and say, hey, it's the first time I got it wrong and this is a big wrong, on to the next story."
Lee, who grew up in Stockton, California, is known for being a bombastic personality in the hip-hop media world. Before founding Hollywood Unlocked, he worked for Queen Latifah in the '90s and then appeared on the second season of the VH1 reality show Love & Hip Hop: Hollywood. He has broken big celebrity news in the past, like the whole Khloé Kardashian, Jordyn Woods, and Tristan Thompson cheating scandal, and he's also scored exclusive interviews with stars like Kanye West and Kelis. Over the years, Lee built and solidified his image and brand as an LA celebrity gossip insider with the launch of his podcast, YouTube channel, and popular shows on iHeartRadio and Fox Soul.

Lee declined to explain his outlet's process of verifying the news they publish, but he reiterated that they do not publish stories that "are sourced by people that we don't know and don't trust."
"We've never led with gossip," he said, also refuting that the Queen story might have been a ploy to drum up attention and advertising dollars. He's used to people attacking and discrediting him, he shrugged.
When asked why he thinks that no one else at the wedding leaked the news of the Queen's death, Lee surmised that it's because "they probably don't want to go through what I am going through."
"But I am built for it, so…" he trailed off. "It's just awkward that nobody is responding."
Publishing what might be one of the biggest scoops in the world is a little out of Lee's usual wheelhouse. A current employee told BuzzFeed News that they found out about the story "the same time as the world did," and the small staff was still pretty much in the dark about its developments Tuesday night. The night the story went live, Lee was livestreaming from Kanye West's Donda 2 listening party in Miami, which quickly took over Hollywood Unlocked's platforms. Lee acknowledged that the reaction he received on the Queen story "has been different," but he was not thinking about the gravity of the news when reporting it — he was just doing the job.
"It was literally breaking a story," he said. "Our intentions are to be factual, to be first when reporting facts, and to trust our sources. ​​And in this case, that's what we did. We don't do clickbait stories. We don't create gossip."
Lee added since posting the original story, he's thrown his whole nine-person team at Hollywood Unlocked onto it. He said he recently called someone "who was related to a head of state in another country to see if they can get a confirmation." They have not been getting any calls back.
BuzzFeed News reached back out to Lee Wednesday afternoon to ask him if he was aware that Lanegan, the Queens of the Stone Age singer, had died Tuesday (he was not), and if it was possible that his source had misheard.
"I don't want to have a call every time there is an update on the internet," he replied. "What I said earlier still stands: Until there is a retraction, that's the story."
Things on the boat, meanwhile, are "great."
BuzzFeed News reporter Ellie Hall contributed reporting.