This High School Pitcher Hugged His Friend After Striking Him Out To Reach The State Finals
There is crying in baseball, guys.
If you are in need of a heartwarming, all-is-not-terrible-or-lost moment, step on up to the plate, because this one is all feels.
Ty Koehn was winding up to throw the last pitch of a sectional championship game between his high school, Mounds View in Arden Hills, Minnesota, and Totino-Grace, a private high school a few miles down the road.
If he struck out the batter, the 18-year-old's team would be on its way to the state championships, a first for the senior and his teammates, who were nervously shifting behind him Wednesday night, waiting for the pitch.
"I looked up to see who the last batter was going to be and my heart sank," Koehn told BuzzFeed News.
Coming up to bat was the pitcher's close childhood friend, Jack Kocon. The two had played baseball together since T-ball, Koehn said, and had been teammates in Little League before heading off to different high schools.
They also share the same position: left field.
Standing on the pitcher's mound and looking at his friend, Koehn said he felt "incredibly torn."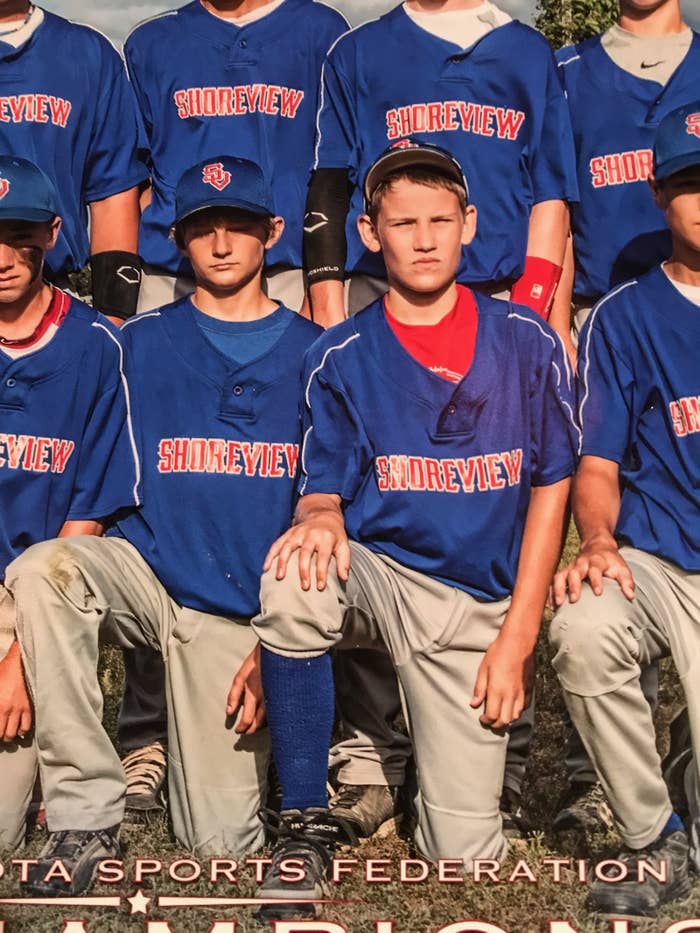 "I had to keep my mind on the game and my teammates," he recalled. "I had to do what I needed to do and I got lucky."
With a windup and pitch, the senior struck out his friend, finishing the game for his team and cinching their spot at the state quarterfinals.
But as the rest of the elated Mounds View high schoolers swarmed the infield to celebrate, Koehn threw his glove and made a beeline for home plate to embrace and console his friend.
"It was definitely spontaneous," Koehn said of the moment.
A few parents captured the moment: two opposing players hugging at home plate as the winning team cheered and danced behind them.
"I wanted to tell him that it wasn't his fault and reassure him and tell him he had a great game and an amazing year," Koehn said. "I think he knew that but I wanted to make sure he knew that. I told him he's a great baseball player and our friendship will last longer than this at-bat or this game."
For Kocon, the gesture "meant the world." The 18-year-old said he knew his friend was pitching and that he was in a high-stakes situation with two outs in the bottom of the 9th inning.
"It was rough when I missed that pitch," he said. "It was my last game playing organized baseball. I was down on myself and hung my head there. The moment meant a lot to me. I needed someone and he was there talking me through it and telling me not to beat myself up. It was great."
Although he is mourning the end of his baseball career, the high school senior said the hug from his childhood friend was a moment he won't forget and a special way to end the season.
Jon Chhay, one of Ty's coaches at Mounds View, said that in his 30 seasons of coaching baseball, he had never witnessed a scene like it.
"It's the first time I had ever seen that," he said Monday after the team's practice. "I was sitting at home watching a replay of the game and there goes Ty and he's hugging the last out and right away I emailed the coaches and asked if they had seen it and we had all missed it."
But the coach said he wasn't surprised by the gesture, because Koehn and the rest of his teammates "are different."

"They are high-character kids and I've never come across a group like them," Chhay said. "It's tough for boys in sports at this age. There's a bravado but I know that if they were in Ty's position, every one of those seniors would have done the same thing if it had been their friend."
On Thursday, the Mounds View Mustangs will face off against the Stillwater Area High School Ponies for the first round of the Minnesota state baseball tournament.