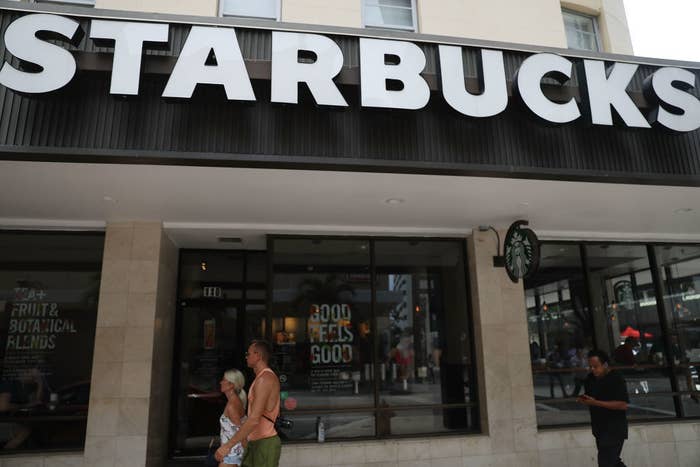 If you think you've almost made it through a week of insane, super uplifting news, I have a fun update for you Californians — every time you go to Starbucks or any other place that sells coffee, you will now be reminded that drinking this vital life elixir could kill you.
On Wednesday, Los Angeles County Superior Court Judge Elihu Berle ruled that the coffee giant, along with all other vendors and distributors, must include a cancer warning on their products, stating that they failed to properly identify the chemical threat.
You know, that super normal-looking sign you see everywhere that says something along the lines of, "This area contains chemicals known to the state of California to cause cancer, birth defects and other reproductive harm."
WHY!? HOW?? Let me explain.
In 2010, the California nonprofit Council for Education and Research on Toxics sued Starbucks, Peet's Coffee, Seattle Coffee, and other companies, claiming they violated a state law that requires them to warn customers about cancer-causing chemicals in the roasting process.
California lists acrylamide, a byproduct of the coffee-roasting process, as a chemical that can cause cancer or "reproductive toxicity." The carcinogen can also be found in French fries, potato chips, and bread, because life is terrible.
(Just FYI: Aloe vera, coconut oil, and "Salted fish, Chinese-style" are also on this VERY long list of cancer-causing things, so.)
What is this chemical, acrylamide, exactly?
According to the American Cancer Society, acrylamide "is a chemical used mainly in certain industrial processes, such as in making paper, dyes, and plastics, and in treating drinking water and wastewater." It also "forms from sugars and an amino acid that are naturally in food."
However, there's really not a whole lot of evidence linking acrylamide to cancer in humans.
Based on the studies done so far, the organization has concluded that "it's not yet clear if acrylamide affects cancer risk in people." A 2014 report from the National Institutes of Health concluded that "the carcinogenic potential of dietary acrylamide exposure from cooked foods is unknown," and future studies are needed.
So where did this acrylamide hoopla come from? The Swedish National Food Administration, which first reported on the discovery of this chemical in foods in 2002. After conducting some animal studies, the International Agency for Research on Cancer classified acrylamide as a carcinogen for humans.
And even in those animal studies, researchers noted that acrylamide increases the risk of cancer in rodents when the carcinogen is given to them at doses of "1,000 to 10,000 times higher than the levels people might be exposed to in foods."
Plus, acrylamide is considered "reasonably anticipated to be a human carcinogen," since it comes from cooking foods, according to a National Toxicology Program's Report on Carcinogens.
However, this chemical has been on California's "oh shit" list for decades, and by not listing it on their products, the nonprofit argued that the major coffee sellers violated a 1986 California law known as the California Safe Drinking Water and Toxic Enforcement Act, which requires all companies with 10 or more employees to clearly warn people before exposing them to chemicals on California's list.
"Defendants concealed from Californians and from plaintiff that their ready-to-drink coffee contained a chemical known to the state to cause cancer," the complaint argued in 2010, declaring that Starbucks, Peet's, and others should pay massive fines (as much as $2,500 per person) for every customer they may have exposed to acrylamide since 2002. That's a fuck ton of money since this state has about $40 million residents.
Obviously, Starbucks and a slew of other major chains, like Coffee Bean and Tea Leaf, Target, Walmart, and Trader Joe's, fought the complaint and entered a long legal battle.
At least 13 companies, though, including the more ~basic~ Yum Yum Donuts and 7-Eleven stores, ended up settling. 7-Eleven agreed to pay $900,000 and Yum Yum forked over about $250,000, court documents show.
In the end, the judge ultimately concluded that these major coffee sellers and retailers failed to prove that coffee did not endanger people's health, nor did it actually offer "any human health benefits" (SHOOK THO ).
"Defendants have failed to satisfy their burden of proving that sound consideration of public health support an alternate risk level for acrylamide in coffee," court documents said.
So fast forward to today, where now, whenever you buy a coffee in California, you will be warned about your potential impending doom.
When asked for comment, Starbucks referred BuzzFeed News to the National Coffee Association, which said it was considering appealing the decision.
"Cancer warning labels on coffee would be misleading," the association said in a statement. "The US government's own dietary guidelines state that coffee can be part of a healthy lifestyle. The World Health Organization (WHO) has said that coffee does not cause cancer. Study after study has provided evidence of the health benefits of drinking coffee, including longevity — coffee drinkers live longer."
Meanwhile, people on social media were basically, like, whatever.
Though some decided to drink the coff-aid.
While other glass-who-cares-how-full-we're-all-dying-anyway types aptly reminded people that everything is going to kill us somehow.
"No shit everything is cancer."
In conclusion: Life is short. Pick your poison and enjoy it.