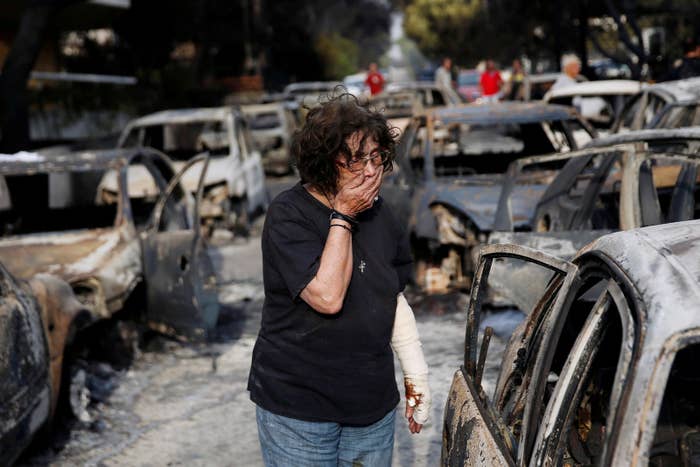 Investigators in Greece have found "serious indications" that the catastrophic wildfires outside Athens that had killed 91 people by Sunday were set deliberately, officials said.
The blazes erupted Monday near Rafina, consuming forests and coastal towns on both sides of the Greek capital. Less than 24 hours later, emergency services had recorded 47 separate wind-fueled fires that moved so rapidly people had hardly any time to escape.
After reviewing satellite images and ground inspections, officials said they determined that the fires erupted in multiple places around the same time Monday.
"We have serious indications and significant findings of criminal activity concerning arson," Public Order Minister Nikos Toskas said at a news conference. "We are troubled by many factors, and there have been physical findings that are the subject of an investigation."
A spokesperson for the fire service said, "The cause of the fire is under investigation. We don't know and we can't tell if it's arson or not. [Toskas] made a hypothesis. It's his personal point of view."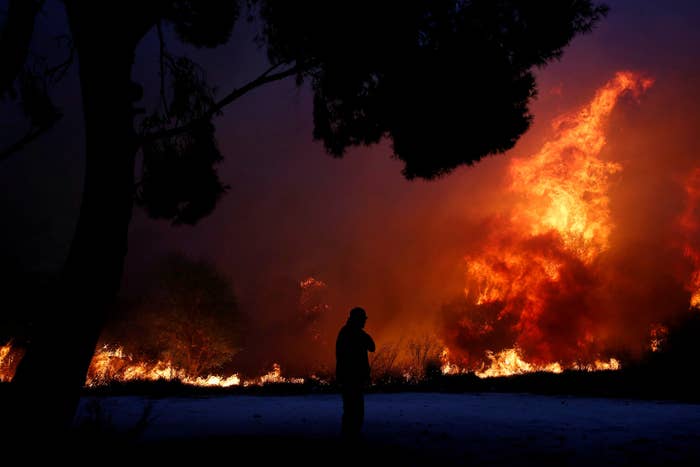 The blazes continued to rage, although firefighters reported that more than half of the wildfires were under control as of Thursday.

A pair of 9-year-old twins, Sophia and Vassiliki Philippopoulou, were reportedly found dead hugging their grandparents in the seaside village of Mati, a coastal village east of Athens that was almost completely obliterated by the fire. Their father claimed that he had seen them on a rescue boat on television, but it turned out to be other survivors.
The US military, meanwhile, had helped Greek forces capture images of the country's deadliest forest fire in decades, the Associated Press reported.

Images showed heartbroken and frantic residents returning to charred neighborhoods, looking for friends, family members, and pets. Most of the casualties were in Mati.
About 300 firefighters and volunteers were still searching the beaches and coastal towns for bodies. With dozens still missing, the death toll is expected to rise.

Furious citizens have lashed out at government officials, describing poor evacuation plans and traffic jams that, they allege, were caused because authorities had closed main roads and escape routes, the Guardian reported. Many people were found dead in their cars.
"This shouldn't have happened. People perished for no reason," a tearful woman shouted at Defense Minister Panos Kammenos as he visited a town, according to Reuters. "You left us at God's mercy!"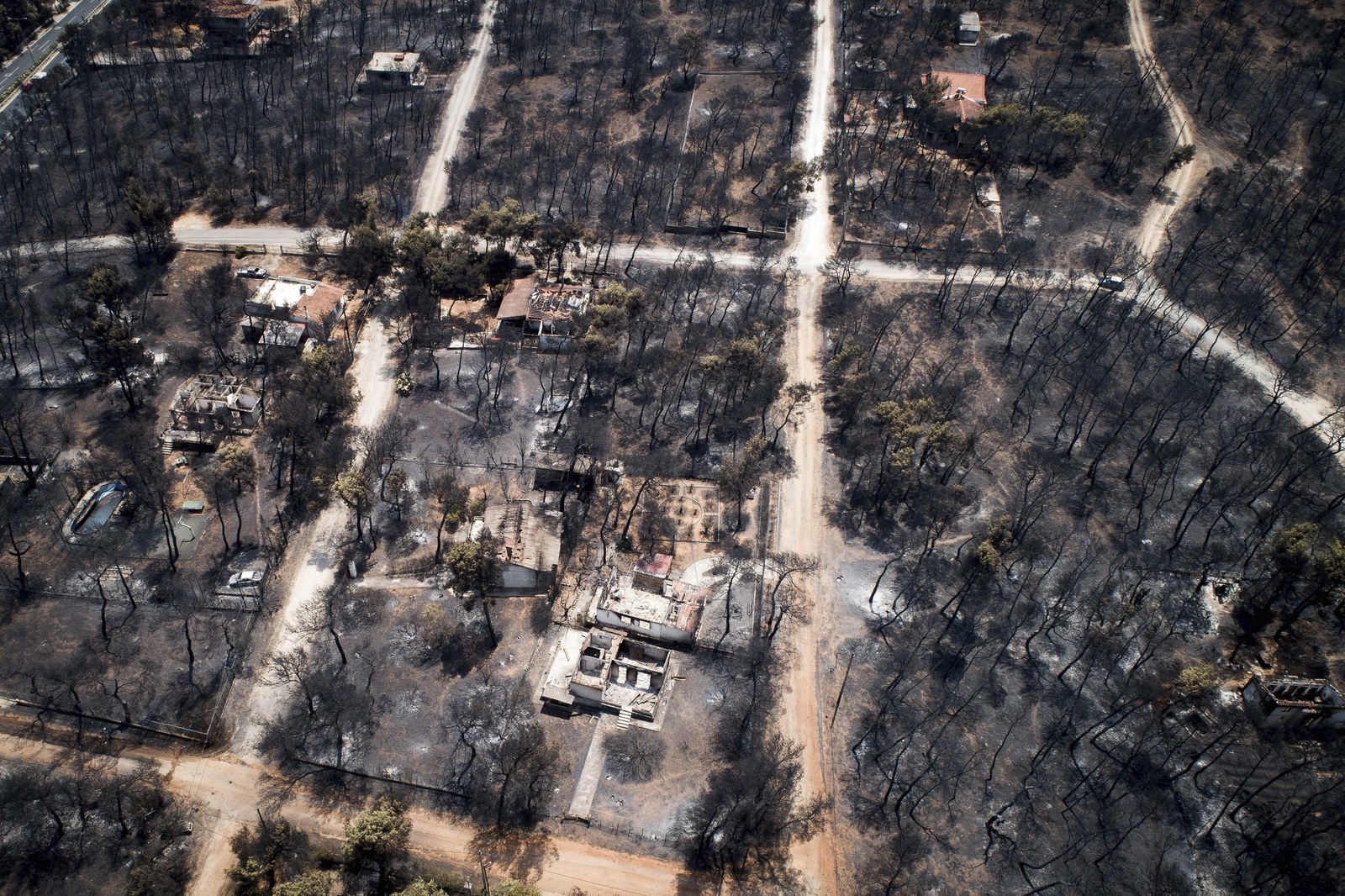 Christos Spirtzis, the country's infrastructure minister, has called for an investigation into why so many struggled to escape.

"How is it possible to have so many lives lost and not investigate who is responsible for such town planning chaos?" he told Reuters.
Those who could flee ran into the sea, staying in the water for hours. Many are still awaiting word if their loved ones survived as authorities struggle to identify remains, many of which were burned beyond recognition.

"The procedure is difficult, harder than that of other mass disasters which we have dealt with in the past as a forensics department," coroner Nikolaos Kalogrias told the Associated Press. "Here, the main cause of death was burning, in most cases the complete burning [of the body], so identification is very difficult."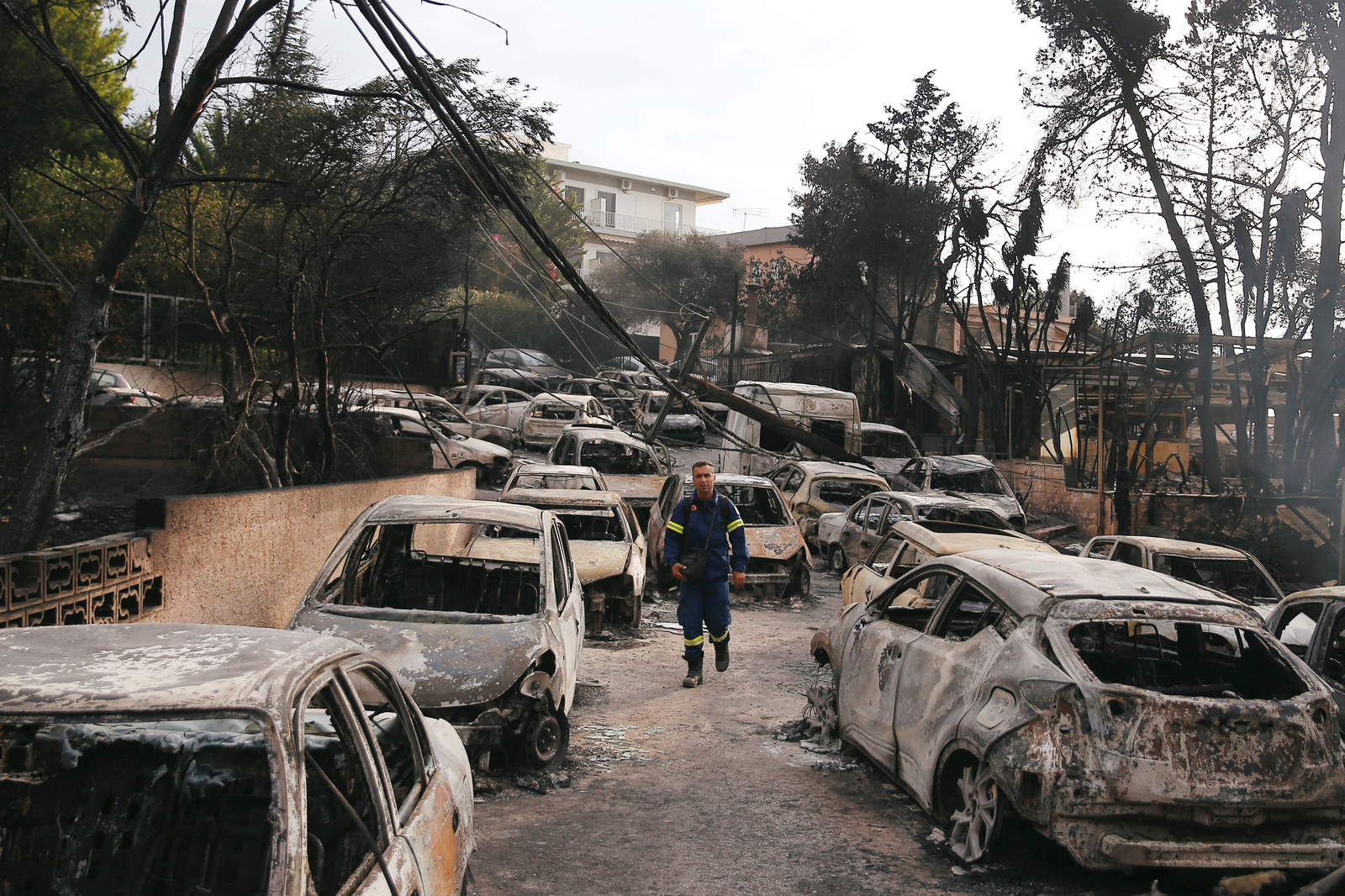 Like hundreds of others, Thanassis Moraitis went to the morgue trying to find his mother. According to the AP, he tried to outrun the fire in his car with the 90-year-old, his wife, and son, but the blaze was too fast. They got out and started sprinting to the beach, but his mother fell behind.

"I didn't even get a chance to say goodbye to my mother," he said.