Campus officials said that after a peaceful memorial vigil for Schultz, about 50 protesters marched to the Georgia Tech Police Department, assaulting officers and damaging vehicles.
One police vehicle was damaged and two officers suffered minor injuries, said Lance Wallace, the university's director of media relations. Georgia Tech Police arrested three people, one of whom is a student.
University authorities later identified the three arrested as Vincent Castillenti and Jacob Wilson, who are not students, and Cassandra Monden, who is a Georgia Tech student.
Their charges include several felony counts of aggravated assault against a police officer, trespassing, interfering with government property, a felony, inciting to rioting, and obstruction of an officer by use of threats or violence, according to Fulton County Jail records.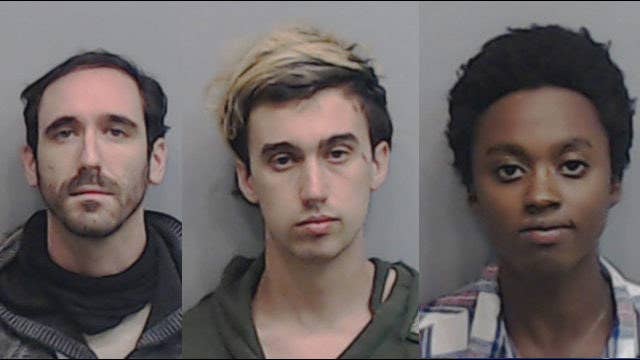 According to arrest warrants obtained by the Atlanta Journal Constitution, Monden tried to kick in the front windshield of a police vehicle. Castillenti struck an officer in the head with a hammer while he was arresting another protester and used pepper spray on another officer. Wilson hit an officer in the head with a can of spray paint, giving the officer a concussion, the warrants state. Wilson also allegedly graffitied anti-police rhetoric on several sites near the protest and was charged with several counts of criminal trespassing.
"The Atlanta Police Department and Georgia State University Police Department helped restore order relatively quickly," the school said.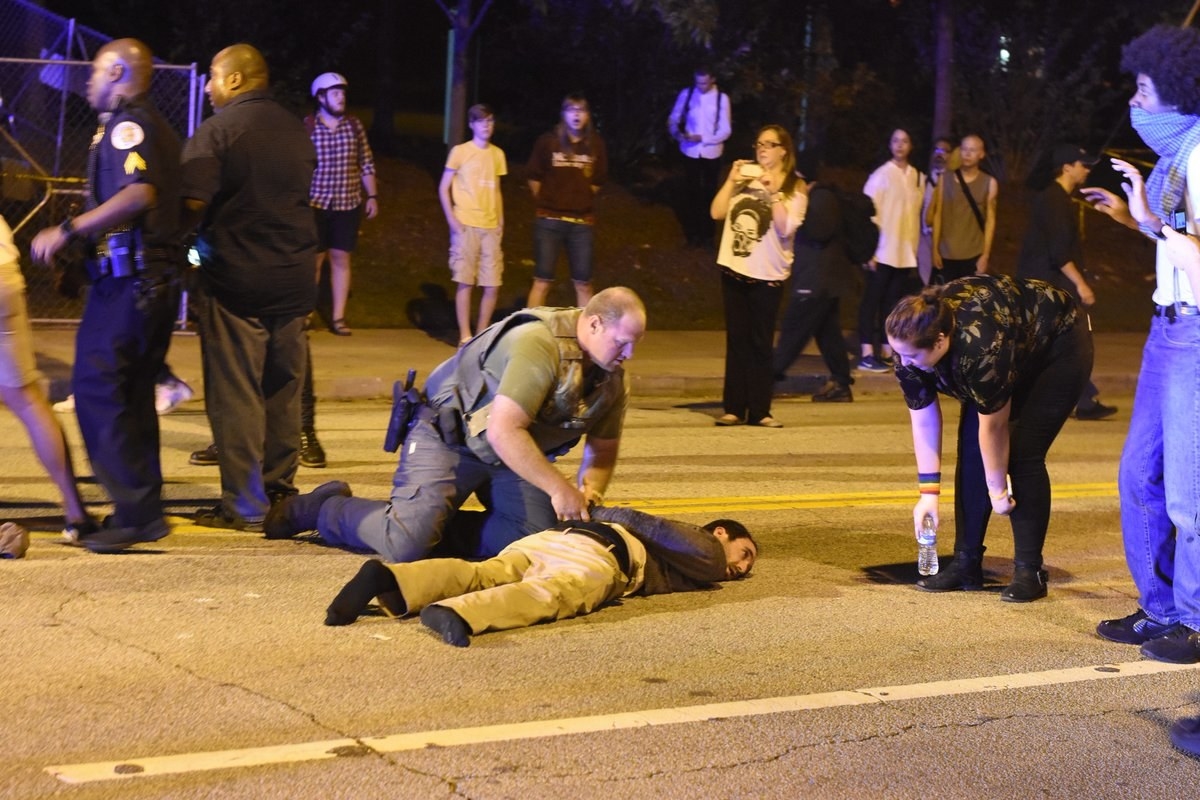 A Georgia Tech Police vehicle was torched during the demonstration, NPR reporter Stephen Fowler tweeted.
He said that the vehicle was torched "right after people started punching and attacking the Tech police."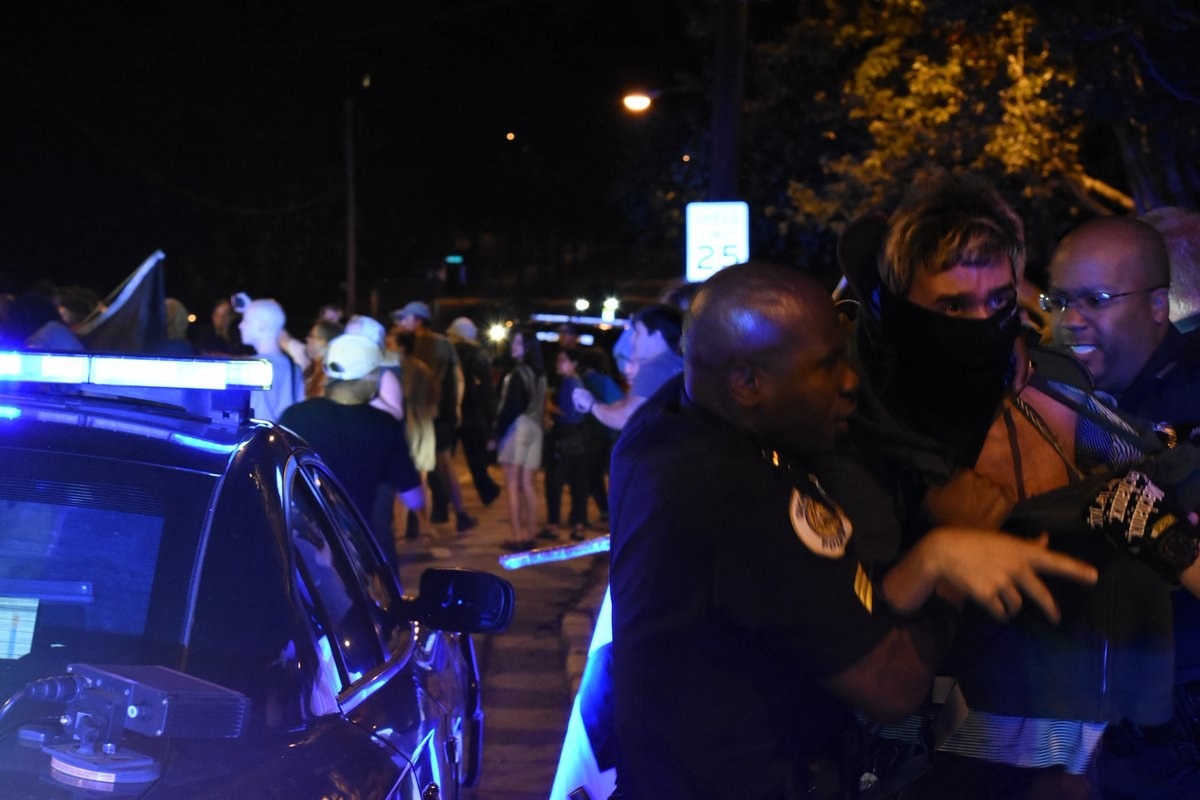 The group seemed to be separate from those who attended the vigil, Fowler said.
"This was a completely different group of people than the GT vigil for Scout Schultz," the reporter tweeted.
Another witness, 20-year-old Sebastian Gonzales, told BuzzFeed News after the incident that many protesters did not look like students.
"I have no idea how it started," said Gonzales, who is not a Georgia Tech student and was not attending the vigil. "I didn't see any students damaging cars. It looked like there were a bunch of non-students there."
Gonzales said he was walking on campus with his friend when the unrest seemed to come out of nowhere.
He tweeted a video showing a police officer chasing a person running through a smoky haze and a fractured crowd as people screamed.
"Seek shelter in a secure location until further notice. Lock all doors and windows. Take Immediate Action Now!" campus police tweeted.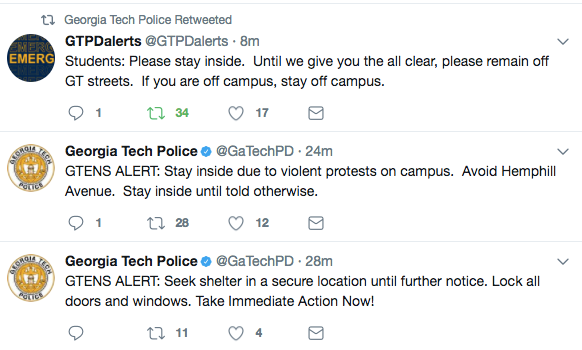 The chaos erupted after a vigil for Schultz, a 21-year-old senior who was shot and killed by a Georgia Tech police officer last weekend.
On Monday, police clarified their initial account of the encounter with Schultz, conceding the family's claims that the student was carrying a multipurpose tool with a blade when they approached police officers, rather than a knife as officials initially stated. It was also revealed that it was Schultz who called 911, reporting a person possibly with a gun.
Chants of "Shame! Shame!" and "Don't hurt me!" can be heard in this video, which appears to show officers pinning protesters to the ground and arresting them.
Jacob Peavy, who says he is a Georgia Tech student, tweeted an image of a car on fire as people stood by and watched.
L. Chris Stewart, an attorney who is representing Schultz's parents, tweeted out a statement condemning the violence. "We ask that those who wish to protest Scout's death do so peacefully," he said. "Answering violence with violence is not the answer."