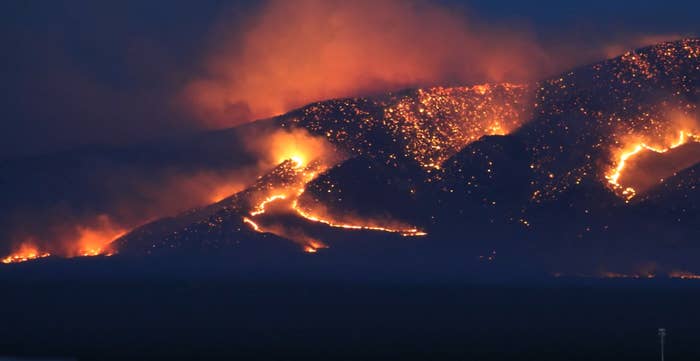 April 23, 2017, was supposed to be one of the most exciting moments of Dennis Dickey's life: the day he and his wife would find out if they were having a boy or a girl. But things went horribly, horribly wrong.

On Friday, the 37-year-old Border Patrol agent pleaded guilty to accidentally starting a massive wildfire that torched 47,000 acres of Arizona's parched grasslands, forcing residents from their homes, requiring 800 firefighters to extinguish the blaze, and, ultimately, costing authorities more than $8 million.
He ignited the blaze the moment he found out the gender of his baby.
It was a dry, windy spring day and Dickey had planned an exciting gender-reveal party in the Coronado National Forest, near Green Valley, Arizona. For the big moment, the father-to-be filled a target with powder that would burst either pink or blue. He had also added Tannerite, a highly explosive but perfectly legal substance, officials said, and when he fired his rifle, the blast sent sparks into the state's dry brush and started the Sawmill fire.
Alarmed, he immediately but unsuccessfully tried to put out the fast-moving flames and then alerted authorities, Forest Service Special Agent Brent Robinson said in court documents.
Dickey "immediately reported the fire to law enforcement, cooperated, and admitted that he started the fire," Robinson said in a court filing last month, noting that the entire incident was "caught on film by a witness."

Fueled by 40 mph winds and bone-dry conditions, the flames raced across state-owned land over the Santa Rita Mountains and scorched thousands of acres belonging to the Forest Service and Bureau of Land Management.
Ultimately, the Sawmill fire burned for nearly two weeks and though no buildings were destroyed, the blaze drove dozens of people from their homes and caused more than $8 million in damages, the US attorney's office said in a news release.

In his plea agreement, Dickey agreed to pay $220,000 in restitution, handing over $100,000 when he is sentenced on Oct. 9 and then the rest in $500 monthly installments over the next 20 years, the Justice Department said. It's unclear whether the agent will ultimately have to repay the full $8,188,069.
Dickey was also sentenced to five years of probation and agreed to take part in a public service announcement for the Forest Service.
His attorney, Sean Chapman, told the Arizona Daily Star that the 37-year-old will borrow from his retirement fund to help pay the substantial reparations.

"It was a complete accident," Dickey told the judge in federal court, the Star reported. "I feel absolutely horrible about it. It was probably one of the worst days of my life."
The gender of his baby has yet to be publicly revealed.