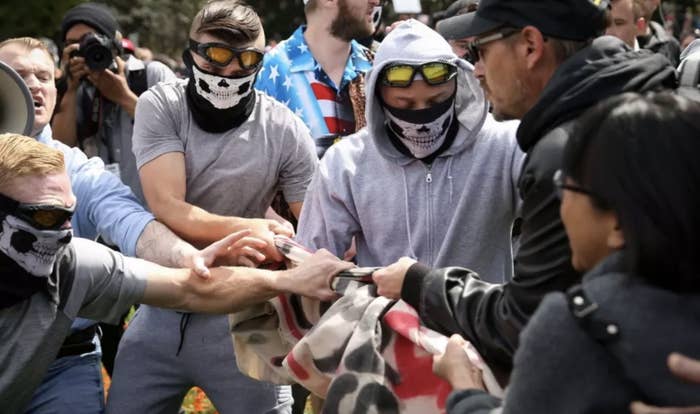 A federal grand jury in Los Angeles indicted four members of a neo-Nazi gang organization for planning and engaging in riots at political rallies across California, the Justice Department announced Thursday.
The men are part of the Rise Above Movement, which is based in Southern California and prides itself on operating like a neo-Nazi fight club, training and priming its members to incite violence at rallies while spreading extremist ideologies through social media channels and a clothing company.
"RAM represented itself publicly as a combat-ready, militant group of a new nationalist white supremacy and identity movement," federal prosecutors said in the indictment.

Robert Rundo, who allegedly founded RAM, along with three core members, Robert Boman, Tyler Laube, and Aaron Eason, are all in federal custody and are currently being held without bond.
All four are facing conspiracy charges. Federal prosecutors also charged Rundo, Boman, and Eason with one count of rioting.
In social media posts and promotional videos, the group highlights its dedication to "clean living," training hard, and preserving a pure European identity. With American flag bandannas tied around their faces, young white men are boxing, doing sit-ups, and promoting their "nationalist" clothing style.
In the indictment, officials accuse the men of "participating in hand-to-hand and other combat training" and traveling to rallies across California to intentionally start fights and incite violence with counter-protesters and others, specifically citing brawls last year in Huntington Beach, Berkeley, and San Bernardino.
In March last year, several members attended the "Make America Great Again Rally" in Huntington Beach, where they attacked counter-protesters and reporters, the FBI said. A few weeks later, they traveled to Berkeley for a "Patriot's Day" free speech demonstration, where Rundo, Boman, and Eason, "were involved in violent attacks," and the RAM leader was arrested for punching a "defenseless person" and a Berkeley police officer, prosecutors detailed. Then in June, Rundo and other RAM members went to an "Anti-Islamic Law" rally in San Bernardino, where they also allegedly sparked brawls.
After the events, prosecutors say members of the group publicized and celebrated their assaults.

The neo-Nazis then allegedly used photos and videos of their beatings to recruit new members, posting the violent content online and on social media.
"It's the cutting edge of white supremacy right now," Heidi Beirich, who helps track hate groups for the Southern Poverty Law Center, told BuzzFeed News last month.

In October, authorities arrested and charged four other RAM members with violating the federal riots statute when they engaged in violence at the Unite the Right rally in Charlottesville, in which one counterprotester was killed.
Featured extensively in the criminal complaint is information the FBI gathered on RAM from the internet, including a "publicly viewable Twitter page" and "photos of themselves posing shirtless and wearing skull half masks."