The Fyre Festival Founder Is Claiming His Scams Were Caused By Mental Illness
But his partner, Ja Rule, maintains that the "idea was fucking beyond brilliant."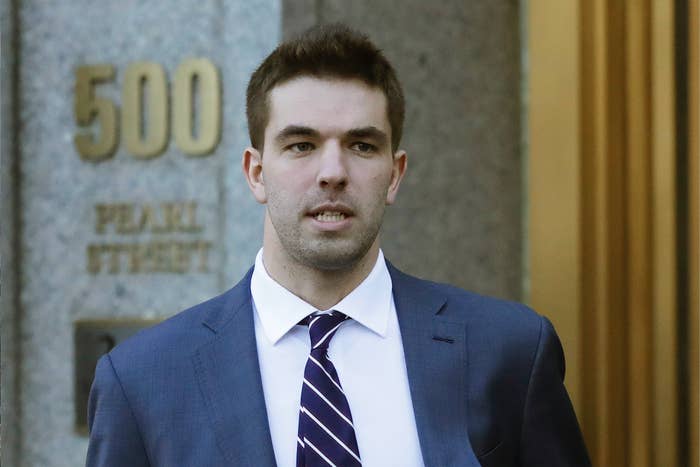 A lawyer for the organizer of last year's disastrous Fyre Festival is claiming that mental health issues are behind his client's spate of criminal behavior, according to new court documents.
In a recent letter, the attorney for Fyre Festival founder Billy McFarland asked the judge for leniency in McFarland's upcoming sentencing, citing two psychiatrists' reports that surmise that his client has been diagnosed with some type of mood disorder, "bipolar related disorder," ADHD, and alcohol abuse, which altered his behavior and resulted in "delusional beliefs of having special and unique talents that will lead to fame and fortune."

McFarland pleaded guilty in March to defrauding investors and vendors in connection to the bogus music festival he hosted in the Bahamas, scamming them out of $26 million. Then, while he was out on bail this past summer, McFarland was charged in connection to another scam, which involved selling nearly $100,000 in fake tickets to marquee events such as the 2018 Met Gala, Burning Man, Coachella, and the Grammy Awards.
The 26-year-old entrepreneur pleaded guilty to those charges as well and is scheduled to be sentenced Oct. 11 in Manhattan federal court. He could face up to 14 years in prison.
"Nothing in this case speaks to any malicious intent on his part, just a sea of bad judgment, poor decisions, and the type of core instability that can only be explained by mental illness," McFarland's attorney Randall Jackson wrote to US District Judge Naomi Buchwald on Friday, citing two psychological reports.

According to the psychiatrists' analysis, McFarland was experiencing "mania or hypomania," had trouble sleeping, was exhausted and overwrought, and thus "had a diminished capacity to foresee the consequences of his actions."
"The combination of ADHD and hypomania resulted in his pattern of undertaking on multiple projects accompanied by unrealistic appraisals of success," one part of the summary noted.

The reports, conducted in August, stated that McFarland was also "overwhelmed" by the daunting task of having to pay back the millions of dollars he ripped off from people he'd convinced to attend his music festival, which had been billed as a luxurious music experience on a remote island. Instead attendees arrived to find disaster relief–style tents, unfinished stages, and meager cheese sandwiches.
Despite this, McFarland's partner in the festival, the rapper Ja Rule, still maintains that the "idea was fucking beyond brilliant."

In an interview on Revolt TV last week, the artist stated that he was not "ashamed" about stranding attendees on an island without real food or water, noting that "these things in business happen."
Along with McFarland, Rule was hit with a $100 million class-action lawsuit, which accused the Fyre Festival founders of creating a "dangerous and panicked situation among attendees — suddenly finding themselves stranded on a remote island without basic provisions — that was closer to The Hunger Games or Lord of the Flies than Coachella."
In the Revolt interview, Ja Rule did admit that he "should have been more on top of things" as the festival completely imploded.
"I should've not trusted people with certain things… that part of it, I take all responsibility... My main lesson that I learned is to never give anyone the keys to your motherfucking car," he said. "It's like the old saying, you want something done right, you gotta do it yourself... You can't expect somebody else to carry out your vision, and that's what I learned."