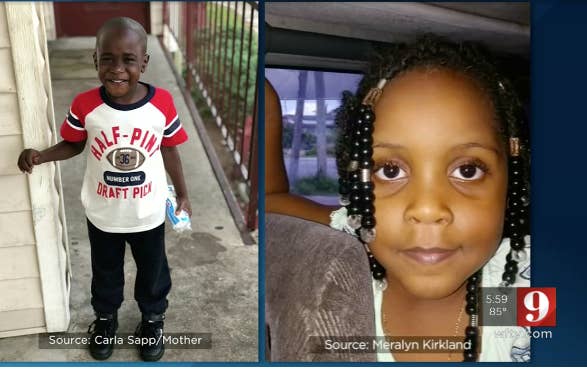 A Florida police officer has been fired after he arrested two 6-year-old students at their school on suspicion of misdemeanor battery charges, prompting outcry and an internal investigation.
Orlando Police Chief Orlando Rolón said Monday that the incident made him "sick to [his] stomach," especially when he found out the children, students at Lucious and Emma Nixon Academy, had been put in the back of a squad car.
"When I first learned about this, we were all appalled and we could not fathom the idea of a 6-year-old being put in the back of a police car," Rolón said at a news conference. "It's still shocking to us. ... To have something like this happen was completely and totally a surprise to all of us."
Officer Dennis Turner had been working as a school resource officer at the charter school when he arrested the first-graders during separate incidents, handcuffing them with zip ties, and taking them to the station, the chief said.
Department officials immediately suspended Turner and launched an investigation. Rolón explained that there's a policy that "strictly prohibits" officers from arresting children under the age of 12 unless they receive approval from a manager. The police previously said that one of the children was 8 years old, but on Monday the chief corrected that mistake and said they are both 6.

"It was clear today when I came into work that there was no other remedy than to terminate this officer," Rolón said.
During the press conference, Rolón alluded to Turner's past disciplinary issues, including an incident with his own son. According to an Orlando Sentinel article from 1998, the officer, then 37, was charged with aggravated child abuse after officials found welts and bruises on his 7-year-old son.
Apopka police said Turner abused the boy after he brought home a bad report from school. In an interview with the paper at the time, Turner defended his actions.
"Don't let this stop you from disciplining your children," he said.
Before that, Turner was the subject of two other internal investigations, the Sentinel also reported. In 2003, officials with the Seminole County Sheriff's Office said it was going to ask a state attorney to review the Orlando police officer after he threatened the husband of the woman Turner had been dating and "thumped him on the chest."
In 2016, the Orlando Citizens' Police Review Board voted to uphold the findings of an internal investigation involving Turner, which concluded that the officer used excessive force during an arrest. That same year, the Orlando Sentinel reported that Turner tased a man five times, even after he was on the floor "and had stopped resisting."
According to a tweet from the department last June, Turner retired after "23 years of dedicated service" and then, at some point, was brought on to the force's reserve unit.
During his press conference, Rolón acknowledged that the officer had been "served discipline" for a prior incident.
Meralyn Kirkland told NBC affiliate WFLA that she was called Thursday and told her granddaughter had been arrested after throwing a tantrum.

Kirkland said her granddaughter was also fingerprinted and even had mugshots taken.

The grandmother told WFTV that the little girl has a medical condition, sleep apnea, and, because of her exhaustion, it causes her to act out in class. The little girl reportedly kicked a staff member during one of her temper tantrums, according to the station.

The other elementary school student, a little boy, was released and returned to school before he was officially processed at the juvenile assessment center.
Also on Monday, Aramis Ayala, state attorney for Orange and Osceola counties, said she would not prosecute the 6-year-olds and never had "any intention" of doing so.
"I can assure you that there will be no criminal prosecution for a misdemeanor battery for these elementary children in my name or on my watch," Ayala said. "Unlike some, I will not presume guilt or dangerousness of a child based on any demographic."
Due to protocol, Ayala added, her office was unable to intervene and dismiss the charges until Monday, when she received the case numbers.
The girl's record has officially been cleared, the state attorney said. Her office is still waiting for the case number of her schoolmate.
"We must explore better option as a state. We must raise the expectations of how we respond in difficult situations," Ayala said. "This is not a reflection on the children, but more of a reflection of a broken system that is in need of reform. It's time to address juvenile legislation in ways that better protect the interests of children and their development."