Shelia Fredrick still wonders what might've happened to the blonde, disheveled teen had she not left her a note in the airplane's bathroom.

"Her eyes just pierced my soul. They fixed on me and I knew something was wrong and I needed to help her," said Fredrick, a flight attendant for Alaska Airlines.
In 2011, Fredrick had been passing out drinks on a flight from Seattle to San Francisco when she spotted a girl in worn, wrinkled clothes with a bruise on her leg tucked into a window seat next to a well-dressed older man. She said she knew something was wrong.
While the man was looking over the menu, Fredrick says she made eye contact with the girl and mouthed "go to the bathroom," where she had left a note and a pen.
The girl wrote back, "I need help." Fredrick said she immediately called the captain, and police were waiting in the terminal when the plane arrived.
Human trafficking remains one of the fastest-growing crimes around the globe. The International Labour Organization estimates there are 20.9 million victims worldwide. Reports of human trafficking in the US are also rising every year, according to the National Human Trafficking Hotline.
And airports are at the center of the issue. The US Immigration and Customs Enforcement arrested 2,000 traffickers in the last year alone.
"Traffickers use commercial airlines all the time because it keeps them anonymous," said Nancy Rivard, founder of Airline Ambassadors International and a former American Airlines flight attendant.
Rivard said she had successfully flagged several trafficking victims during her time as a flight attendant, but was frustrated by the lack of training she and her coworkers received. She founded Airline Ambassadors in 2009 to teach crew members how to spot victims and now works in conjunction with US Customs and Border Protection.
She has also been lobbying Congress for more intensive, government-funded training for flight attendants.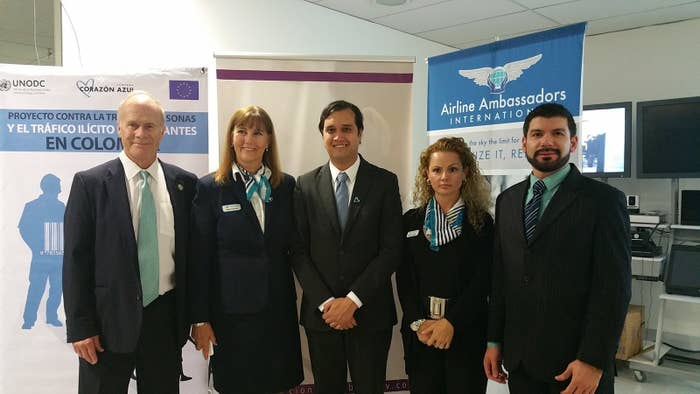 "It's incredible this isn't industry-wide yet," said Rivard, but noting that more airlines are getting involved and training their employees.

Samantha Durfey, who's been working as a flight attendant for 10 years and is currently with United Airlines, went to one of Rivard's seminars and said she might have been able to rescue others had she known what to look for.

"I saw red flags of what obviously or most likely was an act of human trafficking, and out of fear or not knowing did not act or respond," she said. "Some of the airlines do a little online training but that's it."
Durfey said she still thinks about one young woman who was sitting with a much older businessman on a recent first-class flight from Las Vegas. She recognized the trafficking signs: silent, disconnected, young, no eye contact, pressed against the window seat, but said she "still felt uncertain how best to engage or how to ask if she needed help."
"It was also very obvious to my flying partner. They deplaned and I have only ever seen her in my thoughts. I have tried to justify doing nothing, but nothing has helped," she continued. "I wondered what i may be able to do now."
Before thwarting that 2011 incident, Fredrick said she had no official training on how to spot and help victims, but had taught herself using materials on the federal government's website. She has since become an Airline Ambassador member and said it is now much easier to report suspected incidents.
The girl she rescued is now in college, Fredrick said, based on their last phone conversation about two years ago. The girl called her a few months after the rescue, to "say thank you and that she was back with her family, in therapy." She had been held for two months before that flight, Fredrick said.
"I tell people to be aware of their surroundings. There are so many warning signs," Fredrick said. "Look closely."