Four juniors from Florida A&M University were waiting to get into their friend's apartment building late Saturday night when a white man claiming to live in the building allegedly accosted them before pulling out a gun, according to police and a now-viral social media video.
One of the students, Isaiah Butterfield, captured part of the 10-minute confrontation on video and posted it on Twitter, where it has since been retweeted nearly 6,000 times.
The clip shows a white man wearing a baseball cap claiming to be a resident of the building and then getting into a verbal altercation with the group of black students, before pulling a gun out in an apparent effort to stop them from getting in an elevator.
Social media users and local outlets identified the man as Don Crandall, a manager at the Baymont Inn & Suites by Wyndham Hotels. On Tuesday, the Pax Hotel Group, which owns the inn, posted a statement on Instagram confirming that its general manager was involved, condemned his actions, and said that he had been fired.
"Our team has gone ahead and took the actions necessary," the group said, adding that it does not "stand behind the actions of our former general manager...we would like to apologize to those affected by the actions of our former employee."
In a message to residents Monday night, the apartment complex's management said Crandall is not a resident of the building, Stadium Centre, which is marketed as off-campus housing to college students in Tallahassee.
"Firearms are prohibited on our property and we take this matter very seriously," the management said in the message, which Butterfield sent to BuzzFeed News. "Moreover, we are firmly committed to creating a diverse residential community that is inclusive and welcoming to all."
In an interview, Butterfield described the encounter, which he said occurred while he and three friends — Stephen Brooks, Joshua Cosby, and Fitzroy Rhoden — were waiting at the garage entrance to the apartment building. Another friend, Zavian Flowers, had just moved into the building and was throwing a party, Butterfield said.
As they waited for Flowers to let them in, Crandall walked past them and through the door.
"Then he turned and he said, 'You aren't getting in here if you don't have a key,'" Butterfield said. "We were shook because we hadn't said anything to him. We were just standing there and then he closed the door and locked it."
According to the junior, Crandall, who is white, came back a few moments later and began harassing the students again. The encounter then caught the attention of another man — whom Butterfield identified as "Chad" — who intervened on the students' behalf.

"He came at us for no reason and that's when Chad walked up and I started recording," Butterfield said. "Chad stood up for us and pushed back on the guy and said we could come in with him."
The two-minute clip begins with a shirtless white man, "Chad," waving his key in front of Crandall, who was blocking the door.

"What's your problem?" Chad asks. "You're not just man enough to go about your day... You're just wanting to run your mouth."
"Look, limp dick, don't fucking walk into a conversation that's none of your—" Crandall responds.
"Well, where are you going?" Chad interrupts.
"Where am I going? I am going upstairs to get laid, where are you going...limp dick," Crandall says before turning and shutting the door.
The video shows Brooks, one of the FAMU juniors, catching the door and pulling it back open as the rest of the group follows the man to the elevator. Crandall then turns around and confronts the students again.
"You aren't getting into this elevator without a key to this building... Do you have a key to this building?" Crandall says as Butterfield and his friends try to walk past him into the elevator.
The recording then shows him producing a gun and holding it while he tells the group of students, "If you don't got a key to this building, you don't belong in the elevator."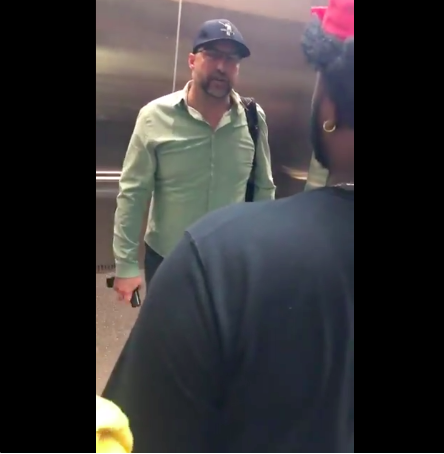 Stunned, the students demand to know why he is now holding a gun and why he continues to harass them.

"Sir, you bring out your gun. What's your purpose for that?" asks Rhoden.
"Oh, I'm sorry. Excuse me. Forgive me," Crandall says.
Butterfield said his friends had pressed the aggressor on his claims that he lived there, since it's student housing and most residents are about 20 years old and "he looked like he was 45."
"My friend had asked him, 'Do you even live here?' when he blocked the elevator with his body and then he pulled out his keys and his gun and separated them," Butterfield told BuzzFeed News. "He made sure we saw that he had a gun so we didn't get in the elevator."
At that moment, Flowers appeared and took them up to his apartment.
"We tried to not let it blow our night, but it did," Butterfield said. "At the time it felt so unreal, but we slept on it and once we woke up in the morning and processed what happened, we decided to report it to the police."
Tallahassee Police confirmed to BuzzFeed News on Monday that the students called officers shortly before 2 p.m. the next day and that they are actively investigating the incident.
Rachelle Denmark, a spokesperson with the department, said detectives were still conducting interviews and have not yet made any arrests.

A spokesperson for Florida A&M University, a historically black college in Tallahassee, said that the school is aware its students were involved in "an off-campus incident, which was captured on camera," but that police are investigating the matter.
Stadium Centre's management said in its message Monday that it is cooperating with police in their investigation. The company did not respond to requests for comment from BuzzFeed News Monday.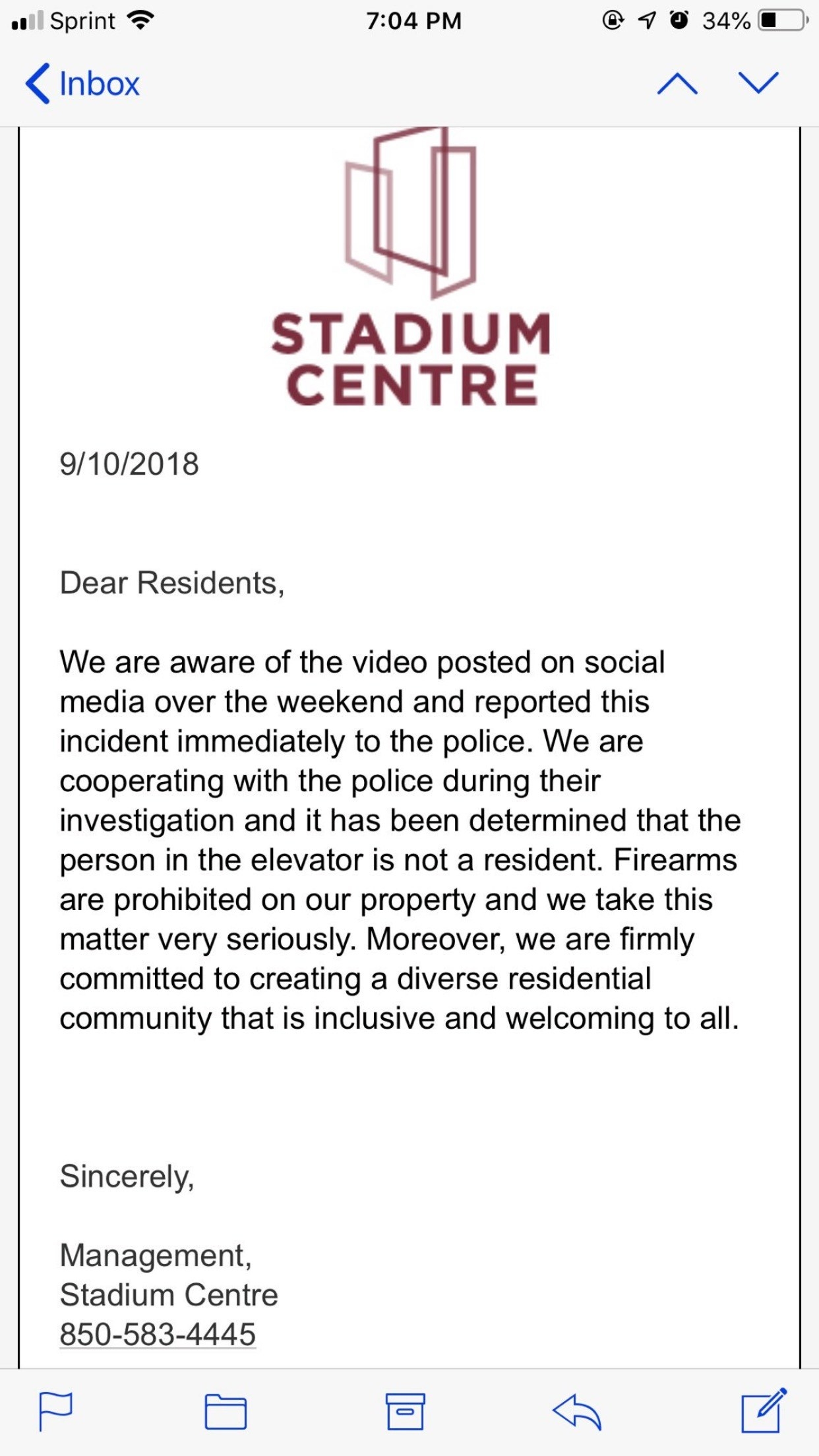 Butterfield, who is studying health care management at Florida A&M University, said that while he is still stunned that a man pulled a gun on him and his friends "for no reason whatsoever," he is also not surprised.

"People fly Confederate flags here and there are people who say off-the-wall stuff all the time because they feel that they can," he said.
Crandall has been the Baymont manager since at least 2017, according to a list by the Greater Tallahassee Chamber of Commerce. In one review on Trip Advisor from this April, a customer said they had a great stay "with the exception of the manager Don Crandall.
"He should be fired we've always had great service and a great stay at the Baymont but Don Crandall is a terrible manager," the wrote.