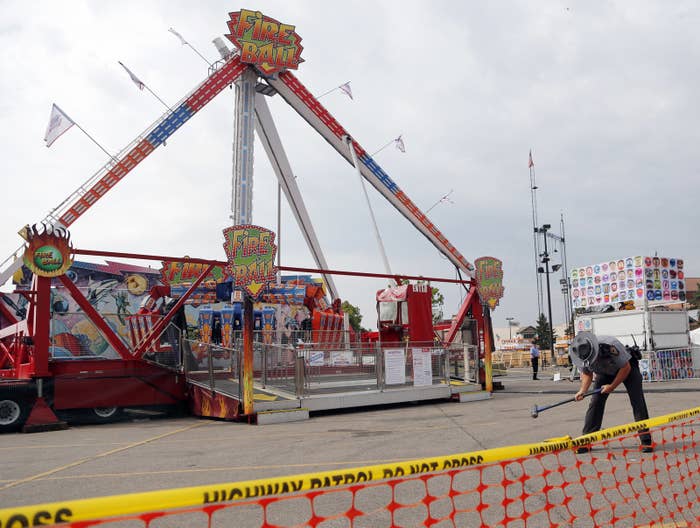 As people across the country flock to their favorite annual fairs and amusement parks, officials are shuttering a popular attraction after a ride in Ohio broke apart, killing a teenager and injuring seven others.
The "Fireball," which spins and swings riders 40-feet above ground, suddenly malfunctioned and snapped apart Wednesday at the Ohio State Fair's opening night, killing 18-year-old Tyler Jarrell of Columbus. Jarrell had just graduated from high school and enlisted in the Marines.
Horrific video posted on social media showed riders being thrown from the pendulum-style attraction, which appeared to break apart while swinging in midair.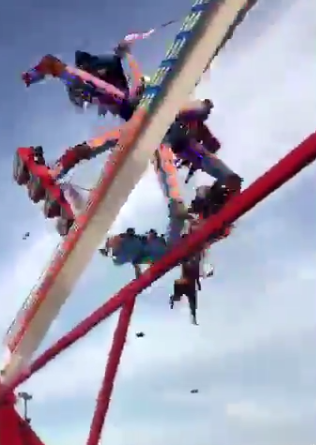 In response, officials in several states, like Illinois, Oregon, and California, ordered ride operators to shut down all similar Fireball amusement rides.

The ride's manufacturer also ordered the use of the ride be suspended around the world until further notice. The Dutch company, KMG, said it seemed the "passenger-carrying gondola detached from the supporting sweep arm" and is investigating.
There are 43 of these rides internationally, including 11 in the United States.
"Our deepest sympathies go out to all who were involved or affected by this tragic accident," the company said in a statement.
Amusements of America, which operates the Fireball-style attraction, reported that it had been vetted multiple times by its staff and independent inspectors.
Before the 40-foot structure broke apart mid-swing and threw its riders into the air, the Fireball had passed multiple inspections.
"It's been looked at about three or four times over the course of two days," said Michael Vartorella, chief ride inspector for Ohio's Division of Amusement Ride Safety. "It was inspected at a couple of different stages and it was signed off."
Records released Thursday by the Ohio State Highway Patrol show multiple sign-offs from consultants, the Ohio Department of Agriculture, and Amusements of America, with supervisors checking off its safety, maintenance, and operations. Several parts, including its swing drive, were replaced in May, according to the documents.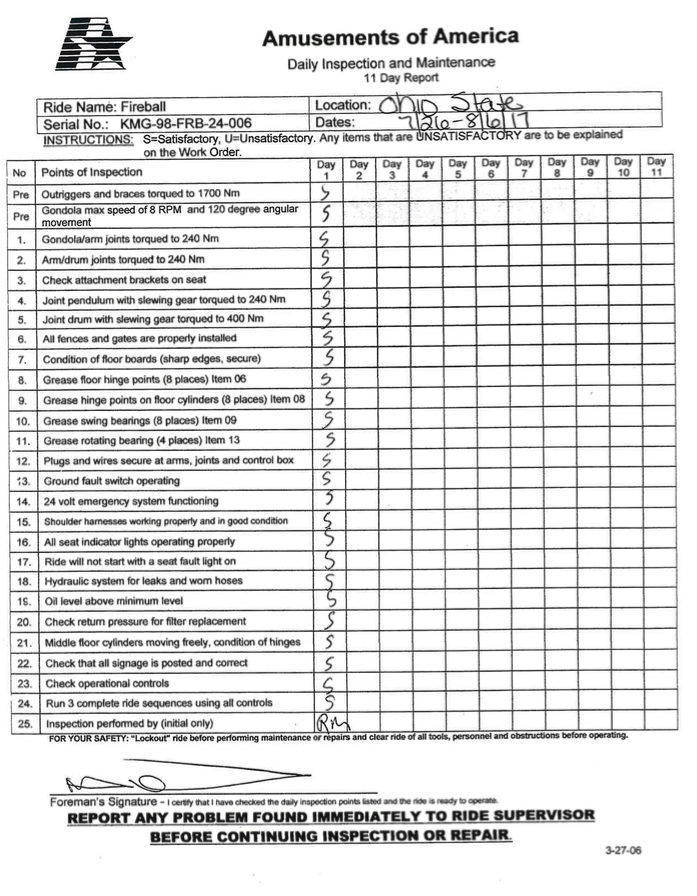 Although the investigation has just begun, officials warned that they may never figure out why the ride malfunctioned and it could just be a freak accident.

"It's important to remember that amusement rides are mechanized pieces of equipment," said Ohio Department of Agriculture Director David Daniels. "They can fail from time to time."
Ohio Gov. John Kasich called the situation "a nightmare," but emphasized that "accidents do happen" no matter how many times you can "inspect, and you can reinspect."
"If you're looking for guarantees in life, they don't exist. You just make sure that the risk you take on is something that you balance against the activity you want to engage in," he said.
He shut down all the rides at his state fair, which is one of the largest in the country, and ordered them to be inspected again until they are deemed safe.
Other states took similar precautions.
The Illinois Department of Labor suspended 12 rides "until further notice" and a Portland amusement park shut down its "Scream'n Eagle" and other similar rides.

In California, several fairs and parks sidelined some of their most popular attractions. The California State Fair closed its "aggressive thrill" ride Wednesday night and the Orange County Fair also immediately halted "The G Force" right after the Ohio accident, the Los Angeles Times reported.
Posted in front, a sign now reads: "For your safety this ride is undergoing maintenance."