EL PASO, Texas — Gilbert Serna had worked at the El Paso Walmart for nearly half his life before the day it would change forever.

The 37-year-old father of two was in the middle of his shift on Saturday when a gunman opened fire in the store, killing 22 people.
"I heard on my two-way radio, 'Code brown, run quick' in a panicked voice," Serna told BuzzFeed News of the moment the shooting began.
In the frenzy of the moment, he didn't remember what that meant. He checked the back of his badge, which lists the codes.
"I was like, 'Oh yeah, that's a shooting,' and then heard the pop, pop, pop," he said.

That's when he jumped into action — and may have saved more than 150 people thanks to his quick thinking.
Serna led what he believed to be about 100 customers and employees through a fire exit and told them to get inside four shipping containers. He then closed the doors, hiding them safely inside.
"They were scared. I was scared. We were all scared," he said.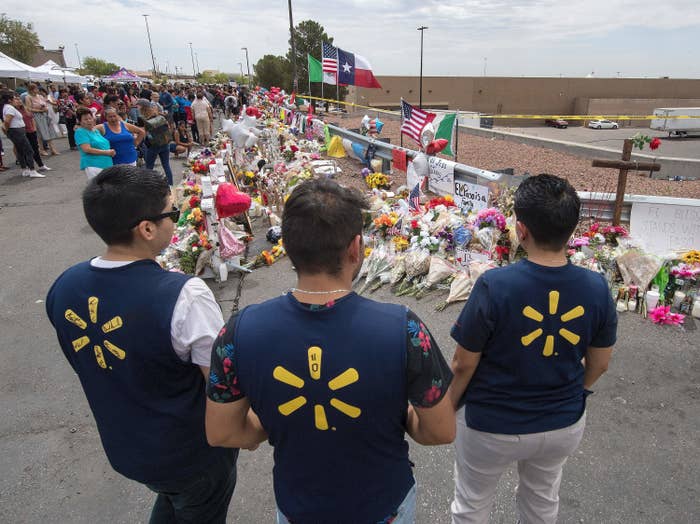 But Serna didn't stop there. Rather than get inside one of the containers himself, he then walked along the side of the building toward the parking lot, where a number of people — including a girls soccer team who'd been outside fundraising — were standing out in the open.
At that point, a man in the parking lot yelled that there was "a tall white man in there with an AK-47 shooting up the place."

Only then did it dawn on Serna what was happening.

"That's when it registered with me that this was a mass shooting," Serna said. "It's not a one-on-one confrontation, it's not somebody fighting over a parking spot or 'I bumped into you' or something. This is going to be a mass shooting — a massacre."
Serna led about 50 to 60 people in the parking lot to safety in a nearby Sam's Club, he said.
"That's when I noticed people with gunshot wounds to their legs, arms, thighs, some graze wounds," he said. "That's when it really hit me — like, oh man, this guy's out to kill people."
Rushing by him, Serna saw someone carrying a baby who was covered in blood.
"I can't get that image out of my head," he said.
Walmart credited its mandatory "active shooter" program that employees are supposed to complete quarterly for helping save lives during the attack Saturday.
"They taught us how to avoid the shooter and defend ourselves," said Serna, who could not recall the last time he had received the training. "They teach us ADD: Avoid, Deny, Defend — deny him access, put a thing in front of a door, defend yourself as the need arises."
Federal prosecutors are investigating the shooting as a hate crime and act of domestic terrorism. A white supremacist manifesto — which contained anti-immigrant rhetoric and praise for the Christchurch, New Zealand, shooter — is believed to have been written by the gunman.

After such tragedy in his community, Serna worries that similar acts of hatred and domestic terrorism could happen in other border towns.
"It'll happen again in our country because it's not going to stop until we do something about it," he said. "Donald Trump has inspired a lot of racism."