Betsy DeVos, President Trump's polarizing education secretary, gave a cringe-worthy interview Sunday on 60 Minutes, in which she fumbled through questions about school safety, sexual assault on campus, inequality, and school choice, the agenda she has fastened her reputation and expertise upon.
Earlier Sunday, DeVos announced that she would be the chair of Trump's fledgling federal commission on school safety. However, details as to how the commission will function and produce tangible systemic change remain elusive.
In the painful, 13-minute 60 Minutes interview, Lesley Stahl probed DeVos about guns in schools, which she believes is a state choice, test scores in the US, how public schools in her own state of Michigan have fared under her leadership, sexual assault on campus, and discrimination.
The education secretary stumbled through basically the entire thing and people watching were shocked and more than slightly concerned.
Here are some of the most 😬 moments from the interview, which had a lot of this from Stahl:
Stahl asked DeVos whether school choice is working in her home state of Michigan and if public schools have gotten better. "I don't know," DeVos responded.
Shortly after, Stahl asked DeVos if she has visited "the really bad schools. Maybe try to figure out what they're doing?" To which the education secretary replied: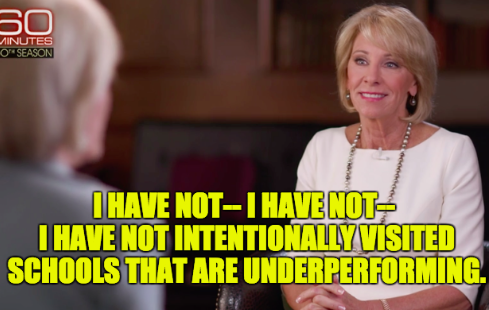 Later, on the question of campus assault, Stahl asked DeVos if she thinks the number of false accusations is the same as actual rapes and assaults. DeVos said she didn't know that either.
Then, DeVos, who has been pegged by education activists as an elitist whose policies hurt students from marginalized groups, wouldn't say whether there is institutional racism in US schools, instead answering, "We're studying it carefully."
To which the internet replied:
When Stahl asked DeVos why she thinks she has "become, people say, the most hated cabinet secretary," DeVos surmised: "I'm more misunderstood than anything."