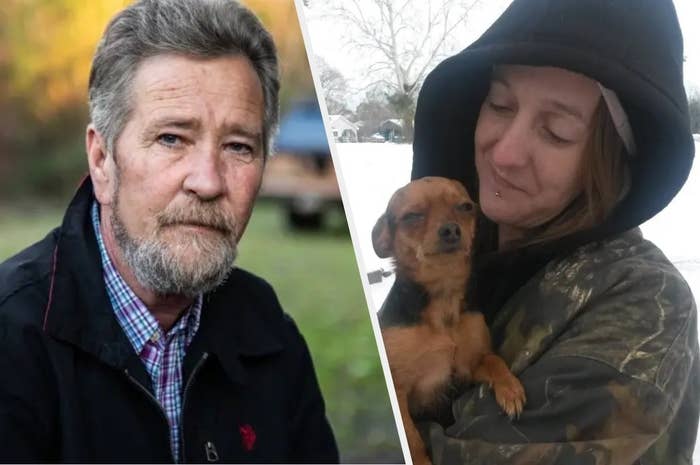 BLADENBORO, North Carolina — The allegations that Republicans tampered with absentee ballots in a close North Carolina election represent the most serious federal election tampering case in years, one that allegedly stole votes from elderly black voters in the state's rural south.
Now two women intimately involved with McCrae Dowless's absentee ballot machine have revealed to BuzzFeed News its grim and chaotic workings, in which Dowless tracked votes on yellow paper and paid his workers, including family members, from stacks of cash, and that some were on opioids while they worked.
The accounts of the women, Jessica Karen Dowless and Lisa Britt, add significant new details to those that have come out from investigators and other news reports, as the state election board considers whether it should order a new election between Republican Mark Harris and Democrat Dan McCready. The women, both related to McCrae Dowless, paint a picture of American political chicanery at its lowest levels — though with sweeping consequences both for voters allegedly denied the franchise, and for the outcome of a pivotal national election, which Harris won by 905 votes.
Jessica Dowless described the scene in the small office at the intersection of two highways, where she worked on Harris's behalf for the last two months as chaotic. One worker, she said, "was so fucking high the other day she passed out at the fucking computer." One of the workers who collected absentee ballots from residents was a "pill head," she said.
Dowless, whose husband is distantly related to McCrae Dowless, described herself as a "housewife [who] needed a part-time job" and said she was one of about six employees. She often worked six days a week tallying the number of Democrats and Republicans who had recently voted. However, she explained, there were times when she did not quite understand what she was doing or what the grand purpose was.
She did say, though, that campaign workers delivered sealed absentee ballots from the homes of people who requested them to McCrae Dowless's office — though North Carolina law forbids third parties from handling those ballots.
She said she spent her time tracking the number of ballots sent in to the county board of elections — and then tallying up the number that were collected by employees of McCrae Dowless, who the Washington Post reported would keep the Harris campaign updated on the latest figures.
Jessica Dowless said she would also note voters' race and party affiliation.
"My job was at the office and I read emails and counted how many Republicans and Democrats and non-affiliated people voted every day... I added up how many voted that day and wrote it on a piece of paper and then they read it and then I don't know what it did with it. McCrae was the only one who saw it," she said. "I would go down each page and count how many black Republicans, white Republicans and I did the opposite, black unaffiliated, black Democrats, and add them up and then calculate the percentage of how many people voted that way each day."
McCrae, she said, bought a woman who worked in the office "a car a week later after she started." Another employee got a van that she used on the job, she said.
"Mark Harris was writing him checks left and right," Jessica Dowless said, referring to McCrae, although she said she never saw the checks. McCrae, she said, "paid me a certain amount in cash and then the Board of Elections paid me the rest."
Valeria Peacock McKoy, the interim director of the Bladen County Board of Elections, denied to BuzzFeed News that it paid Jessica Dowless. The office has three full time employees and one part time employee internally, she said, and hires about 50 to 60 people to work at 17 polling precincts. The board doesn't pay people working for outside groups, she said.
But public records made available Wednesday show that Jessica Dowless was paid $240 by the Bladen County Republican Executive Committee.
Red Dome, a political consulting firm that contracted McCrae Dowless, was paid more than $428,000 by the Harris campaign, WSOCTV.com reported. Harris's representatives also didn't return requests for comment.
"He had wads and wads of cash," Jessica Dowless said of McCrae, who didn't return requests for comment.
She would not say how much she was paid.
Lisa Britt, McCrae Dowless's stepdaughter, told BuzzFeed News that she started working for him at the end of July or beginning of August.
"I've never worked for him before," she said. "I was on payroll just like everybody else."
"McCrae Dowless was in charge of pay and no one else," Britt added. According to Britt's mother, Sandra Dowless, who is also McCrae's ex-wife, Britt was paid in cash.
Britt and Jessica Dowless paint very different pictures of the work McCrae's team was doing. Jessica, who said her work was largely confined to an office, said women he paid would go out and collect absentee ballots from people who requested them; it is illegal for a third party to submit an absentee ballot in North Carolina.
McCrae's workers "would come to your house, they would get you to fill out an absentee ballot to be sent to your house. They would go back and pick it up and then seal it and then find two witnesses. They [brought] them in and said for me to witness them and I told McCrae I didn't want to do that but we had no else," Jessica Dowless said, referring to the state law that requires all absentee ballots be witnessed by two people.
All the ballots that she saw come into the office were already sealed, she said.
Jessica Dowless, who also goes by her middle name Karen, said Britt was part of that operation — which Britt vehemently denied to BuzzFeed News.
"I didn't take any of them," Britt said.
"Everybody thought they were helping Mr. Harris get elected," Britt said. "As far as going and telling anybody who to vote for, we weren't."
"It didn't affect me any way as to how people voted," she said.
"I'm not giving a statement to you that can cause me to end up in prison. I'm really not sure about the legal aspects," Britt said. At the time, she said, she believed everything she was doing was legal.
Jessica Dowless said she personally dropped absentee ballot applications off at the Board of Elections one time. Records show she dropped off 185 requests on Oct. 15.
"I was there just to do what I was told," she said.
Those same records show McCrae Dowless dropped off 592 absentee ballot applications out of more than 1,300 requests from Aug. 22 through Oct. 30. Two of the requests were "reissued."
Copies of more than 160 absentee ballots flagged as having common signatures were provided to BuzzFeed News. They show that a handful of people, some affiliated with McCrae, were serving as witnesses on absentee ballots dozens of times — some having signed their name more than 40 times. This is considered unusual.
State investigators have much work to do to untangle a narrative that remains marked by conflicting and confusing accounts, often from people uncertain of their own roles in the plot.
Jessica Dowless, for instance, at one point told BuzzFeed News: "McCrae only had ballots from people who were voting for Democrats. They were only Democrats. No Republican absentee ballots."
"Everything McCrae did was Republican," she emphasized.
But shortly after she said she wasn't quite sure about that.
There is also criticism that McCrae's operation targeted black Democratic voters.
"That's not true at all," Britt said. "It's not really that anyone was targeted, it's that we were giving everybody the opportunity to vote. You've got more people in low-income areas that don't have a vehicle to go vote."
"If we were gonna get those kind of people we could've gone to the pig processing plant and get them when they're coming off work," she added.
Britt's mother, Sandra Dowless, added they were trying to reach "just people with no rides."
As Jessica Dowless put it, "I don't know Democrat from Republican from a hole in my ass."