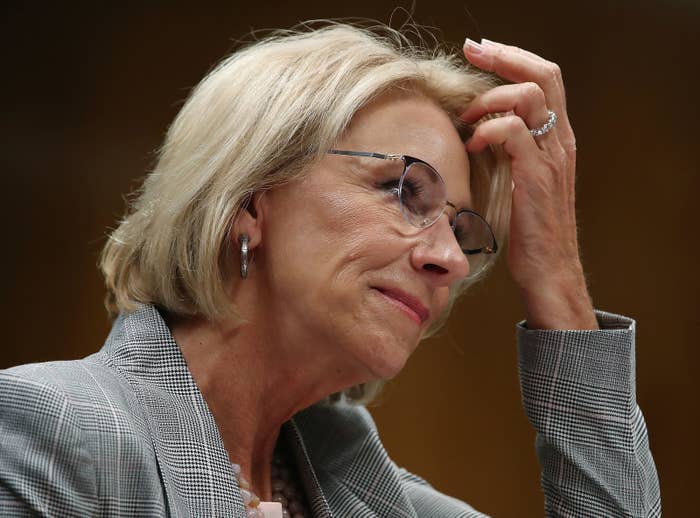 President Donald Trump's school safety commission, created in the wake of the Feb. 14 shooting in Parkland, Florida, will not focus on the role guns play in campus violence, Education Secretary Betsy DeVos said Tuesday.
Speaking to a Senate appropriations subcommittee, DeVos — who heads the new commission and who has come under fire for struggling to answer questions about school safety — told lawmakers that examining how firearms relate to gun violence in schools was not on the commission's agenda.
The Trump administration created the commission as part of a multipronged attempt "to address school safety and the culture of violence."
In a perplexing back-and-forth with Democratic Sen. Patrick Leahy, DeVos avoided addressing how guns factor into the conversation surrounding school safety, repeating that the commission is solely focused on "raising up successful, proven techniques and approaches to ensuring schools are safe for students to attend."
"Our country is now averaging a school shooting each week. In fact, one day after the commission met last month another 10 students and teachers were killed in Santa Fe, Texas," Leahy said. "Will your commission look at the role of firearms as it relates to gun violence in our schools?"
"That's not part of the commission's charge, per se," DeVos replied.
Apparently confused, Leahy asked: "So we'll look at gun violence in schools, but not look at guns? An interesting concept."
Smiling, DeVos stood her ground. "We are actually studying school safety and how we can ensure our students are safe at school," she said.
Asked by Leahy later whether she believes an 18-year-old high school student "should be able to walk into a store and minutes later come out with an AR-15–style gun and hundreds of rounds of ammunition," DeVos demurred.
"I believe that is very much a matter of debate," she said. "Our focus is on raising up successful, proven techniques and approaches to ensure our schools are safe for students to attend."
Neither the White House nor the Education Department responded to BuzzFeed News' requests to clarify the remarks.

DeVos's comments come a day before the commission's first public hearing. The hearing, which will take place in Washington, DC, will bring together "stakeholders, experts and the public on how schools, districts, institutions of higher education and other local and state government agencies can improve school safety," according to a press release.

DeVos, however, will not be there, despite chairing the commission. The secretary will instead be in Switzerland, where she is scheduled to address an international meeting focused on vocational education and training, according to the Education Department.
Since its creation, the commission has faced criticism from some educators and students — including several survivors of the Parkland shooting — for a lack of action and transparency. The group has just four members — all cabinet secretaries — and does not include any outside experts, teachers, or survivors of school violence.
On Tuesday, some educators slammed DeVos's stated decision not to examine the role of guns in school shootings as part of the commission's mandate.
"This is the same department that has proposed arming teachers and school personnel as the answer," Mary Kusler, senior director of advocacy for the National Education Association, told BuzzFeed News. "Without a conversation about students' access to guns there is no way we will solve this problem for real. It just demonstrates that this commission is not interested in real solutions, answers, and what is going on on the ground in these schools."
Randi Weingarten, president of the American Federation of Teachers, told BuzzFeed News the remarks and her decision to not attend her commission's public forum again show that "Betsy DeVos has refused to do the real work of a secretary."

"She rarely visits public schools — and worse — refuses to listen, much less hear or heed, what teachers and parents have to convey. That's why it's unfortunate, but not the least bit surprising, that she will be a no-show during her own commission's session to hear from victims of gun violence," Weingarten continued. "And with the news today that the commission won't address common sense gun violence reform, it's just more evidence she doesn't have the spine to stand up for the safety of students and educators against the NRA."
The National Association of Secondary School Principals called DeVos' "unwillingness to consider the role of guns in school gun violence" "completely unacceptable."

"It's farcical that a commission created in response to one of our nation's deadliest school shootings would not make gun access a priority consideration," Bob Farrace, a NASSP spokesman, told BuzzFeed News.
The commission is scheduled to make its recommendations on how to improve school safety by the end of this year.
CORRECTION
The NASSP was invited to speak at the listening session. An earlier version of this post, based off information from NASSP, said they were not invited.
buzzfeed.com
Stoneman Douglas High School Students Had Strong Words For Betsy DeVos When She Came To Visit