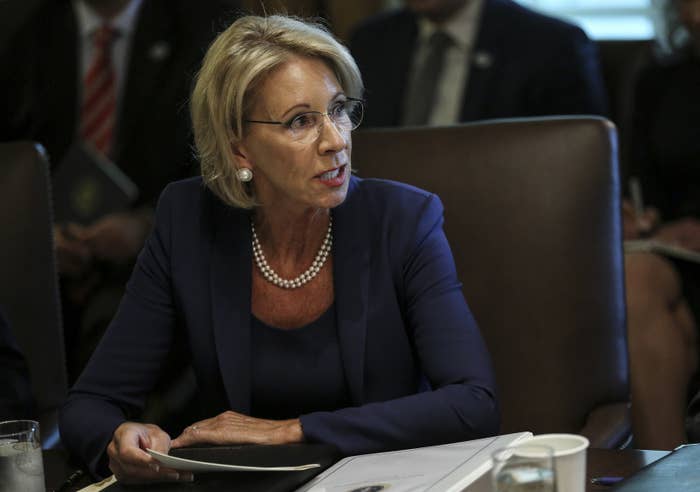 Education Secretary Betsy DeVos is considering a plan that would allow school districts to use federal funds to purchase guns and possibly arm teachers.
After receiving an inquiry from officials in Texas, the Education Department began looking into whether states could use money from Student Support and Academic Enrichment grants, which are intended for student health and wellness, to purchase firearms. The grants come from an Obama-era federal education law called the Every Student Succeeds Act.
The move was first reported Wednesday by the New York Times.
The grants are controlled at the district level and, unlike other federal education funding, do not explicitly bar states from using the money to buy guns. Thanks to a vague law, the program enables states to utilize the flexible funds, which can be millions of dollars per year, for improving student academic achievement.
If she chooses, DeVos could let local officials decide how they use the grant money and not interfere if they opt to purchase firearms.
Liz Hill, a spokesperson for the US Department of Education, said in a statement Thursday that the Times' report "is getting blown way out of proportion."

"The department is constantly considering and evaluating policy issues, particularly issues related to school safety," Hill said. "The secretary nor the department issues opinions on hypothetical scenarios."

Trump administration officials also said that the idea was first raised by Texas officials, who sent a letter asking whether they could legally use the grant money to buy guns, since their state law enables districts to arm educators under certain conditions.
The Texas Education Agency later confirmed that it had asked federal education officials to clarify how it could use Title IV funding, which encompasses the grants, after receiving questions from "school systems."
"No formal request or letter regarding this issue was ever made by TEA to the US Department of Education," Ronnie Burchett, a Texas Education Agency spokesperson, told BuzzFeed News. "Many have asked due to the increased focus on school safety, will allowable purchases under safe and healthy students also include such things as guns, gun training/marshal training for school personnel, metal protectors, bullet proof entries, or other services associated with crisis management?"
"TEA simply sought clarification on allowable uses of Title IV funding for school safety purposes," Burchett said. "To date, USDE has not provided us with a final answer on this specific issue."

Sen. Lamar Alexander, a Republican from Tennessee who helped create the Every Student Succeeds Act, noted that for years states have been able to decide how they want to use those funds.

"I'm not a fan of arming teachers," he said in a statement to BuzzFeed News. "But the safe schools block grant for many years has allowed states to make the decision about how to use those federal dollars to make schools safer for children."
The plan drew swift condemnation from Democrats, education advocates, and survivors of school shootings, who slammed the idea as "reckless" and a gross misuse of federal education funds.
"Super disturbed by this report that Secretary DeVos is weighing opening up Title IV funds for the purchase of weapons," tweeted Sasha Pudelski, the assistant director for policy and advocacy at AASA, the School Superintendents Association "...absolutely opposes using federal funds meant to support the health and well-being of children for arming teachers."

Fred Guttenberg, whose daughter Jaime died in the Marjory Stoneman Douglas massacre, called out DeVos on Twitter for potentially using funds that could help students with mental health.

"DeVos, after my daughter was murdered, you yelled don't talk about guns, talk about mental health. Your brain dead plan will pull money from mental health," he declared.
On Thursday, Democratic Sen. Chris Murphy scrambled to introduce an amendment to a pending spending bill to thwart the plan.
"I have offered an amendment that will reiterate what has been the policy of this Congress, not Congress in general, but this Congress that federal funds should not be used to arm teachers," Murphy said on the Senate floor. "That is not what parents want, that is not what students want, that is not what teachers want and that is not what the evidence tells us will make schools safer."

President Trump has floated and backed the idea of arming teachers after the Parkland school shooting in February. He created a federal school safety commission, led by DeVos, which has been hosting listening sessions and visits to schools over the past few months to prepare a report by the end of the year on how to bolster school security nationwide.
Passionate advocates for and against arming educators have attended the commission's public meetings, the last of which is slated for next week in Alabama. On Thursday, the commission is visiting a school in Las Vegas to learn about "best practices for school building safety."
The education secretary, however, has rarely attended these public listening sessions and has told Congress that the commission will not look at the role of guns in school violence.