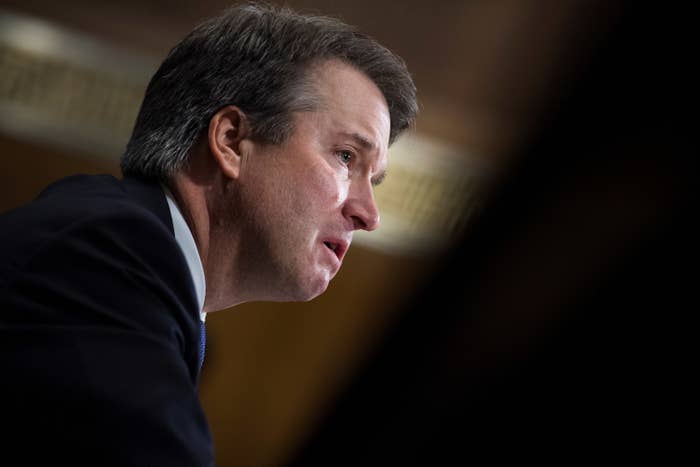 The FBI has interviewed the second woman who accused Supreme Court nominee Brett Kavanaugh of sexual misconduct, as the agency begins its limited investigation into his past behavior, according to a person familiar with the investigation.
The woman, Deborah Ramirez, is a former Yale University classmate of Kavanaugh's, who she claims exposed himself to her at a dorm party during the 1983–84 school year, when they were freshmen. In an interview with the New Yorker, the 53-year-old said she had been reluctant to come forward because there are "significant gaps in her memories of the evening."
But, she said, she vividly remembers "a penis being in front of my face," and that another student nearby yelled, "Brett Kavanaugh just put his penis in Debbie's face."
According to the source, who asked not to be named due to the ongoing investigation, Ramirez spoke with the FBI Sunday and gave agents a list of people who she believes were at the party and witnessed the incident. The meeting comes just a day after Ramirez's attorney, John Clune, confirmed that the agency had contacted Ramirez as part of its investigation.
After dramatic Senate testimonies from Kavanaugh and the first woman to accuse him, California professor Christine Blasey Ford — followed by a confusing back-and-forth between members of the Senate Judiciary Committee — the FBI is now conducting a narrow, one-week probe into the allegations against the nominee.

President Donald Trump told reporters Saturday that the FBI would have "free rein" in its investigation, despite reports that the White House has attempted to control who the agency speaks with and restrict the scope of the probe.
On Sunday, Trump lamented the investigation on Twitter, lambasting Democrats for allegedly complaining about the "'time' and 'scope.''
"Hello! For them, it will never be enough," he wrote. "Stay tuned and watch!"
Ramirez is one of three women, including Ford, who have accused the president's Supreme Court pick of sexual misconduct. A third woman, Julie Swetnick, has given a sworn declaration detailing how Kavanaugh and his high school friend Mark Judge would "spike" punch during parties in the early 1980s to get women intoxicated. Her declaration also alleged that both men — who were teenagers at the time — were present at multiple parties where a "train" of boys would gang-rape girls who had been drinking the spiked beverage.
Attorneys for Ford and Swetnick contend that they have not yet been contacted by the FBI regarding the investigation into Kavanaugh's alleged misconduct. Ford's attorney, Debra Katz, said Saturday that neither she nor her client had heard from the agency despite "repeated efforts to speak with them." And Michael Avenatti, the lawyer who is representing Swetnick, tweeted Sunday that he is "still waiting for the FBI to contact me and my client."