The journalists at BuzzFeed News are proud to bring you trustworthy and relevant reporting about the coronavirus. To help keep this news free, become a member and sign up for our newsletter, Outbreak Today.
Like thousands of other college students across the United States, Gracie Kelleher scrambled to pack up her dorm with a stunned sadness. Because of the coronavirus, the 22-year-old won't get to spend much of her final semester on campus, and a big graduation ceremony seems unlikely. But for her, the dramatic shift in her college experience hits much harder.

Kelleher is hard of hearing. Her school, Gallaudet University, has become a vital cultural connection and resource that she and about 1,500 other students cannot find anywhere else.
Located in Washington, DC, Gallaudet is the only university in the world that operates bilingually for students who are deaf and hard of hearing, offering all classes and programs in American Sign Language and English. Its student body includes people from across the US and 25 other countries. It serves new signers, native signers, deaf-blind students, and others with special needs.
"Students come to Gallaudet and don't feel they are looked at as disabled or incapable, but instead are noticed for their academic achievements, their sense of humor, or any other factor that makes us human," Kelleher told BuzzFeed News from her now-empty dorm room. "The students, faculty, and staff at this school are here because they are part of a unique Deaf community and culture."
The university, where she could communicate freely in ASL, has substantially changed her life. The 22-year-old made "lifelong friends," joined a sorority, and was finally able to study things she was passionate about (government and Spanish). She was also able to develop and strengthen her "Deaf identity."
Growing up in Florida, Kelleher, like many of her peers, didn't have any deaf or hard-of-hearing friends. Until she came to Gallaudet, she used hearing aids to "help keep up in conversations." Most deaf people (around 80%) are born to hearing families, many of whom do not learn ASL.
It's lonely and isolating, she said, but it's something you get used to because you have to.
Once she got to college, though, she had "full communication access." She could sign with teachers and classmates, as well as use ASL to order coffee and crack jokes at parties. Finally belonging somewhere these past few years has been a "haven," she said.
So being forced to abruptly leave her school months early has sparked panic, fear, dread, and anxiety, students said — not just because of the comfort and social connection fostered by the campus but also the stability, acceptance, and services that deaf students do not have access to when they go home.
Trenna Paxton told BuzzFeed News over Twitter how "jarring" it's been. On her way back home to Ohio, the junior explained how she struggles "with the expectations of the hearing world" because it's "a much different place than the Deaf world."
"My family does not use ASL, never has, and now that I mainly use ASL going home is a struggle. Communicating with English can be done and my mom is learning a bit," the 20-year-old said. "Typically I have months to prepare myself to wear my hearing aid and speak everyday again, but because of this virus... I had a week to prepare instead of months."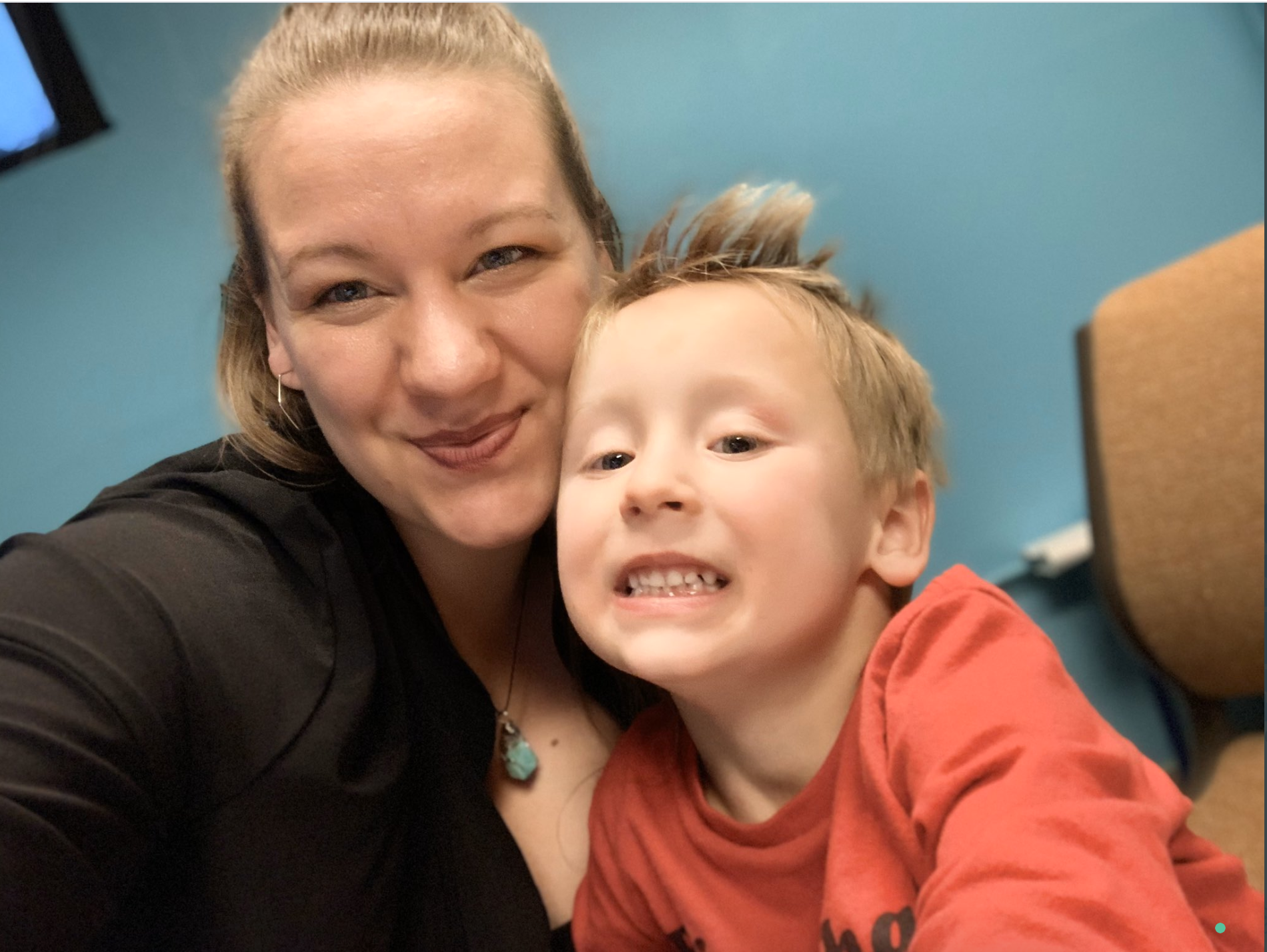 Selima Carlin is a single mother who lives in on campus-housing for deaf parents with her five-year-old son, Ryder. She describes the school as a "village," where people help her watch her child so she can enjoy basketball games.

"Students lost our jobs around the campus, I am one of them and that is hard, because I have to think how am I going to pay for tuition, rent, and foods for my child and I," she told BuzzFeed News in an email. "I don't have a home to go to, this home is my home. It is a lot to take and at the same time."
Carlin is one of about 150 students with special circumstances, such as international students who have complicated visa requirements, will be staying on campus, officials said.
In addition to losing that social and cultural connection, transitioning to virtual classrooms is a much more complicated and difficult experience for deaf students, who rely on visual learning environments, said Doris Zelaya, a counselor at the school.

"English is a second or even third language to many of our students," she told BuzzFeed News. "A very small number of students may have limited access to the internet and computers."
One of her biggest concerns, she said, is the impact on mental health. Although the school hustled to set up "teletherapy services," laws prevent them from offering those services to students once they go out of state. This heightened isolation leads to higher rates of depression and anxiety, she said, noting that therapists and counselors fluent in ASL or familiar with Deaf culture are basically nonexistent in the US.
"So, unlike students from other universities that can simply be referred to another provider in their hometown, our students do not have access to these services now that they are not on campus," the counselor said.
The unprecedented scale of the coronavirus crisis has also highlighted the severe lack of resources and services for vulnerable populations, such as the Deaf community. In response, Gallaudet says it has ramped up efforts to relay vital information.
Since January, the university has been hosting Facebook Live town halls and information sessions about COVID-19, the disease caused by the novel coronavirus, in ASL and English. At the time, the disease seemed far away and obscure, and its impact on class projects, happy hours, and daily existence unfathomable. A few thousand people would tune in to get information.

Then, as the virus swiftly spread throughout the US, closing colleges and locking down entire counties, the number of viewers on Gallaudet's bilingual coronavirus streams exploded.
Anywhere from 20,000 to 40,000 people have been tuning in, Laurene Simms, the school's chief bilingual officer, told BuzzFeed News through an interpreter.
"You can see through those numbers that the Deaf community is really desperate to get information," she said. "Some people think they need to go to a hospital immediately, and they don't realize they need to see their doctor first, to get checked. Or they don't have a primary care doctor and they don't know where to go."
Simms said several deaf people have posted on the Facebook links saying they had the virus; they were asking for help since most of the CDC's material is not available in ASL and news briefings by state and local health officials sometimes don't have interpreters.
"We must make sure that all our information is reaching people in ways they can take action," Marcie Roth, executive director of World Institute on Disability, said during a conference call with reporters and dozens of service providers on Monday. "You will notice in many of the state press conferences there are sign language interpreters. You may also notice that in the COVID-19 task force and in speeches from the president we are still not seeing those sign language interpreters."
There are people who don't have access to interpreting services, video phones, or support, Simms said.
"It's easy that we are forgotten about," she said. "Some deaf people are home alone and that's also a concern. They are a more vulnerable group of individuals."
Last week, when Gallaudet announced that it, too, would be shutting down, officials tapped into an emergency fund to buy boxes and arrange U-Haul trucks for students who were strapped for cash. After spring break ends on March 18, the university will be refunding room and board for the remainder of the semester.
And for students who don't have a smartphone, the school says it will be giving them one. The community has long been ahead of the game with technology and communication, school officials said. So although it will be a trying time, they're focused on maintaining that close-knit "home" base through FaceTime and other apps.
"It's jarring and will be isolating but at this point all I can focus on is my grades and supporting my friends," Paxton said. "Right now, the most signed thing on campus was 'take care of yourself and support each other.'"