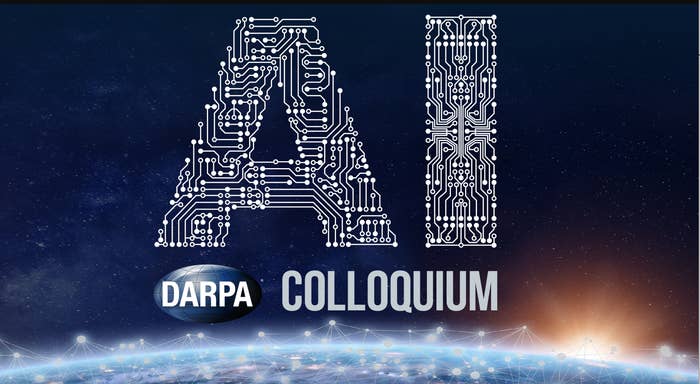 Ever heard of DARPA? The research agency within the US Defense Department? Yeah, you, me, and probably 97% of the rest of the country hadn't...until Wednesday when it sent a super random, weird, creepy tweet that was basically the intro to Stranger Things Season 3 and caused people to be like, "Oh, OK, yeah sure, this is fine."
Some background: the Defense Advanced Research Projects Agency oversees research and development initiatives aimed at developing "breakthrough technologies for national security."
The agency came to fruition in 1957, with the launch of Sputnik. Since then, it's championed cutting-edge technology like the internet, AI, nuclear threat detectors, virtual fences, and robots. It now even has a podcast called Voice From DARPA, which sounds...intriguing.
Now, let's dig into why people think the end might be coming.
"Attention, city dwellers!" DARPA tweeted Wednesday morning. "We're interested in identifying university-owned or commercially managed underground and urban tunnels & facilities able to host research & experimentation."
"It's short notice..." the agency continued, writing that it's looking for answers by Friday.
The tweet includes photos of dark, windowless underground spaces with hardly any exits, slightly similar to scenes from, oh, I don't know, The Silence of the Lambs, Psycho, Saw, or an episode of Criminal Minds.
Nbd. Totally normal tweet.
But wait — DARPA said the "ideal space" would be totally underground with a "complex layout" and "currently closed off from pedestrians or can be temporarily used for testing..."

It then added some more photos to really drive this point home.
Observe: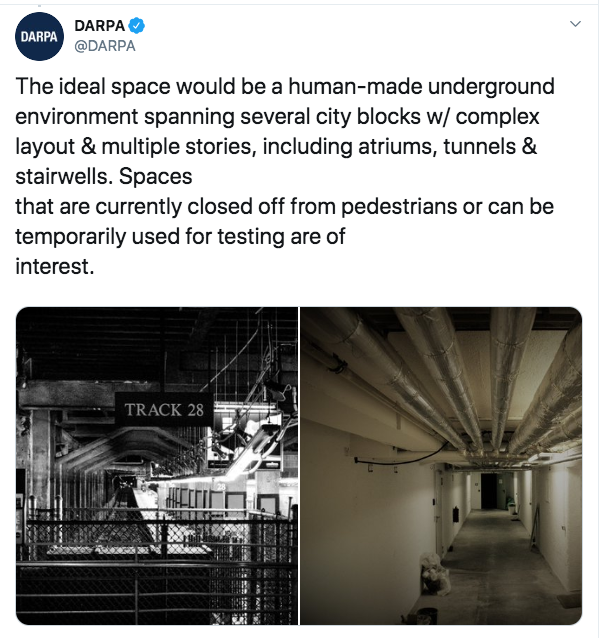 Here's a close-up.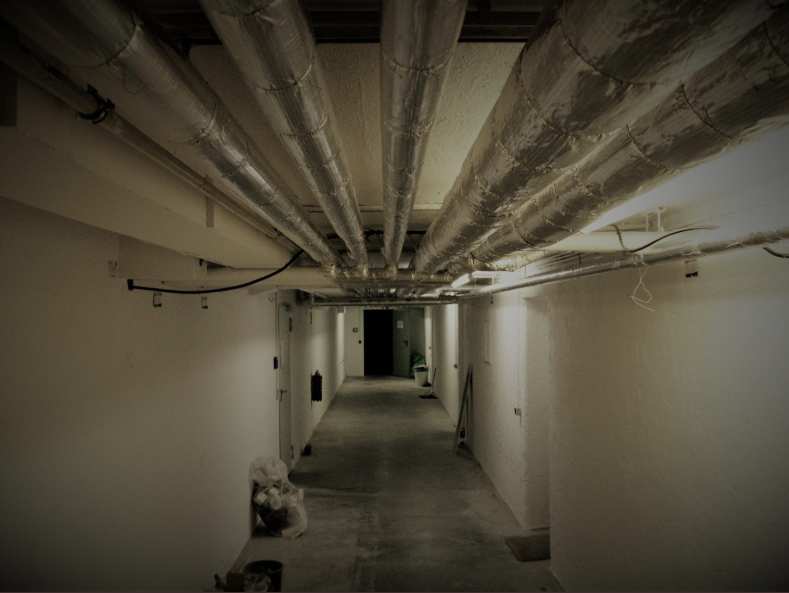 Notice the piles of trash, dirty floors, empty bucket next to cleaning supplies, wires hanging from the bright, exposed lights. IDEAL.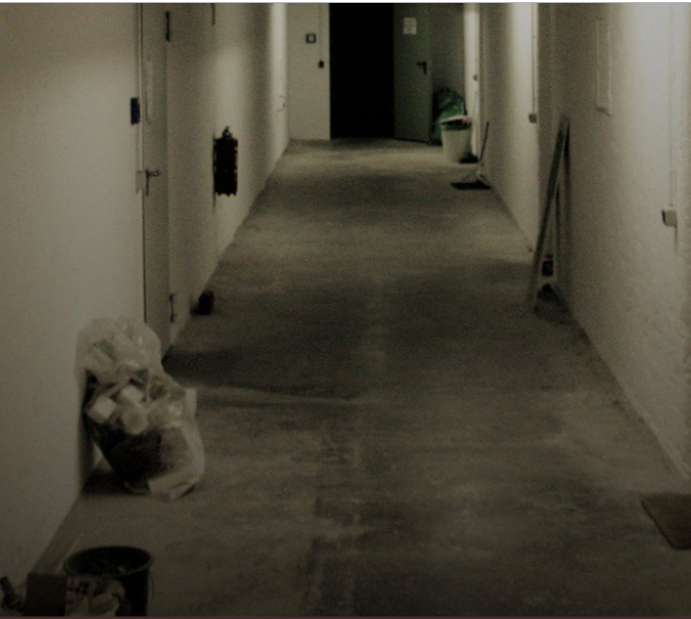 The tweets caused people to wonder what the hell is going on.
*Smiling calmly*
(Cue the "this is fine" meme x 1.000,000.) Totally fine. Super on brand for 2019, tbh.
"Hmm, Strange tweet," someone replied.

Many had some basic questions, like how much LSD they should bring, and if DARPA was testing "toxic 5G" and had thought about magnetic anomalies...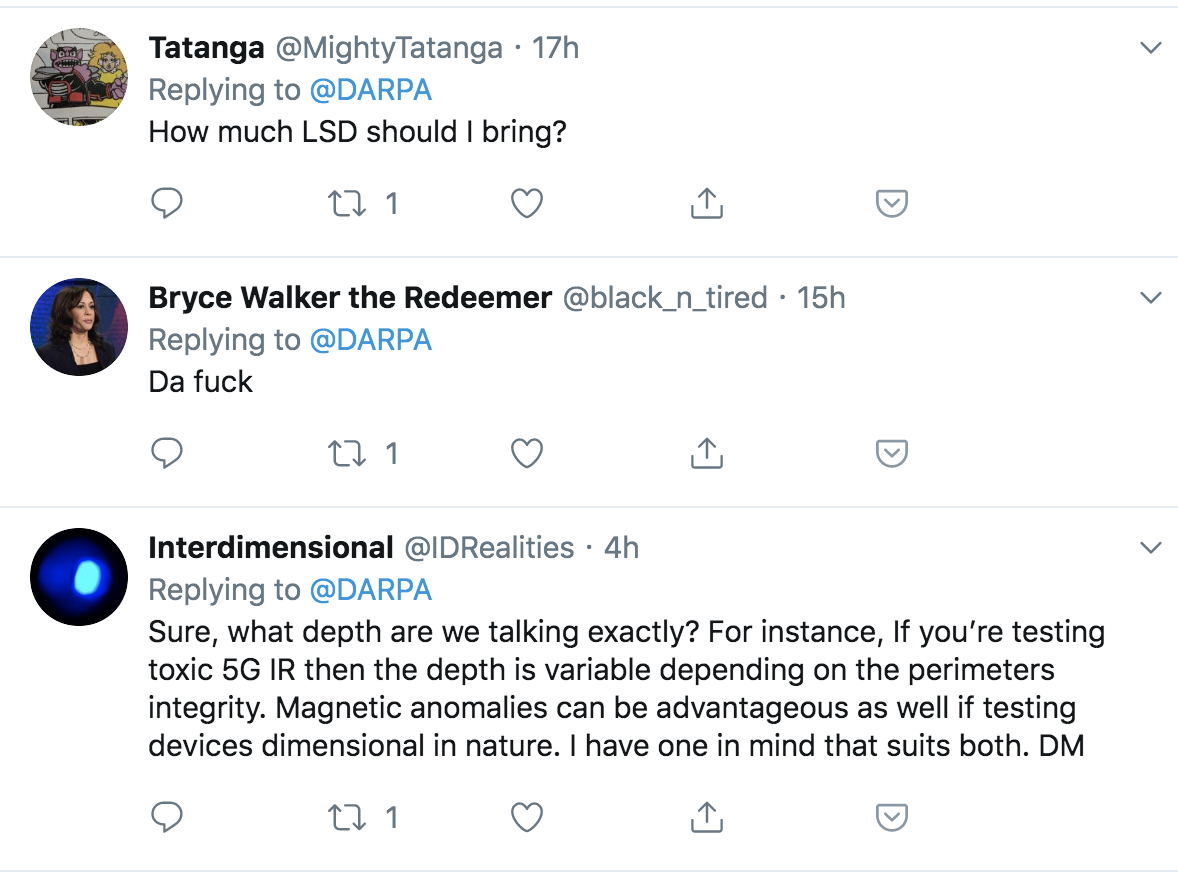 Why do they need this by Friday? another person asked.
One user politely asked the federal agency, "could you phrase this in a way that scares the shit out of me less?" Please and thanks.
While this person took a more direct line of questioning:
DARPA really helped quell people's fears, agreeing with one tweeter that the request sounded "both exciting and ominous." Great!

And that Demogorgons, the terrifying monsters in Stranger Things, were "such a Department of Energy thing."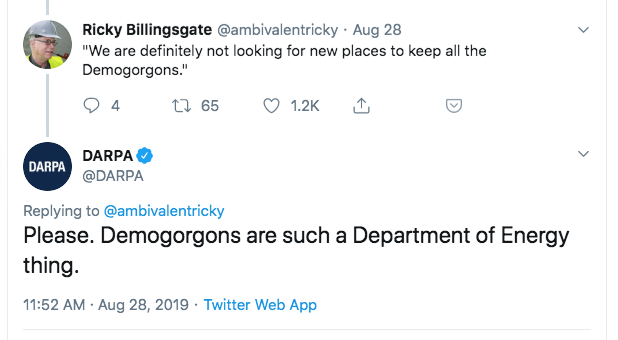 People did try and help, sending tips and ideas, like the 4.3-mile network of tunnels underneath Iowa State University. So nice! (RUN, you guys. GTFO.)
Or the Denver airport, where the underground tunnels have generated countless rumors and conspiracy theories about the apocalypse, a colony of lizard people, the freemasons, — it goes on...literally.
Others wanted a little bit more info so they could plan their lives accordingly. Like what a bummer it would be to work that extra shift if the world is about to end.
In a statement to BuzzFeed News, Jared B. Adams, DARPA's chief of communications, explained that the research agency actually made the request last week — they just didn't get a lot of submissions. The request for "university-owned or commercially managed underground urban tunnels and facilities" is for an upcoming challenge.

DARPA hosts a subterranean competition, called the SubT Challenge Urban Circuit, in which teams from around the world test out "new approaches to rapidly map, navigate, and search underground environments." But finding spaces for competitors to showcase their technologies can be tough.
"Complex urban underground infrastructure can present significant challenges for situational awareness in time-sensitive scenarios, such as active combat operations or disaster response," Adams said, adding that the agency turned to Twitter to "help identify potential representative environments where teams may be able to test in advance of the upcoming event."
This year, 18 teams are competing in the physical systems competition and/or a software-only virtual competition, Adams explained. The "systems track" teams are competing for up to $2 million in their final event, while those in the "virtual track" are gunning to win up to $1.5 million.
Earlier this month, the competitors completed the first round, the Tunnel Circuit, in which they tested their robots' ability to "map, identify, and report artifacts along the passages of two Pittsburgh mines."

"With them, they brought 20 unmanned aerial vehicles, 64 ground robots, and one autonomous blimp robot named Duckiefloat," the release said.
The underground tunnels and passageways are needed for the challenge's second stage, which takes place in February.
"There are three preliminary circuit events and a final integrated challenge course pursuing high-risk and high-reward approaches. The final event, planned for 2021, will put teams to the test with courses that incorporate diverse challenges from all three environments (tunnel, urban, and cave)," Adams said.
So it all sounds pretty cool and benign and even beneficial to our future, since the challenge aims to find and develop technology that can adeptly explore spaces that can be challenging in disasters or combat situations.
But people still had some questions, like why a government agency, on very short notice, is asking the public for an incredibly large space for experiments.

As Southpaw points out, the language in the original request is still suspect...like, this part: "without **prohibitive** cost and risk to human lives."
In all honesty, a long, cool, dark, underground tunnel with no human interaction and probably no Wi-Fi sounds prettyyy all right at the moment. Send a drop pin. We'll bring the succulents.