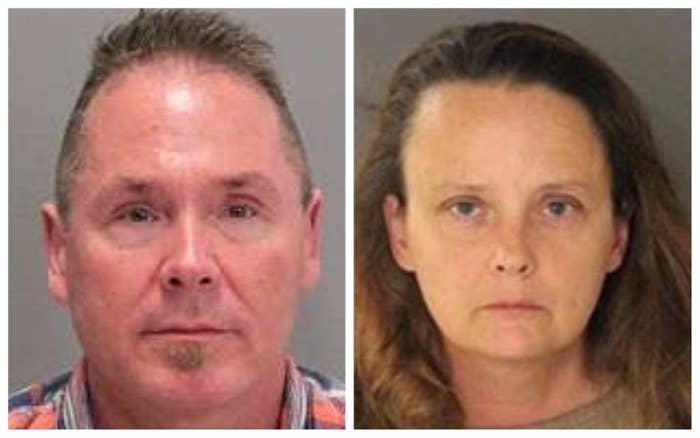 The man who was allegedly caught texting about molesting children while on a Southwest Airlines flight last week had made multiple sordid and graphic plans with the woman he was messaging — who admitted to sexually abusing and secretly recording two children — according to a federal complaint unsealed on Monday.
Michael Kellar, of Tacoma, Washington, was flying to San Jose, California, for work on July 31 when a preschool teacher sitting behind spotted him discussing drugging and raping two children via text message, investigators said. The woman he was texting has been identified as 50-year-old Gail Burnworth, who also lives in Tacoma.
The female passenger snapped photos of Kellar's screen and told a member of the flight crew, who then alerted authorities. San Jose police officers detained the 56-year-old after the flight landed, which led authorities to Burnworth.
According to the complaint, Kellar and Burnworth met on Match.com a year ago and both admitted to being sexually attracted to children. The couple had met up several times in person and had also texted about creating sex videos involving human feces, and discussed bestiality.
Kellar, who is divorced with two children, told detectives that the person he was texting with was "very kinky," but that his sexual interest in children is only fantasy, according to the complaint.
Ongoing text message conversations included in the complaint show Kellar pressing Burnworth to send him photos of two children, ages 5 and 7, who live with Burnworth, her ex-husband, and her ex-husband's wife.

Burnworth told investigators that she had sexually assaulted the female child and had made up to 20 videos of the children naked, including photos of the abuse, which she sent to Kellar. She was also "arranging a time for Kellar to have a sexual encounter" with the victims, FBI Special Agent Kyle McNeal said.
In one disturbing exchange included in the complaint, Kellar asks Burnworth if there was "any way of getting some pics" of the children. She tells him that she would be alone with the children on Sunday and that she could drug them with Benadryl and then film herself molesting them while they slept. She also agreed to let Kellar rape the boy and the girl.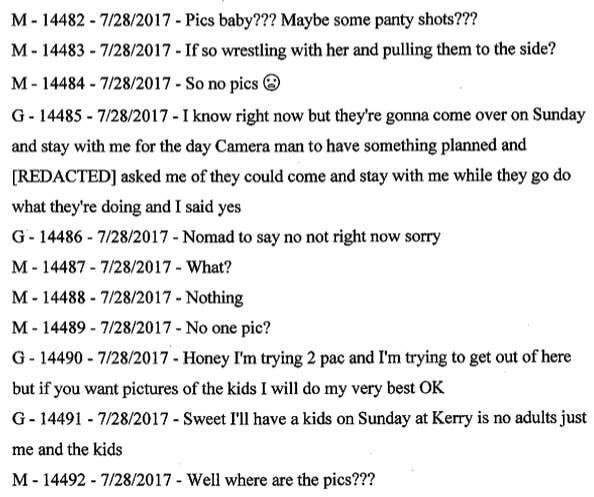 "You will really do this baby???" Kellar asked on July 28.

"Yes...Because I know this is something that you would really like to do - and I would love to do with you," Burnworth replied.
A few days later, while sitting on the Southwest flight, Kellar repeatedly asked Burnworth for "all the videos today." Burnworth promised to start filming once the children's mother left, and confirmed that she had the Benadryl.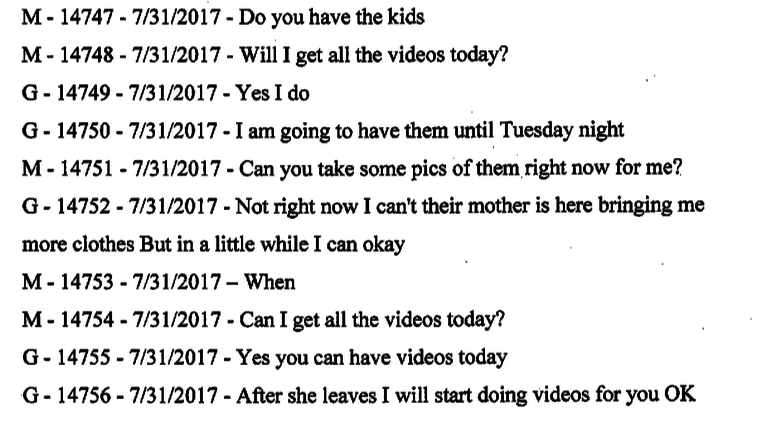 A family member of Burnworth's ex-husband, who asked to remain anonymous, told BuzzFeed News that Burnworth had been living with her ex-husband, his wife, and their three children, a 5-year-old girl, 7-year-old boy, and 13-year-old girl, for about a year because "she was basically homeless."
"She used to do a lot of drugs and is known for lying," the family member said. "She had been clean for awhile so they probably thought they could trust her. I don't think they had any idea."
Burnworth also has a 20-year-old son who does not live with his mother, according to the family member, who said the entire family didn't approve of Burnworth.
"She's just not a good person but I never imagined she would do something like this," the family member said. "I hope she rots in jail."
The preschool teacher, who was on her way to visit family for a vacation, had been looking out of the window when she saw Kellar's large smartphone screen; he was sitting in front of her and had reclined his seat, she told the Mercury News.

"I don't know how I saw it, I just saw in big text, 'child in their underwear,'" she told the news outlet. "I thought, 'What did I just see?' My heart started racing. Then I could see more texts coming in."
Authorities say her actions saved the children.
"One minute she is on her way to visit family on her vacation, the next thing you know her actions saved two children from continuous molestation," San Jose Police Sgt. Brian Spears told the Los Angeles Times. "I feel she is absolutely a hero and was paramount to this investigation."
In a statement to BuzzFeed News, Southwest Airlines said it was still "working with local authorities as part of the investigation."
After arresting Kellar in San Jose, detectives contacted their counterparts in Seattle, who traced his texts to Burnworth's home in Tacoma. Authorities then tracked her down at a neighbor's home where she was house-sitting, the complaint said.

Kellar contended that the text messages were just fantasies, but Burnworth told detectives she would "probably" have helped Kellar sexually abuse children. A search of her phone revealed "hundreds of text communications" between the two, according to the complaint.
Both were charged in federal court on Monday with attempted enticement of a minor — including rape of a child and conspiracy to produce child pornography. Kellar remains in the Santa Clara County Main Jail, and will be transported back to Washington in the coming weeks.
The teacher, who told the Mercury News she wants to remain anonymous, says she doesn't see herself as a hero, just someone who trusted her instincts and spoke out.
"I'm ultimately thankful [police] were able to act so quickly, and that those children are safe and suffered no more harm. That's all I can think about," she said. "It means the world to me and I hope that by my example, somebody who sees something wrong and might not want to say anything will now speak up. One small bit of information may lead to somebody's freedom and end their suffering."