Gabriel Sanchez has big plans. He's poised to graduate from St. Gregory's University, a small Catholic school in Shawnee, Oklahoma, with an honors degree in biomedical science and has been perusing graduate programs at prestigious schools like Harvard, Brown, and Boston College.
The 21-year-old from Enid, Oklahoma, wants to teach science to low-income students, and has been preparing applications for teaching programs like Teach for America and KIPP NYC.
But on Tuesday, a potentially huge problem emerged for him and thousands of other college DREAMers after Attorney General Jeff Sessions announced the end of the Obama-era Deferred Action for Childhood Arrivals program, or DACA.
Sanchez, who came to Oklahoma with his parents when he was 3 years old, is one of an estimated 800,000 undocumented immigrants who have DACA protection and whose futures in the US are now uncertain with President Trump's decision to phase the program out, leaving them vulnerable to deportation.
"I feel like my entire life is now in jeopardy," Sanchez told BuzzFeed News after the news broke on Tuesday. "I'm about to finish college and am trying to plan what's next and I don't know if I can even be here at this time next year."
Sanchez, like thousands of other DREAMers preparing to graduate from colleges and universities across the US, is in a precarious position. At the brink of starting his career, he faces the possibility of being uprooted from a life he's been building and sent back to a country he can hardly remember.
Although he was born in Mexico, Sanchez says he has no connection to his birthplace and expressed anxiety at the prospect of trying to start a life there.
"I don't know anything about Mexico," he said. "People say to me, 'I didn't know you spoke Spanish,' or 'You don't act Mexican,' and it's because I'm really not. I grew up here."
Sanchez spent the summer as a teaching fellow in the Bronx, helping low-income middle school students with physics and other science courses, which is what he wants to do when after graduates next May. But with his legal status up in the air, applying to graduate schools and teaching programs will be difficult.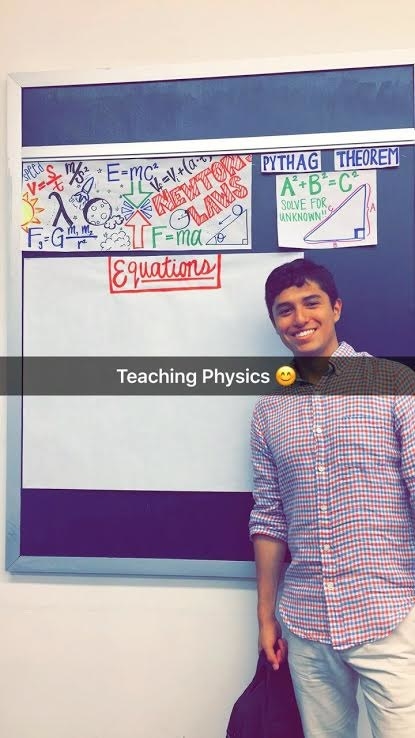 "I want to teach science and help advance students to high grades and expanding their knowledge of this universe," he said. "And it's frustrating that I don't know if I will be able to do that here after all the work I've put into it."
Sanchez never told his fellow classmates, close friends, or teachers that he was a DACA recipient. His little sister was born in the US, and he says his extended family has lived in Oklahoma since the 1980s, which is why his parents raised him there. He was also fearful of how people would see him, especially after Trump was elected.
"I haven't told anyone because of the negative views it has. It's scary," he said.
But now wants to come out and share his story to show people "not to be afraid of us because we are not that different." Sanchez is an all-state swimmer. He was a college athlete and a personal tutor. He's participated in student government and is his senior class representative.
"People like me have DACA," he said. "I look and act American, but on paper, I'm not, and that's devastating."