Cole Sprouse, who stars as Jughead in the CW's popular Riverdale series, was arrested while protesting in Santa Monica on Sunday as police officers worked to corral demonstrators and regain control among mass rioting, destruction, and looting.
The 27-year-old was part of a group of a few dozen protesters who were gathered on Broadway in downtown Santa Monica, holding signs decrying the death of George Floyd and chanting "I can't breathe." Earlier that day, hundreds of people gathered for a peaceful protest about a mile away, marching and holding moments of silence to honor black people killed by police.
But as that demonstration wound down, another group had descended on the Third Street Promenade, a tourist-heavy shopping district near the beach, and started vandalizing, looting, and destroying shops and restaurants.
Fires broke out in the Gap and completely torched Sake House, a longtime favorite family-owned Japanese restaurant. At least two squad cars were burned and damaged and nearly every business on Fourth Street was pillaged and destroyed as groups of looters ran into stores like REI and the Pottery Barn, running out with their arms full of hiking backpacks, pillows, plates, shoes, and anything they could carry.
Two police officers told BuzzFeed News they did not have the resources or capacity to stop them, and that their job was to try and ensure people could protest peacefully and to contain the perimeter.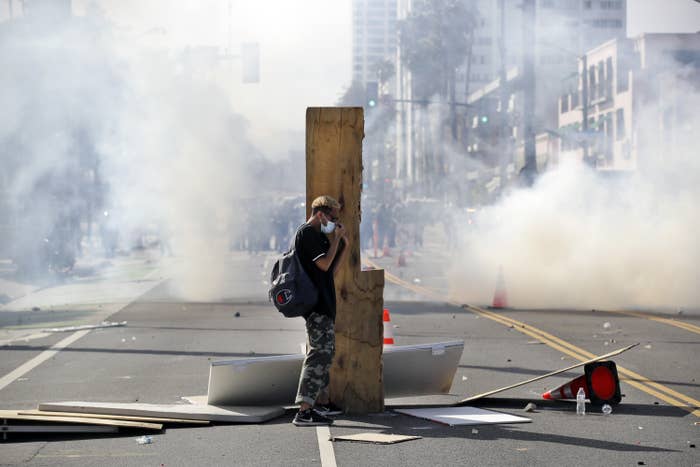 As groups ransacked the mall and surrounding streets, other clusters of peaceful protesters gathered to display signs, dance, and confront the lines of police before them. As the evening wore on, officers began to close in and cut off intersections, thinning and dispersing crowds. A few dozen demonstrators, including Sprouse, were part of a group that wanted to stay put, but complied with police forcing them east.
Eventually, the police lines cornered the group at the intersection of Sixth and Colorado and encircled those remaining. A pair of first aid volunteers treated a man named Brandon Mitchell, who was bleeding from a rubber bullet wound on his back, and some demonstrators then said they wanted to leave, but told BuzzFeed News they felt unable to because of the police blockade. Sprouse, who was wearing a black bandana around his nose and mouth, was one of the first in the group that police grabbed and put in zip-tie handcuffs.
Sprouse shared his experience on Instagram on Monday afternoon, confirming that police had told protesters they would be arrested if they did not leave.
"I was detained when standing in solidarity, as were many of the final vanguard within Santa Monica," Sprouse said. "We were given the option to leave, and were informed that if we did not retreat, we would be arrested. When many did turn to leave, we found another line of police officers blocking our route, at which point, they started zip tying us."
The scene, although calm, was tense, confusing, and emotional. Officers then continued picking off protesters to be detained, some of whom were crying and asking to leave.

Throughout his post, Sprouse reiterated that he did not want the narrative to be about him and underscored that "peace, riots, looting, are an absolutely legitimate form of protest."
"It needs to be stated that as a straight white man, and a public figure, the institutional consequences of my detainment are nothing in comparison to others within the movement. This is ABSOLUTELY not a narrative about me, and I hope the media doesn't make it such," he said. "This is, and will be, a time about standing ground near others as a situation escalates, providing educated support, demonstrating and doing the right thing. This is precisely the time to contemplate what it means to stand as an ally. I hope others in my position do as well."
After police cleared the group, they sat at least 20 people on the curb and in police vans before police took them to surrounding detention centers, like the Santa Monica Airport.

David Brown, another demonstrator who was also arrested and put in the same holding cell as Sprouse, said they were held for about 90 minutes, charged with a misdemeanor count of violating curfew, and then freed. Like other protesters, he expressed confusion about the circumstances in which they detained and said he did not hear those warnings.
"We tried to leave because a cop said if we went one way we could go but then they didn't let us leave," Brown said. "I was shocked and traumatized by the whole thing because I was there to witness, to document. The whole time police were settings up to arrest us. In hindsight, the curfew was 4 p.m. and at that point we were breaking the law, but I wish he would have just said you can leave now or you can be arrested."
In total, authorities arrested more than 400 people for a spate of alleged crimes, like looting, assault with a deadly weapon, burglary, assault on a police officer, and violating curfew, Santa Monica Police Chief Cynthia Renaud said Monday, adding that 95% of them did not live in the city.

A spokesperson for the police department said the majority of the arrests were "citations" and thus, many demonstrators were not booked or fingerprinted.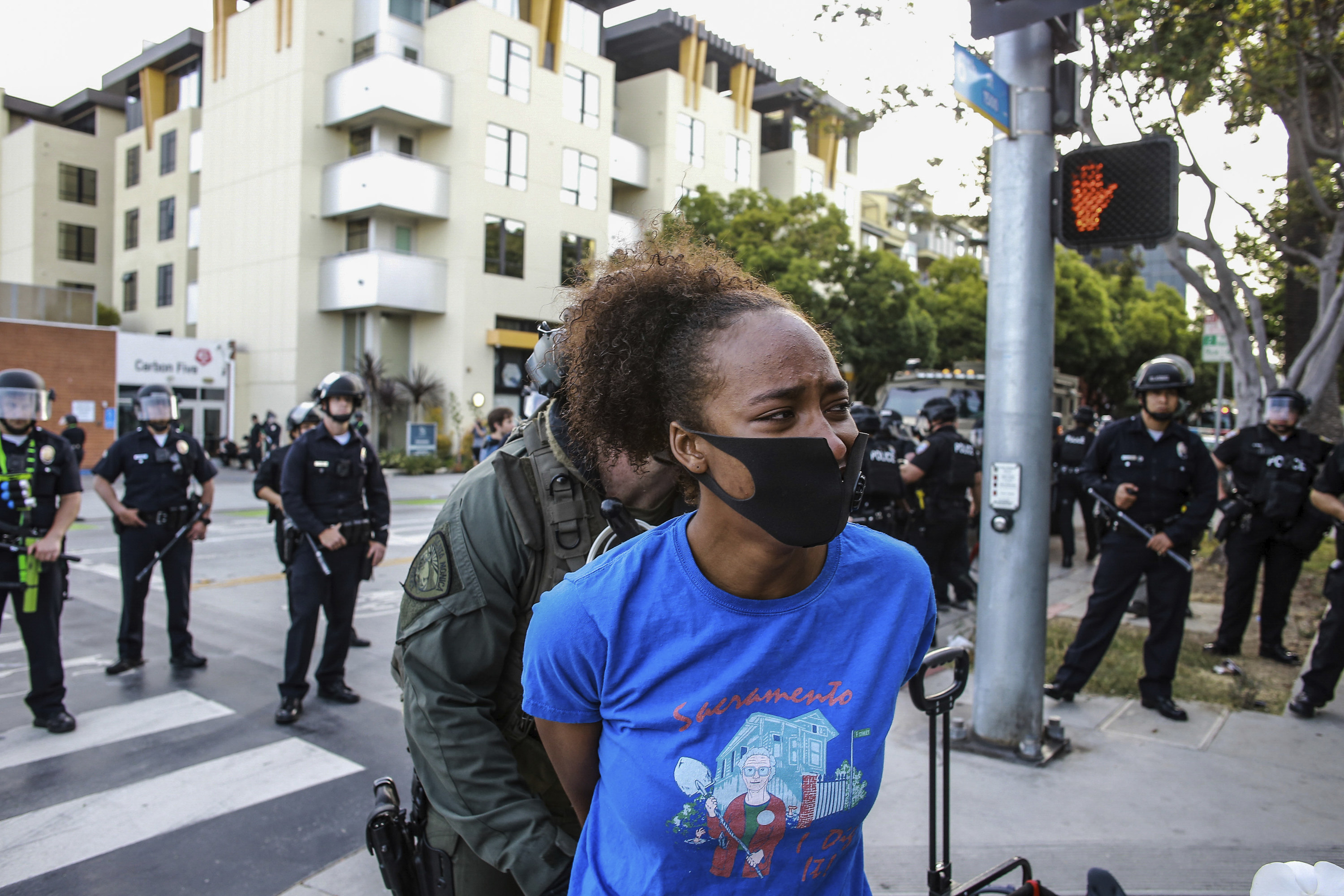 Sprouse has been outspoken about a number of social and political issues. Yesterday he shared an expansive list of resources on his Instagram story for people who want to protest and donate in support of #BlackLivesMatter.
The Riverdale star recently deleted his Twitter account, but in the past he's been vocal on the social media platform about his views on social and political issues. Sprouse has been critical of Donald Trump and back in February he tweeted in support of Bernie Sanders, saying the former Democratic presidential candidate "is not radical."
"Raising minimum wage is not radical," he wrote. "Pursuing health care for all is not radical. Pursuing higher education for all is not radical. Seeking legislation that protects our earth, our home, is not radical. The pursuit of equity is American."
Riverdale joined more than 70 other television shows that have suspended production due to the pandemic after one of the show's crew members tested positive for the coronavirus back in March. Before his popularity on the teen drama reached new levels, Sprouse also starred on the Disney Channel's The Suite Life on Deck along with his twin brother, Dylan Sprouse, as Cody Martin, making appearances in other Disney Channel TV shows and movies like Wizards of Waverly Place, Hannah Montana, and The Suite Life Movie. Cole also starred in Adam Sandler's 1999 movie Big Daddy and he played Ross Geller's (David Schwimmer) son Ben on the NBC sitcom Friends.

Other celebrities and members of Hollywood spent their weekends protesting the death of George Floyd and in support of the #BlackLivesMatter movement. Ariana Grande posted video footage from a Los Angeles protest on Saturday afternoon as well as a photo of herself wearing a mask and holding a sign that said, "Black Lives Matter" on her Instagram story. Michael B. Jordan was also seen at a Los Angeles protest. Halsley tweeted on Sunday, "I don't know how to articulate the horrors of today," on the second day of protests.
"Do not underplay these rubber bullets bc you have been told they are 'not lethal.' I had to bandage a man who looked like his entire face had exploded today. So before you say, from the comfort of your home, that we're exaggerating, please consider the injuries some have suffered," Halsley wrote.
Insecure actor Kendrick Sampson was hit by rubber bullets and a police baton in a Los Angeles protest on Saturday, which viewers watched on his Instagram live story and also saw broadcasted on CNN.
"Y'all ain't see no police fucking up white folks when they took guns to the statehouse," Sampson said in his Instagram live video. "Y'all didn't see police attacking white folks, beating 'em up with batons, shooting them with rubber bullets when they brought guns to fucking statehouses. We came up here with no weapons, with masks ... and we're the ones who are not peaceful."