Daoud Nabi was humble and "one of the kindest people you've ever met," a friend said. The 71-year-old often went to the airport to greet refugees, helping them start new lives in a country he, too, had made his home. He was an engineer, a father of five, and ran his community's Afghan Association.

Nabi died Friday afternoon trying to shield another worshiper as a gunman burst into the Al Noor mosque in Christchurch, New Zealand, opening fire during prayer services, his son, Omar Nabi, told BuzzFeed News.
"Thing is, I know he is smiling all the way," the son said.

His father was one of 50 people killed during a rampage at two mosques in what New Zealand officials have called a right-wing, extremist terrorist attack and one of the deadliest mass shootings in the country's history. The victims have ties to Pakistan, Turkey, Saudi Arabia, Bangladesh, Indonesia, and Malaysia, among other countries, according to Prime Minister Jacinda Ardern.
Authorities have not yet officially released the names of the victims, but some family members and friends have taken to Facebook, Twitter, and media outlets to confirm the news. Others, with desperate pleas for answers and information, are posting photos of loved ones they can no longer reach.
"Please Dad, come home," Omar Nabi had posted on his Facebook page before learning that his father died trying to protect someone else.

A few hour later, he shared a tribute to his dead father.

"He was in the process of helping people flee and went back to be a hero," the 43-year-old said Sunday night. "He jumped in front of a younger man and shielded him from the bullets."

Omar Nabi wants to take the body of his father, who moved to New Zealand when he was young, back home to Afghanistan to be buried, according to a fundraising page.
Ten years ago, Naeem Rashid and his wife, Ambreen, moved to New Zealand from Pakistan to create a better life for their three sons. He was a successful banker turned teacher, humble, "noble, and peace loving," his family said.
On Friday, Rashid lunged at the gunman who burst into his mosque, trying to grab his weapon as he opened fire on his fellow congregants before falling to the ground. The father was at the Deans Avenue mosque with his eldest son, Talha Rashid, 21.
"We are living in a trauma," Abdul Ghayyur Khan, Naeem Rashid's brother-in-law, told BuzzFeed News from his home in Saudi Arabia. "We watched him getting hit by bullets 8 times in that video."
Khan confirmed to BuzzFeed News that the two Rashid men were among those killed.

"We never thought such incident would happen in such a peace loving country," he said.
His nephew had recently graduated from school and "got a full-time job" as a civil engineer. "In fact he told his mother to quit working since he was now earning," said Khan, who had been planning on visiting his sister and her family in Christchurch in April.
Matiullah Safi had five children and always had a "smile on his face," his family told BuzzFeed News, calling him "a great man."
"You could always go to him, he always had a smile on his face, he was always at the mosque earlier than anyone, he was staying there, he was helping out with a lot of charities," said his 20-year-old nephew, Harry Khan.

Some families, including Khan's, are growing frustrated that officials are taking so long to return the bodies of loved ones for burial, leaving them feeling "helpless."
In Islam, the body should be buried within 24 hours. After the funeral, where the body is washed and buried, people traditionally come over to the house of the deceased person's family, he said.
"They read from the Holy Book, try to put their soul into peace, and that doesn't happen until the body is buried," Khan explained.
Khaled Mustafa, a Syrian refugee, moved to New Zealand with his wife and three children last year, Syrian Solidarity New Zealand wrote on Facebook. "They thought it was a safe haven," the group said.
In an update on Facebook, the organization said that Mustafa's eldest son Hamza, 14, died in the shooting with his father. His other son, 13-year-old Zaid, was injured in the attack and required a six-hour operation at Christchurch hospital.
The brothers are students at Cashmere High School, Syrian Solidarity New Zealand spokesman Ali Akil told BuzzFeed News.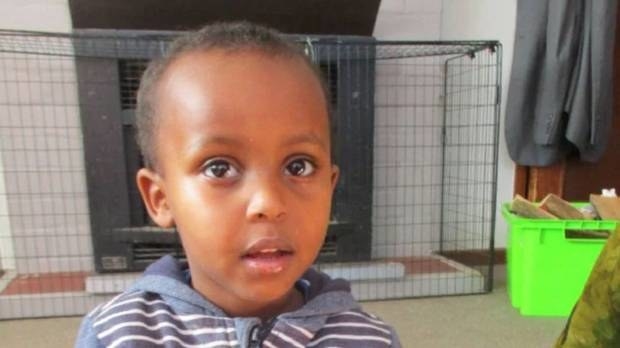 Three-year-old Mucad Ibrahim was "energetic, playful and liked to smile and laugh a lot" one of his older brothers wrote in a Facebook post, according to the New Zealand Herald.
He is the youngest known victim of the terror attack and was at the Al Noor mosque with his brother and his father before getting separated in the rush of of the rampage, his family said.
"'Verily we belong to God and to Him we shall return'- will miss you dearly brother," Abdifatah Ibrahim wrote on Facebook.

Abdullahi Dirie was 4. He's the youngest member of his large Somali family, his uncle Abdulrahman Hashi told BuzzFeed News. The 60-year-old is a leader at a mosque in Minneapolis and said he was still struggling to find the words to describe the loss.
Sayyad Milne loved playing soccer. The 14-year-old attended prayer services at the mosque with his mother and friends every Friday, his father told Radio New Zealand. He had just celebrated his birthday.

After more than a day without any word from her son, Hussein Al Umari, and posting for prayers and updates on Facebook, Janna Adnan Ezat confirmed that the 36-year-old was dead.
"It is with great sorrow we came to know our son Hussein Hazim Hussein Pasha Al-Umari is a martyr," the mother wrote alongside his picture. "Our son was full of life and always put the needs of others in front of his."
Heba Sami told Gulf News that her father was shot in the back protecting her twin brothers from gunfire. The 52-year-old is now fighting for his life. Sami told the outlet that "many" of her family's friends died in the shooting.

"My family survived the attack but many of our friends didn't. Among the nearly 50 dead are five close family friends, including a 12-year-old boy," she said.
Husne Ara Parvin died trying to save her husband, who is in a wheelchair, the New Zealand Herald reported. The 42-year-old, known as Husna, grew up in Bangladesh and was a symbol of "idealism and honesty," her old neighbor, Maqshud Uzzal, wrote on Facebook.

"They suffered much but never they lost their self confidence & respect," he recalled of Parvin and her family. "Really they are symbols of idealism & honesty."
Consulates across the world have started to confirm that they, too, lost citizens, and the Red Cross New Zealand has created a database of missing people.
Bangladeshi Counsellor Farida Yasmeen told BuzzFeed News that, through sources, they have identified two of the victims as Dr. Abdus Samad and Husne Ara.

Jordan's foreign ministry confirmed that two Jordanians died. Five Pakistani citizens are still missing, according to the Pakistan Association of New Zealand.
BuzzFeed News will update this post with additional victims as information becomes available. If you know someone who perished in the attack and would like to share anything about them, please email us: tips@buzzfeed.com
UPDATE
During a press conference Sunday morning local time, New Zealand Police Commissioner Mike Bush told reporters that they had found another body, bringing the total to 50 deaths.