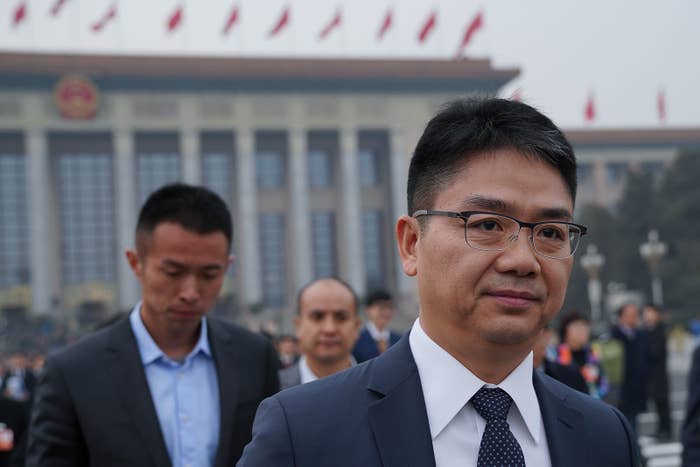 A billionaire founder and CEO of one China's biggest e-commerce sites was arrested Friday in Minnesota on suspicion of sexual misconduct, according to police.
Liu Qiangdong, who founded JD.com, one of China's most popular shopping sites, was arrested and detained Friday night at the Hennepin County jail on sexual misconduct charges, records show. He was released the following afternoon but posted no bail. Liu has since returned to China and back to work at his company, according to a company spokesperson.
The Minneapolis Police Department will not elaborate on the charges against the e-commerce leader, spokesperson John Elder said in a statement late Sunday night, explaining that the investigation is still active.
"We're familiar with [Liu's] means and abilities. We are confident if we need to have further discussions with him, we will be able to have those discussions," Elder said.
While the jail records do not elaborate as to what degree of sexual misconduct Liu may have committed, Minnesota's criminal sexual misconduct laws span five degrees, ranging from misdemeanor to felony. According to the Washington Post, the department said the charge would be a felony, though it has not yet determined whether it will follow through with the charges.
The Chinese tech mogul, who is also known as Richard Liu, was on a business trip to the US when he was questioned by police in connection with an "unsubstantiated accusation," JD. com said in a statement posted Sunday to the Chinese social media site Weibo. The company asserted that its 45-year-old founder has been falsely accused.
"The local police quickly determined there was no substance to the claim against Mr. Liu, and he was subsequently able to resume his business activities as originally planned," JD.com said in its post. "We will take the necessary legal action against false reporting or rumors."
JD.com did not immediately respond to BuzzFeed News' request for further details on the case or the status of the investigation.
Liu's attorney Earl Gray told the WSJ said his client was released and was free to go back to his homeland China. Gray also said that no charges will be filed against Liu.
Earlier this year, Liu tried to stymie a probe into sexual assault allegations against him in Australia, stemming from a 2015 incident in which a guest at a party at a penthouse there accused him of being inappropriate. Authorities in Australia never charged Liu in the case.
JD.com is a monolith e-commerce company in China. Similar to Amazon, it's famous for its rapid delivery of virtually anything a user could want.
In June, Google committed to investing about $550 million in the company.