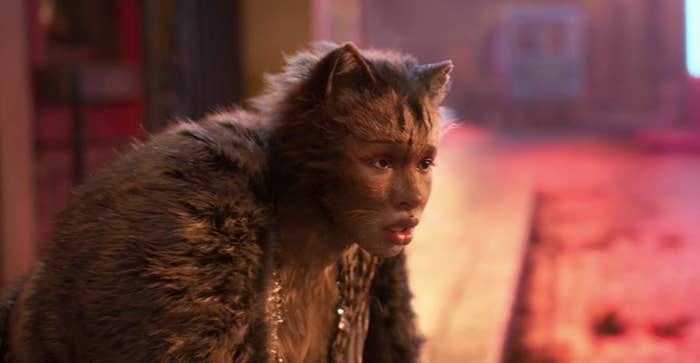 Just when you thought this year could not get any more dramatic, I have some *shocking* news: The controversial film adaption of Cats is no longer part of Universal Pictures' lineup for award season contenders.
Just a few days after the film version of the Broadway musical, which critics mildly described as a "descent into madness" and a sight "no human should see," bombed its opening weekend at the box office (earning a mere $11.2 million WORLDWIDE), Universal Pictures quietly abandoned its Oscars campaign.
The star-studded film, which stars Judi Dench, Ian McKellen, Jennifer Hudson, Rebel Wilson, Idris Elba, James Corden, Jason Derulo, and Taylor Swift, cost nearly $100 million to make. It had been listed on Universal's "for your consideration" page, next to other acclaimed films like Us and Queen & Slim. People on Twitter posted about Universal's plugs for the film back in November and up until Dec. 22.
After calling out the "assholes" who almost convinced him to see the movie over his winter break, film critic Jason Adams expressed his surprise that "they haven't scheduled any guild screenings in New York..."
Two days later, Adams and others noticed that the studio had removed the musical from its FYC page entirely. The link that would have taken viewers to the awards page dedicated to Cats, which would have had a schedule of its upcoming screenings and the Academy Award categories it was entering, now looks like this: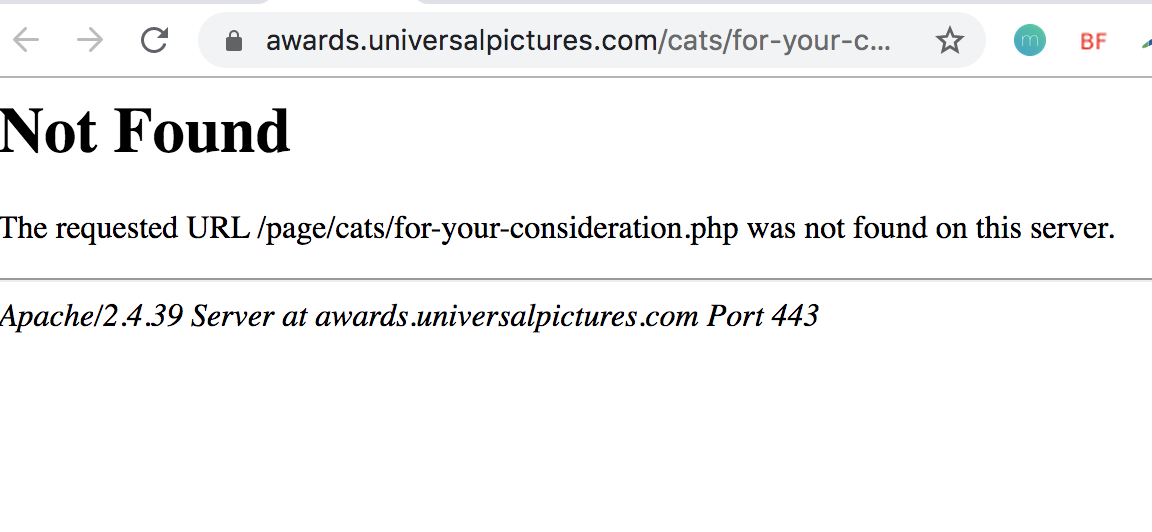 Universal did not immediately respond to BuzzFeed News' request for comment.

While the studio is no longer pushing the film as part of its Oscars campaign, Cats still nabbed some accolades, including a Golden Globe Best Original Song nomination for "Beautiful Ghosts," written by Swift and Andrew Lloyd Webber. The tune, however, didn't make it to the final round of Academy Awards contenders, which was another disheartening hit for the film.
Cats has been a disaster from the moment the first trailer dropped in November. After that, the train wreck just kept happening, with face-palm moments like Derulo saying his bulge had to be edited out; director Tom Hooper literally pulling a 36-hour all-nighter to finish the film in time for its premiere; and then Universal having to send theaters an updated/improved version of the film because some of the visual effects were wonky.
So when the internet learned that the studio had removed the film from its awards page, people were like, "mhmmmmmmmm."

However, there were those who believed in its magic and wanted to see it shine, in all its "holy shit what is happening" glory.

Stunned by the news, people also decided to abandon their own campaigns for totally attainable things, too, like dating Rihanna, becoming People's Sexiest Person Alive, and going to the gym every day.
But not all is lost, as this guy points out, Cats will probably slay at furry conventions.