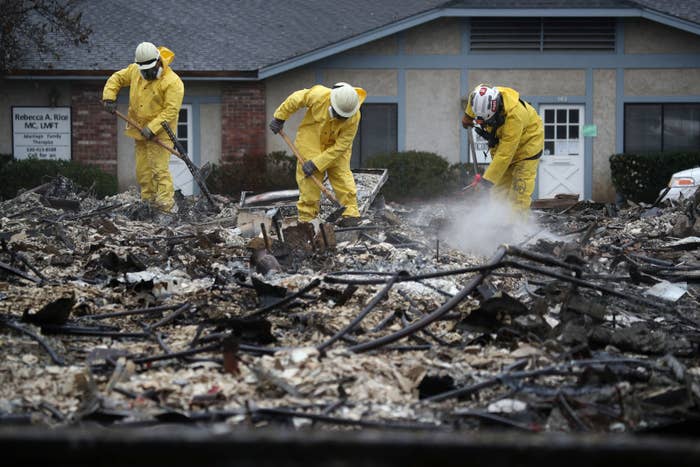 After nearly 20 days of combing through ash, rubble, and twisted metal looking for residents who died during California's deadliest wildfire in history, thousands of search and rescue workers are now going home.
The Camp fire, which ignited three weeks ago in rural Northern California, killed at least 88 people, torched 153,336 acres, and destroyed 14,000 homes about 5,000 other buildings, making it the deadliest and most destructive wildfire in state history and the nation's worst fire in a century.
"As of tonight, the search will be conducted by the Butte County Sheriff's Office," spokesperson Megan McMann said. "The National Guard is still assisting in road blocks in the area."

As of Tuesday, there were still nearly 200 names listed as unaccounted for, although that list has fluctuated dramatically and the number of missing continues to decline.

On Nov. 8, the wind-driven, ember-spewing wildfire erupted in the little, rural Northern California town of Pulga and swept across nearly 7 miles in 90 minutes to the city of Paradise. Tens of thousands of people were trapped as they frantically tried to outrun heat and flames as piles of abandoned cars and traffic clogged the four narrow roadways out. Officials deployed a tested evacuation plan, but the fast-moving fire threw those plans into chaos, forcing firefighters to try and clear the entire town of 27,000 people at once.
At a press conference Wednesday, Butte County Sheriff Kory Honea acknowledged the possibility that some residents may never be found, given the power and ferocity of the fire, and that some residents returning home may stumble upon pieces of bone.
"The fire burned very intensely and many of the remains were almost completely consumed, leaving nothing but bone and fragments," Honea said. "It's possible that people going home will encounter these fragments."
Stressing the scale and immense effort of the thousands of search teams that have repeatedly checked property after property, 18,000 in total, he said that he sincerely hopes that "no additional remains will be located."
"I believe we have done our due diligence," he said. "All locations where we thought there was a high probability of human remains have been searched."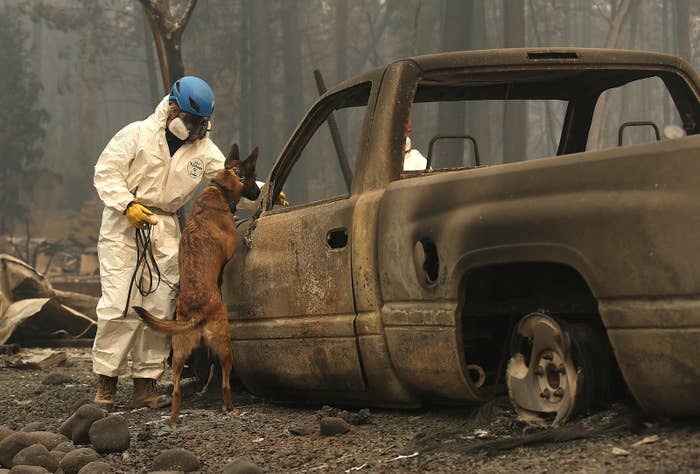 In the aftermath of the fire, searching for those who were unable to escape has been a harrowing, historical task. About 10,000 personnel from nearly every county in California, as well as the National Guard and volunteers from five other states converged on Paradise to comb through what was left of the woodsy community at the base of the Sierra Nevada foothills.

"I cannot stress how big of an effort this really was. Ten thousand people were searching," said Joe Moses, a Monterey County Sheriff's commander who was leading the search and rescue effort. "That's never been done before in California. We had people who worked on 9/11 who were here."
"The bodies were all over the area," he said. "There was no one discernible area where people where clustered, which was surprising. It shows that the fire came from multiple directions and very fast."

"It was like nothing you could have ever imagined."
For the past few weeks, the crews, decked in white and yellow-crinkly jumpsuits and respirator masks have painstakingly scoured the "war zone" left behind by the Camp fire.
The searchers crawled on hands and knees, looking under cars and in other places someone might have hid, sometimes falling into sewage tanks as the step over what's left of a person's existence. They revisited properties up to three times, just to be sure they didn't miss a bone or a sign that someone was left behind.
"I've never seen anything like it," said Dustin Styles, a member of a team from the Tulare County Sheriff's Office who worked on the rescue effort. "It's like a total cremation of a town. It's hard to see."
Complicating matters, two rain storms have descended on the region since the fire erupted, sparking fears that the rain could wash away the tiny, fragmented bits of human remains still trapped in mounds of ash and debris.
Moses has tried to quell those concerns, explaining that, so far, there has not been enough rain to prevent search teams from finding remains, although he noted that there was a possibility that the rain could make that impossible.
"Anytime you get enough water that's running down and filling foundations there's potential it could wash away remains or prevent us from finding them," he said.
Although he's proud of the work he and his team did, he said it's strange to be going home.
"You've been a part of this for so long and then you're supposed to go back to your regular life," he said while driving back to Monterey. "It's tough. It takes a bit to readjust."