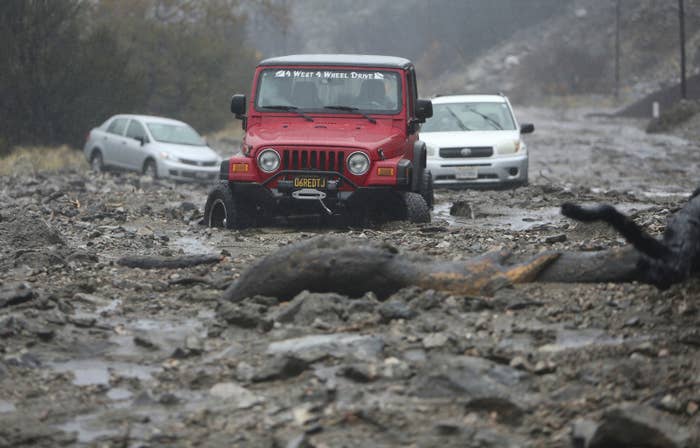 California residents are again being forced from their homes as a constant deluge of rain sparked floods and sent loose debris flowing around neighborhoods charred by recent wildfires, trapping people in their vehicles.
Not even a week after firefighters contained the historic Camp fire, which killed 88 people, burned more than 150,000 acres, and destroyed 19,000 buildings in the town of Paradise and surrounding communities, officials had to ready for the possibility of dangerous and potentially destructive flooding and mudslides as a powerful storm moved into California.
Heavy rain over burn-scarred mountains and canyons can be dangerous because the fire-ravaged land lacks the ability to absorb water, potentially triggering mudslides and debris flows. Last January, 21 people died in the Southern California beach community of Montecito after a massive mudslide tore through hills burnt raw by a fire the month before.
On Thursday, National Weather Services issued flash flood warnings for the Paradise area, warning that "life-threatening flooding of creeks, roads and hillsides is likely" and urging residents to remain alert.
That afternoon, an intense band of rain caused rivers and streams to rise quickly, trapping dozens of cars on bridges and roads. Butte County officials sent crews of officers and rescue teams to help stranded residents and evacuate homes.
On emergency dispatch radio, authorities reported more than 150 vehicles trapped in the area and an abandoned SUV floating down a creek.
Rick Carhart, a spokesperson for the Butte County Department of Forestry and Fire Protection, told BuzzFeed News that swift water rescue teams had to evacuate three households by boat and escort at least 50 cars trapped by high water down from a road in Butte Creek Canyon.

Flash floods also hit neighborhoods outside the Camp fire burn area, highlighting the heavy amount of rain in a short time period. The thunderstorm dumped about 1.5 inches of rain in an hour, toppling trees and dislodging rocks.

"We knew this storm was coming so we were prepared, but it rained harder than I was thinking it would," Carhart said. "Debris and water were flowing up in the canyons and across roadways. It's such a big area where the hills have now been stripped from their natural defense against erosion."
As the roads continued to flood, the Butte County Sheriff's Office evacuation orders to mobile phones and Chico Police issued a Code Red alert due to the possibility of flash floods overcoming neighborhoods nestled below the Sierra Foothills.

At one point, officers had to rescue about a dozen people from their homes who had become trapped by rising waters, a CBS affiliate in Chico reported.
"There are 12 homes we will be checking on," Butte County Sheriff's Deputy Sgt. Brad Meyer told the station. "It is serious — the water is coming up so we want to make sure we get everyone out we can."
Video from other news stations and residents showed trails of cars snaking across waterlogged roads. One man evacuated by horse because he could not drive his truck out, KRCR reported.
Still evacuated nearly three weeks after the Camp fire ignited, thousands of residents have been anxious to return home to assess what's left of Paradise, a town of 26,000. Butte County Sheriff Kory Honea said large chunks of the town would be reopening next week, barring any significant damage or hindrances from the storm.

Dale Ward, an engineer who lives in Chico, told the Associated Press that he had to evacuate his home for the second time this month, wading "out into thigh-high water" until the storm let up and he was able to return home. A few weeks earlier, he watched flames inch close to his home.
A few hundred miles away, people across swaths of burn areas in Los Angeles, Santa Barbara, and Ventura counties remained alert as rains continued to drench the region.
In Malibu, which has just begun to recover after the Woolsey fire decimated hundreds of homes, officials warned of falling rocks and mudslides, urging residents to leave.

From a helicopter, Los Angeles fire officials rescued a man as he clung to a tree near a bridge as the swollen Los Angeles River nearly swept him under.