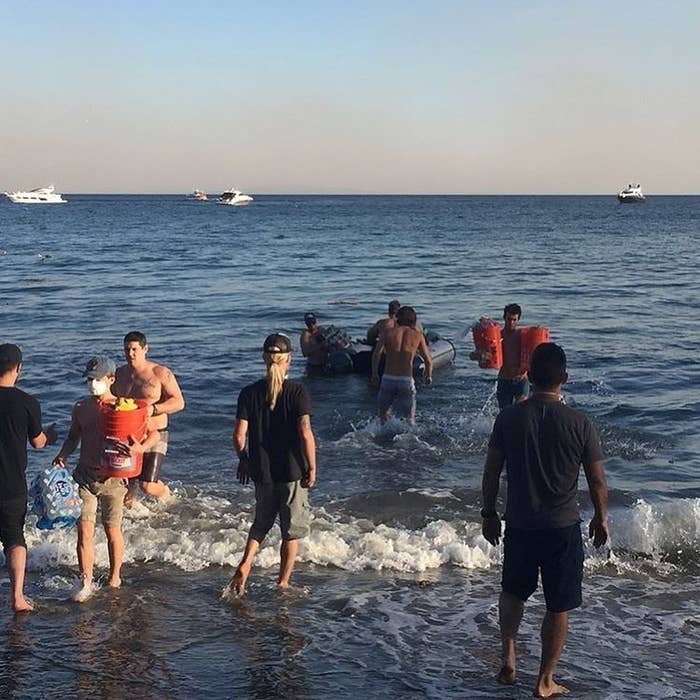 Malibu residents left stranded by the destructive Woolsey wildfire have created a system to surf and boat in food, water, gas, and other supplies to people who stayed behind to save their homes, many of which are in neighborhoods cut off from water and power.
The operation started Sunday, three days after the Woolsey fire ravaged large swaths of Malibu, destroying 177 structures and forcing the evacuation of 75,000 homes.

Volunteers loaded surfboards and paddleboards with food, water, flashlights, and shovels and swam them to residents who had stayed behind. Many people have not left Malibu because erratic winds continue to ignite spot fires on abandoned lawns and in dry, overgrown brush.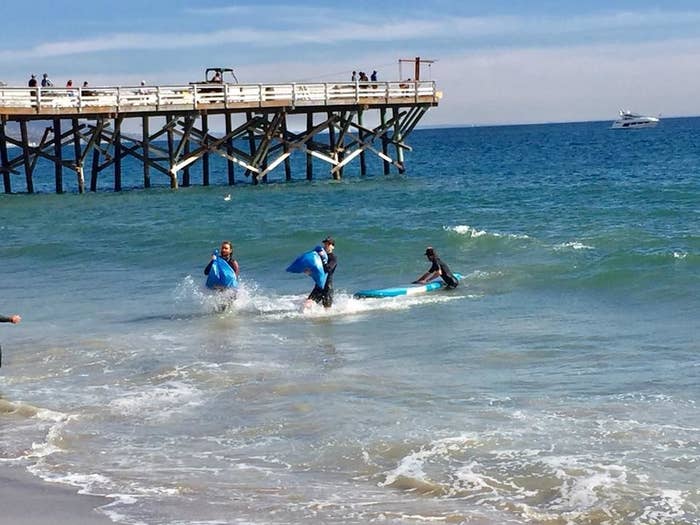 Joe Mahon, who helped with some of the distributions, said there are four to six boats making runs from Marina del Rey along the Pacific Ocean to the Malibu pier and Paradise Cove beach, where people in dinghies and paddleboards met the boats, loaded the supplies, and rode the surf back to the shore.
The supplies were then loaded on trucks and taken to distribution points set up a few miles away, where residents could access them.
"This was all organized and executed by residents who stayed, evacuees, and many others who supported with communications and funds to get it off the ground," Mahon told BuzzFeed News.

Bill Kerbox, a Malibu resident, put a call out on social media for volunteers, saying billionaire Howard Leight's 143-foot yacht was on standby and ready to deliver supplies to people hemmed in due to police blockades and road closures.
Kerbox told the Los Angeles Times he estimates the boat was stocked with about 3,000 bottles of water, 100 gallons of fuel, shovels, snacks, dog food, and beer.
When the yacht approached Paradise Cove, people on surfboards, paddleboards, and kayaks delivered the supplies to land.
Jennifer Sol, who lives in Malibu and whose brother and husband have been making multiple trips by surfboard, told BuzzFeed News that social media has been a huge tool in being able to connect with people.
"Physically we're so removed from so many people and this place looks so different, but mentally I feel like we have so much support and love behind us," she said. "Malibu really is so strong and there's a whole army that wants to help."