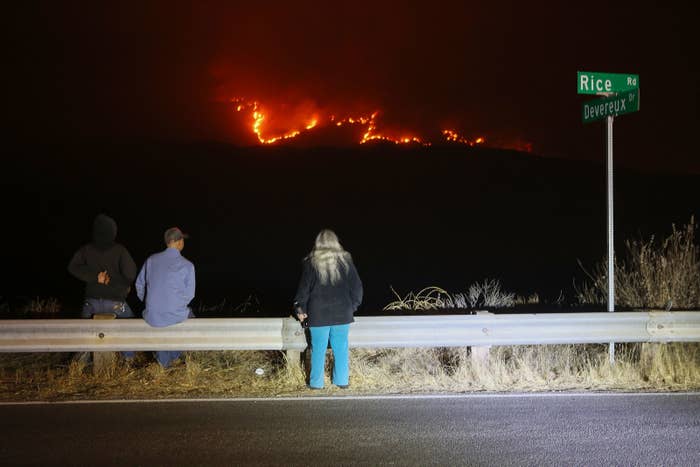 They stood murmuring, cell phones out, standing in clusters along the dusty road and watching through the smoke-choked evening air as dark orange flames waved in the wind, the glow of fire surrounding them on either side.

About 12 hours after officials said it was a "miracle" that the small, artsy, pastoral town of Ojai barely survived an attack by a wildfire swallowing mountains and valleys surrounding it, residents chatted nervously. Sitting on the hoods of pickup trucks, some in face masks, they recorded the fire again as it teetered toward their town.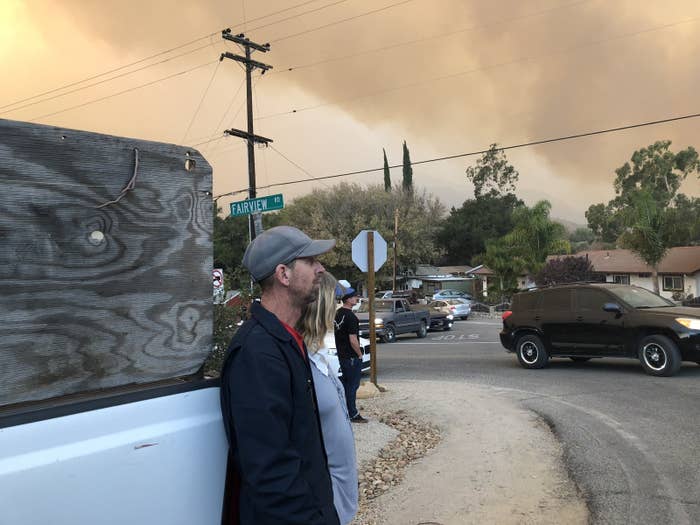 "This is the third time it's come for us," said 48-year-old Sean Salisbury, a wiry ironworker with eyes watery and bloodshot from the acrid smoke. "It's an evil beast. It has a mind of its own."
Fueled by erratic, gusty winds, the Thomas Fire hasn't stopped lunging for Ojai since it began Monday. Residents described a nightmare late Wednesday night when flames raced just four miles outside the city. Each morning, though, its residents wake up to a town still standing.
Nestled in a valley up in the mountains of Ventura County, Ojai is prime bait for an unruly wildfire. There are only two main, single-lane roadways leading out, portions of which are already closed. If flames suddenly engulfed the town, as it nearly had and has been predicted to do, and further cut off roads, people would be stuck. Many of Its 7,000 residents also live in neighborhoods encased by dry brush, dusty trails, and parched woods, or own ranches and orchards — perfect fire fuel.
"Ojai is still the front line," Ventura County Fire Capt. Stan Ziegler said early Friday.
President Trump has declared an emergency in California as wildfires continue to burn tens of thousands of acres across the state and destroy hundreds of homes.
But for five days, Ojai, the community known for its art galleries, spas, and spiritual retreats, has been at the crux of the Thomas Fire, which has burned about 132,000 acres and is far from contained. On Monday, "a fork of flames" funneled over the mountains and through pastures, encircling the town as up to 80 mph winds drove the blaze to people's doorsteps, horse stables, and lawns filled with children's toys and trampolines.
"The fire is coming at it from two directions," said Scott Quirarte, a captain and public information officer with the Ventura County Fire Department. "The way the valley sits, some portions are protected from the winds and others are not. The thing is, the wind keeps changing. It's extremely rare we have had such high winds for such a long period of time."
Thanks, though, to a lucky change in winds and sheer willpower, hundreds of firefighters have been able to stave off flames from consuming the center.
Throughout the night and into the early hours Friday morning, flashing trucks remained parked along winding roads and outside vulnerable homes. Bulldozers and crews with hand tools cleared out debris while aircrafts circled overhead, pouring water into the belly of the fire.

"Spot fires keep jumping out ahead of us. We have embers going 50 to 60 miles per hour. That's like a car down a freeway," Ventura County Fire Capt. Robert Welsbie said Thursday night, his eyes never leaving the ranch where, at any moment, he expected the blaze to come crawling down a ranch's driveway. "Ojai is right in the middle of these wind shifts. It's like a war zone."
Although many people heeded mandatory evacuation orders, hundreds stayed, refusing to leave behind their livelihoods. In a standstill, with nearly all the town's businesses shut and streetlights dark, Ojai residents gathered on street corners to swap stories of how they narrowly beat back the beast.
"It was nothing like I've seen. I left and turned around and came back," said Salisbury, crossing his arms and nodding toward his trailer home where he's lived for nearly 20 years. "I was in the Navy. It's my house. I had to fight for it."
Linda Lemay helped pack up and evacuate her three grandchildren, but said she chose to stay in the home where their photos lined the walls.
"Like a freight train barreling toward you," Frank Werberger said of the flames while sitting on his ATV next to several fire trucks.
The 52-year-old says he hasn't slept and has been wearing the same white T-shirt since he took his two kids and mother down the hill "before it got really bad."
Brushing ash off his shoulder, Brett Law, 46, said he had hunkered down in his wooden ranch house, protecting his chickens as flames stopped an eighth of a mile from their pen.
"It sounds crazy, but you think you can beat it. We've all been through fires before," Law said. "You just don't want to lose everything. I live by myself. It's all I have."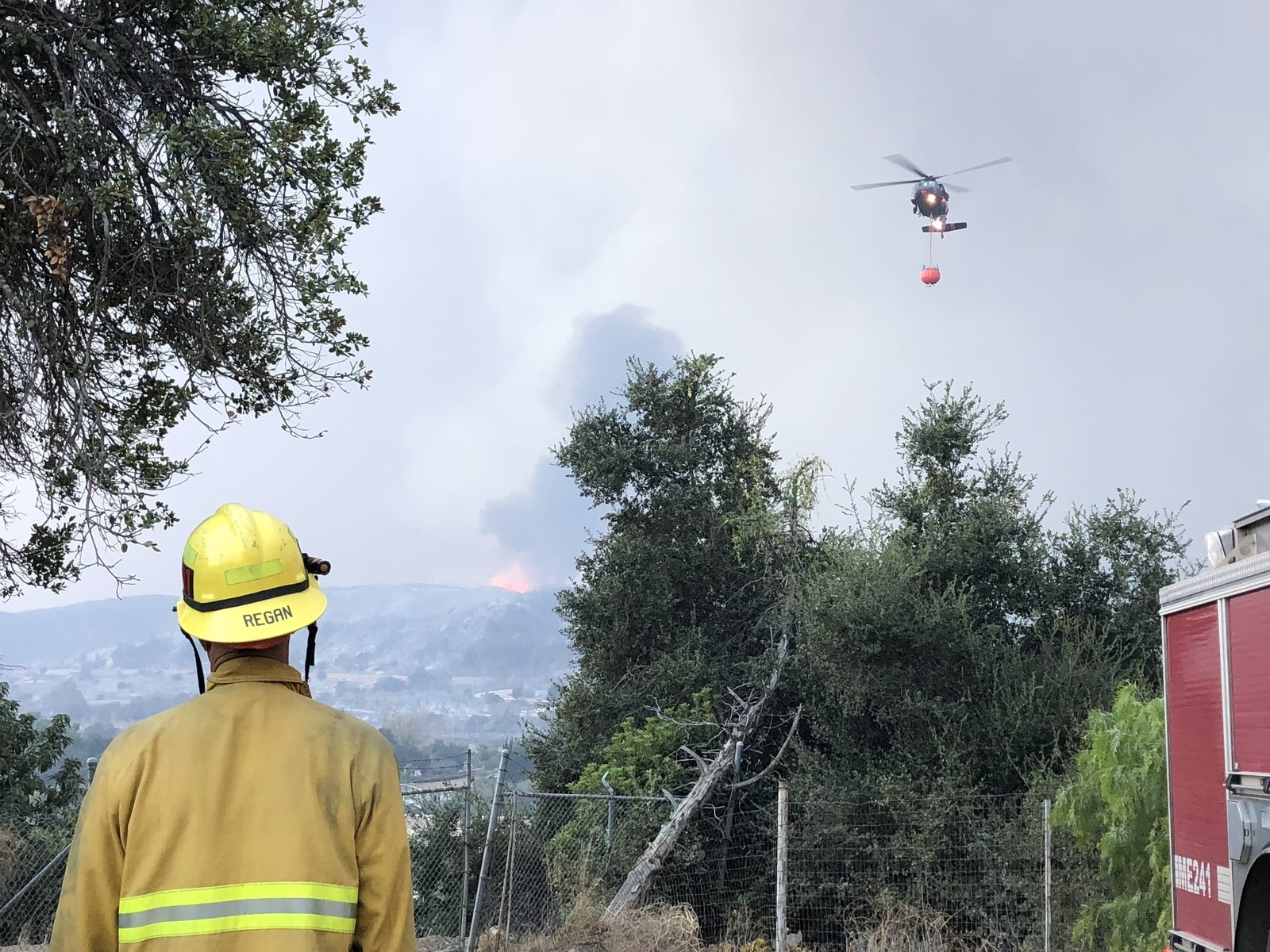 On Friday morning, Ojai emerged breathing another sigh of relief. For the second night in a row, the vicious winds forecasted to drive the fire from its perch did not reach their full potential. Weary but smiling, people ordered lattes at Coffee Connections. Nearby, a man walked his dog past the hardware store.
Meanwhile, down near the ocean at their base camp at Ventura County Fairgrounds, fire officials discussed how the blaze had burned the northern edge of the valley and warned of another extraordinary wind pattern. The red flag weather warning, which has been continuously extended all week, is now expected to last through Sunday.
Ojai residents, however, remain undeterred.
"It's been a bit of a bitch," Salisbury said. "But it's nothing we can't handle."