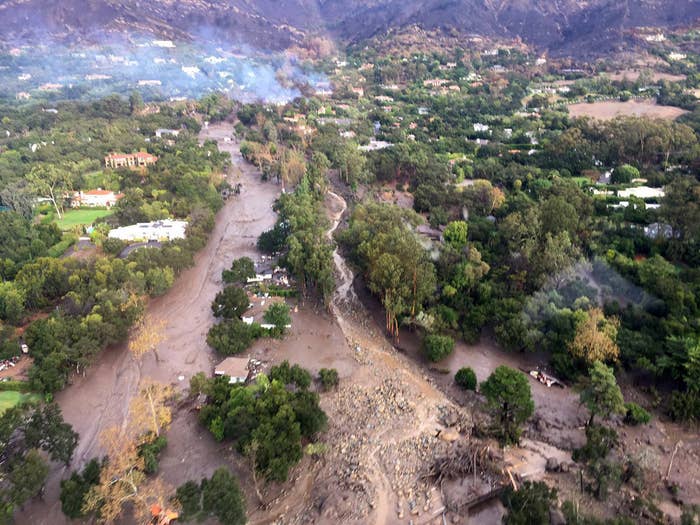 Weeks after a massive mudslide tore through the Southern California beach community of Montecito, killing 21 people, officials acknowledged that they sent out inaccurate evacuation information that excluded dozens of homes from a warning zone.
Roughly 30 hours before torrential rain hit the area's fire-ravaged hillsides, sending a swift river of mud, boulders, and debris into the neighborhoods below on the morning of Jan. 9, the Santa Barbara County Sheriff's Office posted a list of voluntary and mandatory evacuation areas on its Facebook page that ultimately left out neighborhoods to the west of the affected region.
Emergency management officials acknowledged the mistake at a community meeting Monday evening, after the error was first uncovered by the Los Angeles Times.
"Regrettably, however, also 30 hours prior to the storm's arrival, I approved a press release and Facebook that had discrepancies with the western boundary of our intended voluntary evacuation area," said Robert Lewin, director of the Santa Barbara County Office of Emergency Management.
The agency said in a follow-up statement to BuzzFeed News Tuesday that it was "not aware of the discrepancies at that time."
About a dozen of the people who died lived in that area, Hoover confirmed. A Google map that plotted where the 21 victims lived illustrates the conflicting evacuation warnings.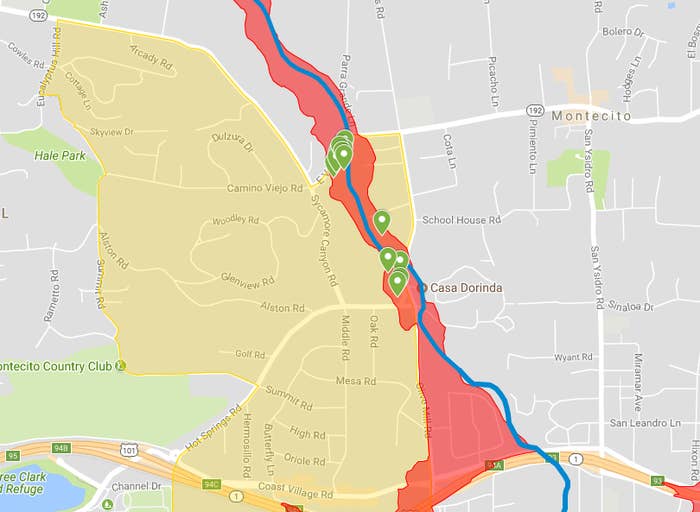 In the Jan. 8 Facebook post, the sheriff's office wrote that a voluntary evacuation order had been issued for all areas south of the 192 Highway and east of Hot Springs Road/Olive Mill Road to Highway 150 and the county line. The post, which was taken from a press release, should have stated that the warning extended west of Hot Springs and Olive Mill Road, said Kelly Hoover, a spokesperson for the sheriff's office.
Hoover emphasized that the inaccurate information was released only on Facebook and was not posted to the department's website, contrary to some reports.
Despite the error, county emergency management officials have defended how they disseminated evacuation information to residents in advance of the mudslides, directing people to an interactive Google map of the affected zones.

"It is important to note that we did not give a description of these areas — rather we instructed people to go to the interactive map, which accurately gave the location of the voluntary and mandatory evacuation areas," Gina DePinto, the office's communications manager, said in a statement.
A total of 226,000 contacts were made through text messages, Nixle alerts, emails, phone calls, and the county's subscriber-based community alert system, DePinto said.
Despite those efforts, however, most residents decided to stay put. Although 30,000 people were ordered or urged to evacuate, a majority chose to stay in their homes, and only 15% of the 7,000 people in a mandatory evacuation area actually left, county officials said.

Although authorities had been warning residents up and down the coast for days to prepare for heavy storms that could spark serious mud and debris flow, the rains shattered forecasters' predictions and quickly unearthed loose land, trees, and rocks in a matter of hours. Scrambling, officials tried to alert people to flee immediately, but in many cases it was too late.

In just 15 minutes, the storm dropped nearly an inch of rain, triggering a flash flood and prompting the National Weather Service to send out an Amber Alert–style vibrating message to some 17,500 cell phones at 2:32 a.m. About 15 minutes later, Santa Barbara emergency services also sent a flash flood message, but it only reached the phones of people who had signed up for the county's alert system, or who happened to be checking social media.
An hour later, around 3:50 a.m., the county decided to send the same blaring wireless alert as the one sent by the weather service, telling residents to leave immediately. But by that time, waves of mud and debris had coursed through entire neighborhoods and people were trapped.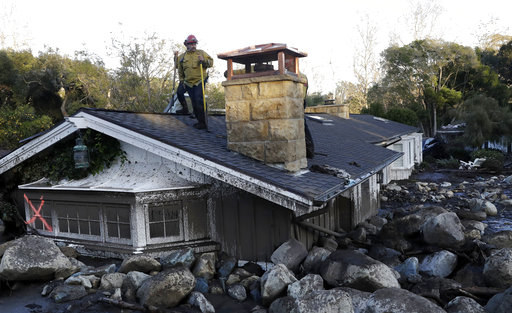 How and when to alert residents to help them escape an impending disaster has been a constant, complex conversation since 45 people died in October's massive wildfires in Northern California, where local officials chose not to send a wireless alert for fear of inducing unnecessary panic. A month later, when another set of raging fires quickly spread across hundreds of thousands of acres in Ventura and Los Angeles counties, local and state agencies sent multiple targeted and wide-ranging buzzing warnings early and often.

Concerned about alert fatigue, Santa Barbara County toiled over how to convey the severity of the January storm and its potential consequences without jumping to the most extreme, anxiety-inducing methods.

"If you cry wolf, people stop listening," Jeff Gater, Santa Barbara's emergency manager, told the Los Angeles Times earlier this month.

"There were extraordinary efforts made to warn our community about this problem," the county's Sheriff Bill Brown said, adding that in the days leading up to the mudslides authorities sent "a variety of different notifications through a variety of electronic media" to warn residents of the dangers. The cell phone system, Brown said, was "activated at the appropriate time when actually an event was occurring," he concluded.
"There was a significant amount of people we couldn't contact to tell them to evacuate," he added. And, he said, "a huge majority chose not to leave and stay in their homes."