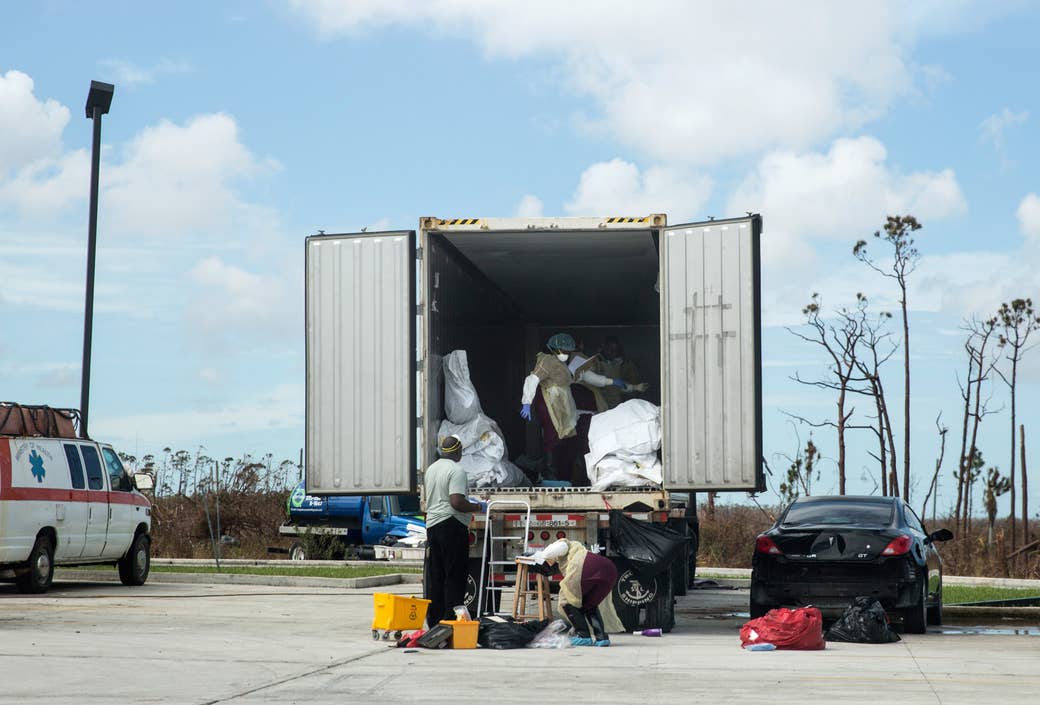 GREAT ABACO, THE BAHAMAS — Because of the dense debris, the smell of the bodies gets twisted.
The dogs pace and hover, intent and unrelenting. It's tough, but they've trained for this. Practicing on tracing fragments of human teeth, hair, and bloodied Band-Aids buried in tubes in the ground, preparing to find the ones who didn't make it out.
Charlie, Hunter, Sam, Nika, and their handlers from Burnaby, Canada, make up a team of 13 pups and volunteer firefighters who are trained to scour disaster areas for the living and the dead.
For the past four days, they've been in Abaco, meticulously combing over piles of sheet metal, plywood, doors, window frames, bed posts, children's toys, toilet bowls, and kitchen tables, spray painting messages like "C" and "D", and lines to indicate where they've been and how many bodies lie somewhere in the wreckage.
"You're not finding a person just yet, you're finding their scent," said Mark Pullen, the team's leader. "And then you go in and find their body."
The National Emergency Management Agency, known as NEMA, asked them to come, said Pullen, underscoring the overwhelming task of looking for bodies nearly two weeks after Hurricane Dorian reduced the primarily poor, Haitian immigrant communities of Marsh Harbour, the Mudd, and Pigeon Peas, to junk yards.
"It's like a giant toy box was dumped upside down," the 64-year-old said.
The death toll has hovered around 50 people for nearly a week, but the government has continued to warn that this number will rise sharply. On Wednesday, though, officials revised the number of missing persons from 2,500 to 1,300 after they cross-referenced their lists of missing and evacuated residents.
Since the historic storm struck the chain of islands on Sept. 1, search and rescue teams from Burnaby, Canada, to Fairfax County, Virginia, have been pouring in to try and locate bodies as residents continue to post "have you seen" or "still haven't heard from" with pictures of loved ones on Facebook.
For 12 hours a day, the Burnaby crew, comprised of nine humans, an Australian Kelpie, yellow Lab, golden retriever, and a Belgian Malinois, have traversed nails and "everything else you can think of." They've gingerly maneuvered over what's left of restaurants, stores, and homes. When the dogs find someone, they pause and signal, and their handler makes a mark.
"We were told not to touch them, the bodies," Pullen said. "So we cover them and mark the plywood."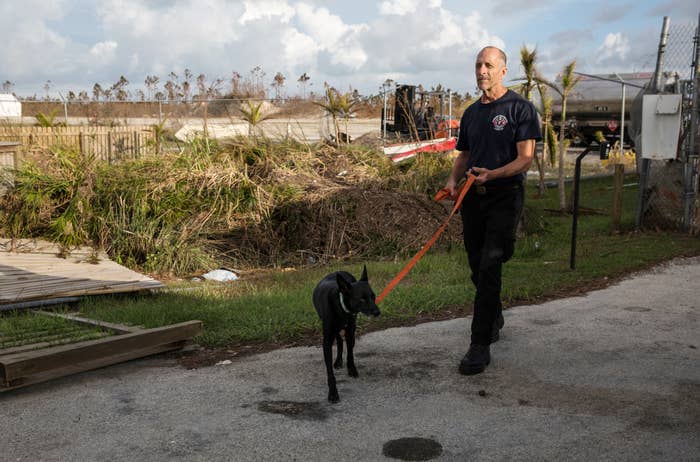 The searchers have come across several victims who were already shielded with scraps, most likely by Haitian residents who have stayed, living in unimaginable conditions because they're determined to push through, to rebuild — or they're too afraid that if they leave, they will be deported.
Their new reality revolves around securing food and water and making new piles of trash to be cleared, though no one knows when. They've gotten used to waiting, to "calculating the days," as 12-year-old Ville Maurin put it.
But it's hard to get used to the smell. It's getting more difficult to spot them, out in the open, but you know the dead are there, somewhere, Pullen said. Caught beneath concrete, bent metal, plastic lawn chairs, car doors, walls, and shipping containers the wind picked up and dropped on homes as people hid inside.
"The Mudd has a much higher [number of bodies] but you can't get to them," he said. "The dogs were hitting on them, but they were so far down we couldn't get there. It's very difficult."
They do their best, though, so that they can help people still waiting to hear about those they love. Bringing closure, he said, is the least and most you can do.
But some families won't ever get that final word. Bodies are too decomposed, damaged, or bloated from the water. Those living here undocumented, most of them Haitians, won't be officially counted. Others may have sunk or washed away, said Latoya Munroe, the primary doctor for northern Abaco, who has been assisting health officials with processing the dead.
The 34-year-old said she has personally seen about 80 to 100 bodies. Since the morgues on Abaco and Nassau are full, coroners are storing some of the dead in large, refrigerated shipping containers.
On Thursday, a team of four medical professionals tallied white plastic bags inside a long, rusted, white truck parked outside the medical centre.
"Haitian passports, documents only," one of the workers yelled from inside the freight.
Munroe thinks the official death toll from Dorian will hover around 300. When asked about the whole toll, she shook her head. Like the storm, the number is still too overwhelming to process.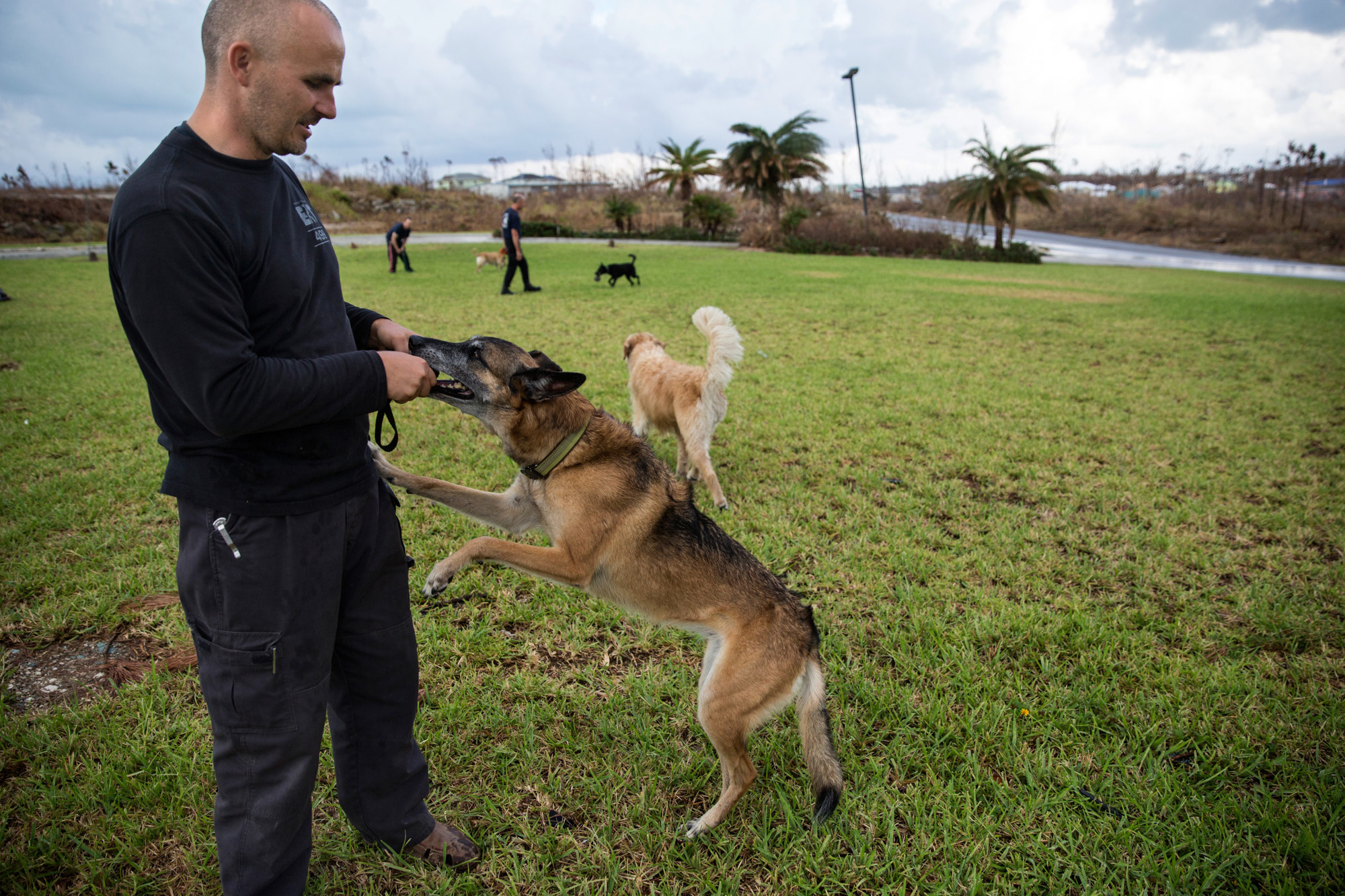 "In the moment, all you can think about is the 15 feet in front of you," Pullen said of the enormous task. "They give you a list of addresses, you search them, mark the wall, and move on until you can't anymore."
Pullen taught his first dog how to ground search in 1998. He then started his own team, rescuing puppies like Hunter from kill shelters and teaching them how to hunt for those who are missing. Alongside Pullen, the 8-year-old pup has combed through wreckage in Haiti and Nepal.
The search is like a draining dance.
"Working with Hunter, he's my silent partner that communicates with his eyes and his energy and his ears," the retired firefighter said.
But you have to know when to stop. The dogs will tell you when they've reached their limit, they'll slow down, or turn back. Humid and baking, the Bahamas' exposed, heavy heat can tax and dehydrate them. When their noses and bodies are done for the day, the canine searchers fall asleep on their humans' backpacks and bags until the next morning, when they head out and do it all over again.
The hardest part is knowing you are never really done, Pullen said. That there are still missing people tucked somewhere, but that the dogs and their humans need to go home, too.
"You have to recognize that point, that moment where you want to go to one more address, do one more day, but you need to stop, for their sake," Pullen said as Hunter slept on the cool airport floor.