Bumble, one of the most popular dating apps in the US, is now banning users from wielding guns and other dangerous weapons in response to last month's school shooting in Parkland, Florida.
The Austin-based company announced the new policy Monday, explaining that it decided to take a stance against guns in photos because "online behavior can both mirror and predict how people treat each other in the real world."
"Bumble has a responsibility to our users and a larger goal to encourage accountability offline," CEO Whitney Wolfe Herd wrote in a statement. "As mass shootings continue to devastate communities across the country, it's time to state unequivocally that gun violence is not in line with our values, nor do these weapons belong on Bumble."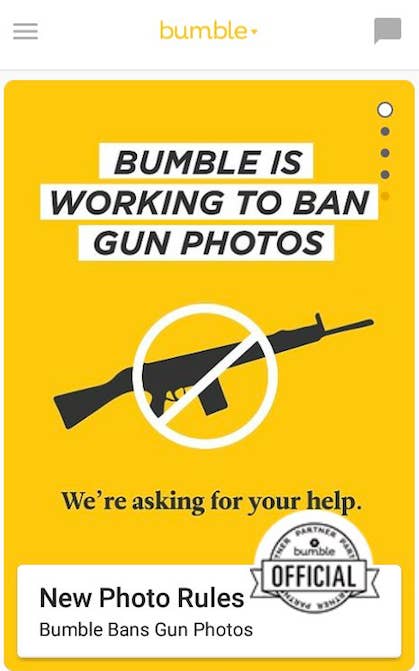 A team of 5,000 international moderators will now work 24/7 to wade through the profiles of nearly 30 million users and remove gun-related content, a Bumble spokesperson told BuzzFeed News.
The new policy excludes members of the military or law enforcement if they are holding firearms while in uniform.

The contractors will also monitor the constant influx of new profiles—the app adds about 75,00 to 100,000 new users every day, the spokesperson said.
App users can populate their profile with photos and information from their social media accounts. Photos posted to social media were a focal point of the investigation into alleged Parkland shooter Nikolas Cruz, who had several Instagram accounts featuring images of guns, knives, and other violent content. However, Bumble will not censor photos posted through users' linked Instagram feeds.
Banning images of weapons had been a topic of discussion before the shooting at Marjory Stoneman Douglas High School, the Bumble spokesperson said, noting that the company often received "hundred of complaints" from people flagging profiles containing gun-related content that made them uncomfortable.

"We just want to create a community where people feel at ease, where they do not feel threatened, and we just don't see guns fitting into that equation," Herd told the New York Times.
This is not the first time the app has updated its policies and regulated users' content, as it expanded beyond its original dating function to offer a business-networking service, a friend-matching function, and launched several pop-up locations.
In January, Bumble removed an account linked to conspiracy theorist Jack Posobiec. It also banned mirror selfies, photos of people in underwear, and images that show children without an adult.
While many on social media applauded Monday's move, including Parkland students leading the Never Again movement for gun control, others have pushed back, saying the company's new policy discriminated against hunters and competitive shooters.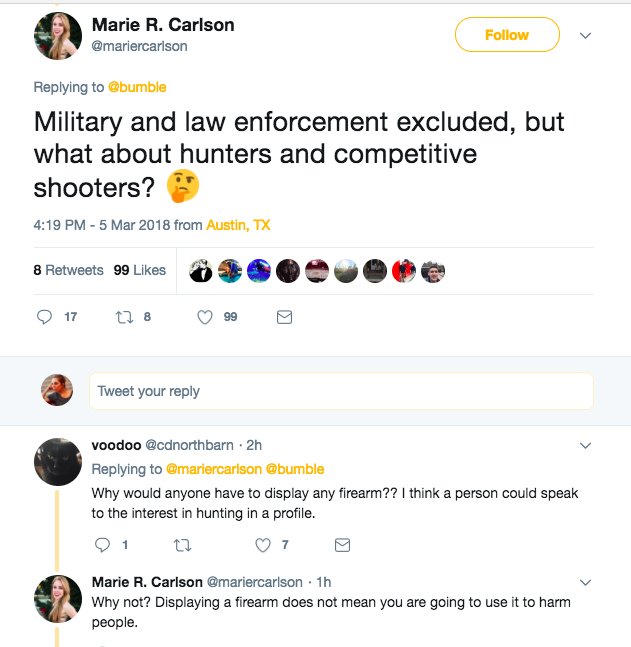 Herd acknowledged to the Times that the new policy "is not super black and white" and will be a "very tricky battle."
"Compared to what's going on with Facebook and Twitter, we take a very proactive approach," she told the Times. "If I could police every other social platform in the world, I would."

The company is also donating $100,000 to the March for our Lives movement, created and spearheaded by Parkland shooting survivors, joining a slew of other celebrities, activists, organizations, and celebrities supporting the nationwide march demanding gun control later this month.

"We stand with them, and join them in working towards a non-violent future," the company tweeted Monday.