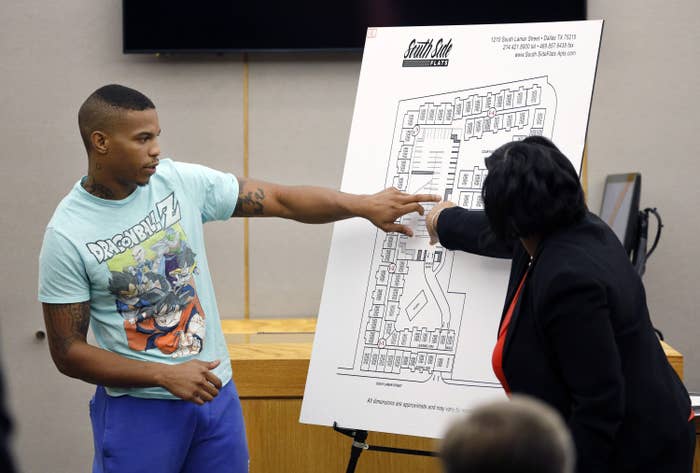 A key witness in the trial against Amber Guyger, the former Dallas police officer convicted of murder in the shooting of Botham Jean, her unarmed neighbor, was shot and killed Friday.
Joshua Brown lived in the same complex, the South Side Flats apartments, and across the hall from Jean. The 28-year-old delivered vital testimony about the night that Guyger shot Jean.
Two days after a Dallas County jury sentenced Guyger to 10 years in prison, an unknown assailant shot and killed Brown, said Lee Merritt, a prominent civil rights attorney who represented the Jean family.

A spokesperson for Dallas County prosecutor Jason Hermus told BuzzFeed News that Brown was the victim in the shooting.
Dallas Police said that he was shot and killed on Friday. Around 10:37 p.m., officers responded to a call about a shooting at the Atera apartments. Several people who witnessed the shooting called police, who found Brown on the ground with multiple gunshot wounds.
"Several witnesses heard several gunshots and observed a silver four-door sedan leaving the parking lot at a high rate of speed," police said in a statement.

Later Sunday, police Chief Reneé Hall said Sunday evening that there are still no suspects or motives at this time.
"We are committed to solving this case and will work diligently to apprehend the individuals responsible for Brown's death," she said.
On Saturday, police had said the shooting victim died at Parkland Memorial Hospital.
Dallas Mayor Eric Johnson encouraged the public to "refrain from speculation" in a statement on Twitter, writing that "Dallas will never be a city that tolerates acts of violence such as this."
During the trial, Brown gave an emotional testimony about his neighbor, recalling how he would hear him singing through the door.
Brown said he met Jean for the first time the day that he died, speaking briefly in the hallway. That night, Brown had returned home from watching a football game when he heard what seemed like "two people meeting by surprise" and then two gunshots.

In his statement, Merritt said that Brown "lived in constant fear that he could be the next victim of gun violence."

"His murder underscores the reality of the black experience in America," the attorney wrote. "A former athlete turned entrepreneur — Brown lived in constant fear that he could be the next victim of gun violence, either state sanctioned or otherwise. Brown deserves the same justice he sought to ensure the Jean family."
Donte Anderson, a friend of Brown's, told CBSDFW that he talked to the victim the night he died and that he had planned on staying home on Friday night.
Brown owned and managed a small group of Airbnbs, his friend said, and had a young daughter who lived out of state, the outlet reported.
He played football at the University of South Florida, before tearing his Achilles in 2013, which ultimately ended his career, according to the Tampa Bay Times.
On his Facebook, Brown frequently shared links, posts, videos about Jean and Guyger, expressing his feelings about what happened to his neighbor.
On Sept. 24, he wrote, "I couldn't imagine being the reason for somebody death. Do y'all know how bad I feel for not opening my door and going to help Bothem (sic)? Having to look at his momma and Amber at the same damn time. I feel so bad."
On Oct. 1: "you can You can Rest easy now big fella 💙Botham Jean."
The night he died, Brown went live for about 11 minutes on Facebook with the caption: "Friday night and I got chores to do."
Dressed in sweats, the 28-year-old could be seen smoking, hanging in his kitchen, listening to music, walking back and forth with laundry. At one point, he asks the camera, "What's the plan for the night? Anybody going to clubs?"
Before he ends the video, Brown grabs his wallet and puts it in his pocket and turns off the video.